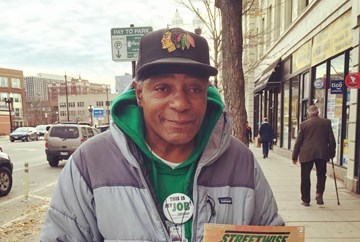 By: Yasmin Kinay
June 20, 2016
I heard about StreetWise from vendors downtown. I would see them selling the papers and talked with them about how to get started. I used to sell the Sun Times for 21 years and I always sold out, I even helped develop the Sun Times into a sales force downtown. Because of my experience I know what it takes to sell the paper and I enjoy selling to my customers.
I grew up in Chicago, and something I love about this city is that it is a cultural hub and progressive. I found uniqueness in the different individuals I meet here. We all might see the same event, like the Bears winning in '85, and everyone has a different take. I think the most interesting thing about Chicago is the Museum of Science and Industry. It is always a busy place full of new people interested in the exhibits.
I am an animal enthusiast; I like animals because of their humble nature. I love animals, and I constantly find myself with dog treats. I give the treats to any dog I see with an "okay" from their owner. In the future I am interested in getting into the animal training program at the Anti-Cruelty Society. I have found that if an animal likes you, they'll do what you want them to do as they feed off of your energy. Currently, I am concentrating on what is good and positive in my life so that I can grow as a person.
I currently sell StreetWise at Clark and Wilson and at Clark and Dickens outside of Starbucks. I am a Quality Assurance Team member as well as a vendor. I will start to be doing a lot more observations and teaching the new vendors some sales techniques. Most of the people I meet are very nice and I want to make sure my customers know how much I appreciate them.