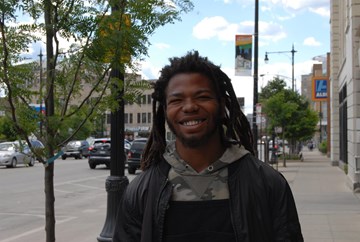 By: Alexandria Spillman
November 6, 2017
Those who've met StreetWise Vendor Donte Henderson know that he has a lot on his plate. As an outspoken sufferer of mental illness, Donte does the best he can to keep himself healthy and safe through the sales of his magazines. Donte is disenfranchised but he will not beg. He earns his breakfast every morning, or he does not eat it.
"When I sell the magazine, I try to let my customers know that," Donte said. "I remind them that I can't eat without you guys, and that their purchases help me support myself."
One morning in late June, Donte was out on the streets in Wicker Park trying to earn that breakfast. As he was delivering his musical pitches, a generous passerby stopped to talk to Donte. He had never seen her before, and she was not interested in purchasing a magazine at that time, but she wanted to help Donte earn that meal all the same. She offered to use money that would have gone toward a magazine purchase and instead buy him whatever food he desired. Donte was grateful and suggested a ramen spot nearby as lunchtime was approaching.
When the two arrived, Donte ordered the chicken ramen bowl for $11 and change. "She paid for it, let the guy working know it was for me, gave me the number, and she left. My number was 26," Donte explained.
When the woman left (and with his number in hand), however, Donte began second-guessing himself.
When someone earns money like some StreetWise vendors do, they learn that every cent counts. Every cent adds up and it could be the difference between getting a meal or getting a room or going without either one.
Donte became worried and started to wonder if he had ordered something too expensive and taken advantage of this woman's generosity. He asked the employee, "If I had ordered the vegetable meal, would it have been cheaper?"
Donte's question was met with a harsh reply. Donte recalls being told, "Why does it matter? You didn't pay for it. You're not even a customer."
"Then, he took my number 26 back and went to the cook. He whispered something to him, so I asked what he just whispered. He said that he was making my food to go."
Moments later, Donte's food was handed to him in a to-go bag by that same employee. Donte was confused. He had ordered his food to eat inside, not to go. When he clarified this, he remembers being told, "You're not a customer. You didn't pay for it, so you can't stay."
"I want to know why they didn't tell me that when the lady was in there buying my food and telling them that the food was for me," Donte said.
Let that set in for a moment.
Now, think about two people sharing a dinner date, or a few professionals getting lunch for a meeting, or any "pay it forward" instance you've heard about lately. Have you ever heard of the recipient being asked to leave the restaurant because they did not purchase their meal? Donte's meal was paid for and when the purchaser left, he was told that he was not allowed to eat inside with the other patrons.
When asked about the food, Donte said he ate some of it alone on the train that afternoon, but the knots in his stomach prevented him from enjoying it. "I tasted it, and it was nothing like I thought it was going to be anyway. I like noodles, but I couldn't eat these."
Donte said he will not be going back. "The whole experience made me feel lonely, isolated, and vulnerable," he said. He feels that his food was tainted with condescension and discrimination, and those are tastes not easily forgotten.