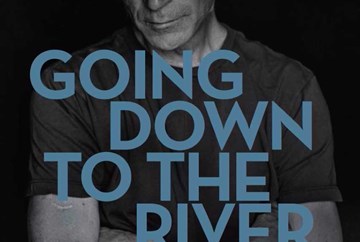 By: Meredith Melland
September 24, 2018
Doug Seegers wrote the song "Going Down to the River" about washing himself in a river to clean his body and soul when he was homeless; it changed his life when it became a number one hit in Sweden. Written by Seegers with former pro golfer/sports author Steve Eubanks, the book of the same name chronicles his meandering life through homelessness, addiction and musical stardom. Though sometimes heavy-handed, Seegers's story is compelling because it is an underdog triumph, but more so because it is flawed and human.
The authors describe a classic Baby Boomer origin story - life becoming happier and more advanced post-Great Depression and World War II, although not really picking up for a New York family stuck in poverty. Born to a musically gifted family, Seegers started learning guitar on his eighth birthday. His father, John Harvey Seegers, dreamed of reaching musical stardom with his band Johnny Rivers and the Rest Tones (not that Johnny Rivers), but squandered family funds. Seegers Sr. leaves his wife and two pre-teen sons, creating resentment in the family and foreshadowing Doug's future.
With rotating father figures, dreams of a music career, a talent for woodwork, and an idol in John Lennon, adolescent Seegers couchsurfs throughout New York, playing in bands and discovering his predilection for addiction. After a poor upbringing, he gladly sells LSD to pay for food and new drugs. He tries to hack it on a honky tonk tour of Texas and grows lovesick for a New York girl, but can't keep a touring or family life sustained without drugs.
Seegers moves to Nashville for one last shot at his dream, but intimidated and troubled, he falls back into old patterns and hits "rock bottom." He plays on the street, where he feels less judged, and gets by with help of "his angels." One day, the "angel" that runs a food pantry introduces Doug to Swedish country stars who film him to be part of a pseudo-documentary show about street musicians. Stunned by Seegers's talent, they invite him to record at Cash Cabin and launch him into the new world of Swedish stardom.
Cheesy, old-fashioned asides that seem to serve no purpose other than generic nostalgia feature occasionally. Other details seem earnest and realistic, like moving a needle back on a record player to replay songs and learn chords. It is enjoyable to learn about Seegers's musical genesis and the varying musical influences that move him; he cites everyone from Lightnin' Hopkins to Martina McBride, though his primary influences are Hank Williams, John Lennon, Gram Parsons and friend Buddy Miller.
The physical realness to this story makes it easier to relive, and it plays out in the language of the book. "What money I had, I kept wadded in my pocket like gum wrappers." One can feel the struggle of hitchhiking from New York to Austin, the satisfaction of building a grandfather clock and the freedom of camping in lowlands for the night.
There is a fair amount of God talk — sometimes superfluous and repetitive — as Seegers reflects on his life, which may turn readers off. However, Seegers's spiritual awakening is a large part of his story, so this filter on his story is to be expected. The Biblical references seem to indicate that the authors can't decide if they are writing for Bible experts or novices —  which might be the case, with fans split in the U.S. and Sweden.
There are insights to homelessness, too. Seegers points out that freedom — from bills, to live any way of life — is worth more to some people than having a home. He notes that many homeless people have jobs, and also recaps the difficulty he faced trying to leave his routine once he was housed and had possessions. This part of the narrative is likely familiar and comforting to readers who have experienced intense poverty, and is worth thinking about for those who have not.
Aspects of Doug's life are not tied up, and it is unclear if these ends are omitted or just non-existent. Gritty scenes of carjackings and dirty floors are not sugar-coated or avoided, but told retroactively from higher ground. He is honest about his memory loss, the effects of substance abuse, and his sheer luck. He seems to be genuinely trying to do his best.
Seegers's tale is one of good intentions, gripping addiction, musical craft, a propensity for quick decisions and doing the opposite of what is expected. Relatable, hopeful and not overly heavy, "Going Down to the River" is a read to make you believe in miracles and human nature.