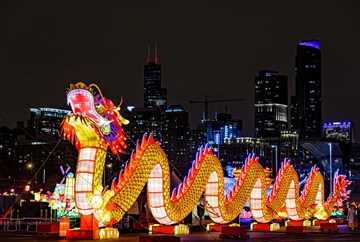 By: Dave Hamilton
April 24, 2018
It is almost impossible for drivers on Lake Shore Drive to not notice the two 200-foot dragons that have been lighting up Soldier Field's south lot. The lights have been intriguing passers-by since Easter weekend, leading many to wonder what is going on just off the freeway.
It is the Dragon Lights Festival put on by Tianyu Arts and Culture, Inc., and there is no need to wonder, because we are all welcome to visit. The event brings to mind Chicago's beloved Lincoln Park Zoo Lights event, but if Zoo Lights was on steroids. Not only does the event feature the two 200-foot dragons, but it has more than 35 handmade larger-than-life light sculptures created by over 60 artists. Three-story high coy ponds enchant viewers, while a lit up 20-foot lotus spins and opens right before your eyes. All of the sculptures draw from Chinese tradition and even include an archway inspired by the Chinese Zodiac. It's the 24th incarnation of the festival in the US, and the very first Dragon Lights to be held in Chicago.
According to Chinese mythology, there was a monster named Nian, who would hide and attack villagers. The mythical dragon was terrified of lights, and the tradition of hanging lanterns was born. Through the years, lantern making had developed in to an art form, with the most notable experts hailing from Zigong, Sichuan. The 60 artisans that crafted the Dragon Lights Festival travelled from Zigong to Chicago to create the magnificent structures in one month, which were created for exclusively for Chicago. The creations are made using steel, LED lights, and handmade silks created especially for each lantern. No two Dragon Lights Festivals are the same, and the lantern sculptures are never used again.
In addition to the awe-inspiring lantern sculptures, the event also features kid-friendly stage performances. The kids will not be the only people enchanted, as the adults will also enjoy the traditional dances, acrobatics and contortionists. An act that stole the show was a Bian Lain "face-changer," which is part of a traditional form of opera. The actor quickly masks in what looks like an instant to reveal a brand new mask or "face" multiple times during the performance.
Overall, the Dragon Lights Festival is a family friendly (but not exclusive to families) event that combines the art of tradition, references to culture, and the beauty of light to create a delightful evening in the heart of Chicago. The weather is finally starting warm up, so it is a perfect time to take advantage of one of the grandest festivals to grace our town.
Tickets are $20 / $13 kids / kids under 4 free at dragonlightschicago.com