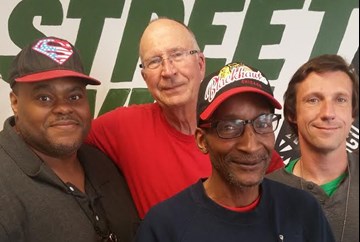 By: Staff
September 17, 2018
John: Today we're going to talk about a very cool subject.  If someone offered you a free ticket to any of the big sporting events - Super Bowl, the seventh game of the World Series, major college football rivalry, or the NCAA Basketball Final Four - which would you pick?
Donald: Final game of the World Series. If there was a seventh game, I would go to the seventh game.  That's what I would do. I would take the tickets for the seventh game. The Cubs versus the New York Yankees and the Cubs win all of it. Cubs win the seventh game. I would take that ticket.  Yes I would.  For a dream sports game, I would take the Bears against the Green Bay Packers and the Bears beat the Packers. 
Russell: That's a tough choice. The Final Four sounds really good. The World Series definitely sounds good.  But me, myself, I think I'd go to the Super Bowl. Why?  Because, first of all, it'd be nice and warm. I go to the World Series with the Cubs, I might freeze like a couple years ago.  I'd take the Super Bowl. I think it'd be more fun. I'd probably enjoy it more. College basketball is good too. Super Bowl wins by a long shot. I could see the players. Whoever is playing. I've been to a college basketball game, Super Bowl never. So I'd take the Super Bowl.
John: I would not go to a college football rivalry unless I was an alum. So my choice out of all of them: the Final Four and here's why. Now if you go to a college football rivalry game, say like USC vs. UCLA or Michigan vs. Ohio State or Alabama vs. Auburn, you only have a couple days. If you got a Super Bowl, they'll give you free tickets, but you don't get a chance to mingle and interact with as many people. The World Series might be shoveling snow in that Game 7 of the World Series. My choice is the NCAA Final Four. You get to turn it into almost a week-long event. Just think of it, instead of going to one game which is the Super Bowl, you get to go to perhaps three games - two on Saturday, one on Monday. Plus, you get a chance to mingle with more people. You get a lot of fun pre-game stuff and post-game stuff. And you also get to tour the city of the Final Four. For the most part, the weather in most of the country during that time of year is improving. They mostly do it in Southern and Western states. So my pick would basically be the Final Four for that reason.
Donald: Any sport would be a good sport to check out. The thing is you've got to really love what you're doing and be interested in the people that are involved. Hopefully your team will do all the scoring, all the blocking, all the defense and all the offense they need to win it. Hopefully along the way they'll break records too, because every year, in every sport, every champion that comes out of the sport, there are some records being made. 
Russell: I just want to say any one of the games would be really nice to go to. I haven't been to a college football game, none. Final Four sounds good too. I'm a sports man. I won't complain. I'd take any one of them. I'd really like to go to the Super Bowl though. If I had a chance I would go to all of them. 
John: I'd agree with you on that one. If all I had was college football it'd probably be UCLA vs. USC since I lived out West for 10 years. Alabama vs. Auburn sounds cool too. But if someone gave me tickets to any of them, I would go. 
Donald: Go and get your World Series in every year. Every year there's something interesting coming out of it. There are records being broken and made. 
Russell: To all my customers, I want to say thanks for complimenting me. SportsWise is back now.