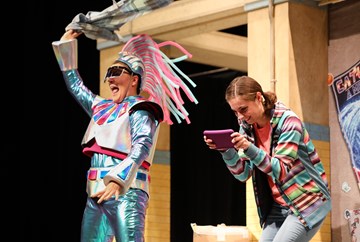 By: Suzanne Hanney
November 4, 2019
Homelessness through the eyes of a 5th grader is the basis for "Earth to Kenzie," a new opera for 2nd through 7th graders co-produced by Lyric Opera of Chicago and Seattle Opera. In addition to a monthlong Opera in the Neighborhoods tour, the 45-minute production will be at the Vittum Theater November 9 and 10.
In the opera, Kenzie and her mother are evicted from their home just before Christmas because a developer has purchased their building to tear it down. They live in their car until they can find a shelter, where the asthmatic Kenzie takes refuge in video games because their avatar, Edwin, is funny, larger than life and seemingly in control of any situation. She is unable to complete homework about what she did over the holidays because she doesn't want anyone to know she was homeless.
"Earth to Kenzie" librettist Jessica Murphy Moo was told to write about an important contemporary issue and she chose homelessness because it exists in every city, she said in a telephone interview. The opera is not specific to any city, however. And instead of a political/economic issue like gentrification, the focus is on Kenzie's relationship with her mother.
Murphy Moo wanted to be sure the mother and daughter remained close and that the mother had a job, to show that she is both not lazy, and that homelessness can happen to working people. "In my head she was working at a hospital as an X-ray tech, although it is never mentioned in the opera."
Murphy Moo was introduced to Lyric audiences last year as the librettist for the chamber opera "An American Dream" by Jack Perla, which premiered at Seattle Opera in 2015. She is the editor of "Portland" magazine, the award-winning publication of the University of Portland in Oregon.
Opera might seem complex for young audiences but Murphy Moo and composer Frances Pollock said that opera is just a story told to music.
"Think of what music can do to a story," Murphy Moo said. "You hear the score and know a scary moment is coming. We are more used to that than we think. Kids are so open to a character who is singing. They get musical storytelling in a nanosecond. They do it all day long."
Young people who attended a workshop for the opera in Seattle laughed where they were supposed to and paid attention during the heavier portions, she said. Since then, her own 10-year-old daughter has been singing one of the songs in the kitchen.
In terms of instrumentation, Pollock used just a piano, albeit with research into what makes video games compelling. Her score captures the essence of 1990s Super Mario Bros. or Donkey Kong.
All the things opera does well come together in a beautiful, swelling waltz when Kenzie and her mom arrive at the shelter, she said. They discuss questions people ask them, which are sometimes rude, insensitive, or nosy.
"I handed off the words to Frances and she came back with a waltz," Murphy Moo said. "A lightbulb went off in my brain. They have to dance through this, navigate through all of that. The music helps you feel the situation in a new way."
"You see mother and daughter do the dance together. It's not a dance they do alone. It's a very sweet moment," Pollock added. Her previous operas include "What Gets Kept" (Washington National Opera), "Stinney: An American Execution" (PROTOTYPE Festival), and "The Little Prince" (Peabody Conservatory).
In the end, Kenzie realizes that "home" is not so much a place as it is people who love her. With the help of her teacher, who has been informed about her homelessness, she completes her holiday homework. She and a new friend construct an opera within the opera, almost a galactic video game, that serves as a metaphor for her experience.
Lyric's Opera in the Neighborhoods (OIN) program will present 30 performances of "Kenzie" at 15 sites in October and November, for an audience of nearly 20,000 students. Lyric Unlimited's educational partner for the production is Codeverse, the world's first fully interactive coding studio and development platform for kids ages 6-13, which will provide coding classes and training to youth attendees.
The production is directed by Jess McLeod, currently resident director of Broadway in Chicago's "Hamilton," who previously directed Lyric's "Chicago Voices: Stories and Songs of Chicago" and Lyric Unlimited's "Empower." Set designer Jeffrey D. Kmiec is a three-time Equity Jeff Award winner. Costume designer Mieka van der Pleog has been nominated for four Jeff Awards.
Performances at the Vittum Theater, 1012 N. Noble St., will be 1 and 3 p.m. Saturday November 9 and 3 p.m. Sunday November 10. Tickets are $10 for those 17+, $20 for those 18+ at lyricopera.org/kenzie