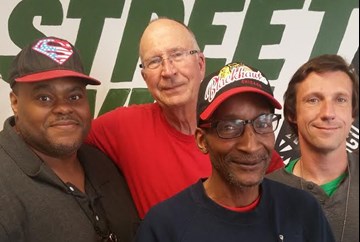 By: Suzanne Hanney
October 8, 2018
"Eat early, eat often" was the credo for the SportsWise crew at Guaranteed Rate Field during the last White Sox game of the season September 26.
ChiSox Bar & Grill is billed as the upscale option on the Sox website. It's located right at Gate 5, the elevator-accessible left field entrance. However, given the $90 worth of food we ate on the run, the Grill might have been cheaper. Salads range from $10-$17, "Grand Slamwiches" from $11 to $15, "Mexican League" tacos and tortas from $9 to $12. The "Minor League" kids' menu is $3 to $8. You can also find a broad selection of beers, wines and specialty drinks.
Our seats were in the 100-level outfield, so we happily walked the food concourse there, armed with the A-Z food list (https://www.mlb.com/whitesox/ballpark/concessions/a-to-z-food), which matches food stands to the nearest row of seats.
Donald Morris used the A-Z list to score first, with a Buona beef Italian sandwich ($9.25) and a 20-ounce Diet Coke ($6). "It was extraordinary," he said. "The meat was tasty, and with the bell peppers it hit the palate."
John Hagan went for the unadorned $1 hot dog, an old-school specialty on many Wednesday nights at Guaranteed Rate. Mustard and onions are available at kiosks.
Suzanne grabbed a slice of Beggars Pizza ($6.50), because they advertise "we lay it [cheese, sausage] on thick."
Russell Adams, meanwhile, enjoyed his Cheeseburger Basket ($10.75) with waffle-cut fries. Suzanne and John found the fries crispy on the outside, soft on the inside.
Donald's planned purchase turned out to be best method. Later in the game, Suzanne as "designated runner" waited 30 minutes in a $1 hot dog line to get Don a Polish sausage, only to find they were gone. Between the outfield and home plate, other food stands were also depleted or had long lines. She finally found a Polish – without a bun.
John's desired Johnsonville brat with jalapeno cheddar (the "Heater" $8.25) was also gone, so she settled for the "Slurve" ($8.25), a cheddar beer brat with caramelized onions.
The 100-level concourse has a wide selection of beer: Budweiser, Modelo, Revolution, Lagunitas, Goose Island, Stella Artois, Heineken and more.
Still, the "Craft Kave" at Gate 2 in the outfield beckoned because of its originality. The black-walled, ground floor bar has a range of cans and bottles in glass refrigerators for individual purchase. Based on the recommendation of people in line, Suzanne picked Around the Bend's pistachio cream ale, brewed at 2601 W. Diversey. It tasted nutty only at first sip and went down smooth. Russell got a copper lager Budweiser aged in Jim Beam barrels and John a Bear-ie White pale wheat ale with hints of fruit from Schiller Park's Short Fuse Brewing. ($9 each).
Russell doesn't like dark beer but he found this special Bud to be "shockingly good" – and warming. Ditto for Bear-ie White, which John pronounced "crisp and strong."
On the way out of the park, Donald grabbed a huge basket of nacho chips, cheese and sliced peppers ($6), John chose a helmet sundae ($6.75) and Suzanne a chocolate sundae ($4).
Appropriately enough, the StreetWise team bought $1 bottles of water outside from an entrepreneurial lady.