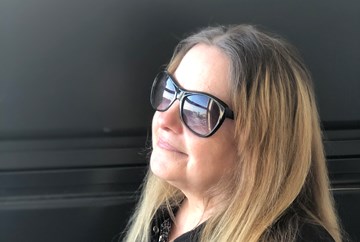 By: Staff
April 2, 2018
Connie Robertson on Amelia Earhart
Once upon a time a baby girl was born on July 24, 1897. She was born into a wealthy family. She lived with her grandparents until she was 12 years old. Then after that she went to stay with her parents and younger sister. Her name was Amelia Earhart, but was called "Amy" for short as a child. She moved around often. One time when her family was at a fair in Des Moines, Iowa she saw her first view of a plane. It had only been a few years since the Wright Brothers made their first flight at Kitty Hawk, North Carolina. At that time Amy was not really impressed with what she saw at the fair.
In 1914 her mother took her and her sister to Chicago, IL to live and there she graduated from the Hyde Park School in 1915. In that year's school book she was described as "the girl in brown." She was sorta introverted you could say.
She finished the rest of her schooling around age 27. She was very opposed to alcohol due to her father losing the battle against alcoholism, which caused her much humiliation.
Back when she was 21 she saw many men returning from war with lost limbs and that inspired her to become a volunteer nurse at a veterans hospital. She became a pacifist, a person who is opposed to any war.
In 1921 Amelia saw her first real air show and took her very first airplane ride. As soon as the plane lifted off the ground she said she knew she had to fly.
She worked part time while she was taking flying lessons and she eventually bought her own airplane. To her dismay, as time passed, she could not earn enough money to continue the expensive hobby of her airplane, so she sold it.
Over time she became a social worker and joined the NAA and continued to fly whenever she could in her spare time.
When she was 31, she joined a crew that was taking a flight across the Atlantic Ocean. George Putman was the first person to fly across the Atlantic Ocean alone in 1927 and he chose Amelia because of her flying experience and her education. He and a couple of the pilots crossed the Atlantic and even though she never touched the controls on the plane during that flight she was still considered the first woman to fly across the Atlantic. Putman was her manager and in 1931 he became her husband.
In 1932 she became the first woman to officially fly solo across the Atlantic Ocean. During the last five years of her life she was a tireless champion for commercial aviation and she was avid about women's rights. Amelia had many accomplishments in her aviation adventures: she set an altitude record- flying the highest into the sky. She also made the first continent-to-continent flight by a woman. Amelia also broke her own transcontinental speed record and was the first person to fly solo from California to Hawaii and the same from there to Mexico, breaking a speed record of a non-stop flight. She also set the fastest East-to-West crossing from Oakland,  California to Honolulu, Hawaii. She received numerous awards and honors all over the world.
On July 2, 1937, 22 days before her 40th birthday, she had completed 22,000 miles of flying around the world. She and Fred Noonan,  who was her navigator,  disappeared over the Pacific Ocean somewhere near an island around New Guinea and Howland Island. Some of their items were found somewhere on a small island called Nikumaroro, just south of Howland Island.
In 1997 another woman pilot, Linda Finch, died at a re-creation of Amelia's final flight as an around the world tribute to Amelia and it was called "World Flight '97." It took place on what would have been Amelia's 100th birthday.
In 2012  U.S. Treasury Agent Les Kinney unearthed an image on a picture from the National Archives that he believes clearly indicates that Amelia was captured by the Japanese.
Shawn Henry says Amelia may have very well been the first casualty of World War II. Henry, a former FBI executive assistant, claims there is a cover up: that the U.S. government knew her whereabouts but did nothing to rescue her because of the war.
Kota Yamano, a military history blogger, found a picture and it looked like Amelia from behind but next to her the front side was absolutely Noonan. It was on a dock on Jaluit Atoll in the Marshall Islands. Facial recognition and other forensics testing confirmed the picture was authentic and concluded the people were Noonan and Amelia.
Amelia is described as "world famous" aviator who got caught up in an international dispute. She was abandoned by her government and was made the ultimate sacrifice because of World War II.
There have been many accounts throughout the Marshall Islands of people who claim they saw her aircraft land and they saw the Japanese take custody of them. There are stories that say Amelia died in the Japanese war prison and that there are some pictures taken by a spy camera of the Japanese and that Amelia and Noonan were in these pictures. There have been pictures discovered of them after 1940, years after they disappeared.
So then some may ask. why did they land the plane? Well because they were running out of fuel is the simplest theory: to keep from crashing into the ocean. But also maybe they didn't realize or ever think they would be taken captive by the Japanese.
All in all, she was one magnificent person, very driven in her aviation goals. She will never be forgotten.
Written from research by Connie Robertson
A. Allen on StreetWise
There are a lot of women whom I can write about during Women's History Month, but there's a few who I've had the privilege of working with at StreetWise. One of the amazing women of StreetWise is our very own Chief Editor Suzanne Hanney. She has been with StreetWise for a long time. She had her bouts with health challenges. I remember when she didn't look nor act like herself because of the trials and tribulations. I also remember her coming back with a vengeance, working two jobs and smiling most of the way. She is a hard-working, beautiful, and smart lady. She edits our magazine and gives us a quality product to sell for our readers' entertainment. I just want her to know she deserves to be recognized for Women's History Month.
Another lady I truly appreciate is my supervisor Amanda Jones. She has shown kindness and resiliency. She has shown resilience through her hip surgery. But she also has been active in guiding the vendors and sticking with them through the hard times. What I really admire about her is the patience, love and tolerance for vendors who may be rude, inappropriate or even immature. She has really demonstrated exceptional patience and kindness.
Last but not least, I would like to acknowledge our fearless Executive Director, Julie Youngquist. I truly appreciate her example and discipline. She is an extraordinary example for trailblazing and innovation. Our executive leader shows us the way in the office, but also she leads us by example. Also, she shows her leadership in her respect for her husband, Mark, and in her raising her kids, Ellie and Nathan, whom she brings around for volunteer service at StreetWise. I really appreciate their presence; they are so joyful and respectful. Our executive director has proven her skills in putting together 25th Anniversary Gala last year. She pushes me and all the vendors to do better and give it our best. Ms. Youngquist is not only my leader but she is also my mentor.
I truly love these women I work with and I want them to know they are appreciated for not only their beauty and intelligence, but for being creative and talented. Thank you all for being a part of my life. Happy Women's History Month to all the ladies, thank you all.
Lee a. (Awesome) Holmes on Crushers Club
If there is any woman I would like to honor (other than my mother) it would have to be Sally Hazelgrove, the founder of Englewood's Crushers Club. My interest was caught when my brother and sister asked me to come check it out for a minute. Having done some research on Englewood, I know quite a bit about it. A young pastor gave me an article about Englewood and Ms. Hazelgrove. This woman is outstanding to me because she had the heart to go into West Englewood, and ask what the young men like to do, and what they want to do. When they responded to her by saying they like to fight, her mother mode kicked in and she started Crushers Club to give them a healthy avenue to pursue this passion. Crushers Club is a boxing club for young men in Englewood to be able to improve their discipline, focus, and physical health. It serves as an intervention to the violence and gangs in a rough Englewood area where young men can channel their energy and emotions in a healthy, productive, and positive way.