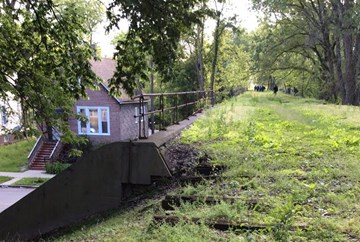 By: Suzanne Hanney
June 19, 2017
The proposed Englewood Line rises above the neighborhood like an "outdoor cathedral," said walkers on a May 25 tour of the abandoned rail line that runs from Wallace to Homan just north of 59th Street.
Walkers talked about being "tucked away," of "a place where I can get my head back," said L. Anton Seals Jr., executive director of Grow Greater: Englewood at the midway point of the tour, which was designed to gather feedback. The proposed mixed-use recreation trail will be similar to the 606 in Wicker Park / Humboldt Park.
Grass has reclaimed the double-track line abandoned more than 15 years ago. Asiaha Butler, president of Resident Association of Greater Englewood (R.A.G.E.) said what she liked most was "natural state of it now, the greenery, the trees; you just don't see Englewood from this angle."
Butler said the trail should be cleaned up so that it is easier to walk on but she didn't know if she wanted concrete. She favored art to draw people there.
She queried young boys on the trail as to their desires. They wanted a bike trail, a place to lock up their bikes, and barbeque pits near the seating area and access ramp at Racine and the shuttered Bontemps School, a proposed community center.
"Landscaped properly and fenced off and protected, it could draw tens of thousands of people to Englewood," Sam Smith, owner of the Perry Mansion Cultural Center at 7042 S. Perry Ave., said later.
"It's important to keep it simple," Smith added. "If you incorporate too many things you will screw it up." He used Post-It notes as an example of simplicity.
Smith suggested wildflowers that wouldn't have to be replanted every year. Like all Englewood residents on the tour, he wanted to balance job creation and economic stimulus with retaining local residents.
As an example, Julian Sample, who runs a permaculture curriculum with his wife Kenya at a local school, said he could envision a boutique farm alongside the trail so that visitors could have a place to eat and drink.
"Everyone has some concerns about gentrification and the way the economy is moving" in the wake of the recession and foreclosure crisis, Smith said. "Most of the full-time jobs have been replaced by part-time. People can't sustain themselves on those jobs; they need three part-time jobs to replace the full-time job they had."
The Chicago City Council approved the acquisition of the 1.7-mile former Norfolk Southern rail line in 2014 in a cash-free exchange for five acres of city-owned land adjacent to the railroad's 63rd Street intermodal yard.
Design work began in 2015 and construction on access points is supposed to begin this year, according to the Chicago Department of Planning and Development's Health Impact report on the trail, published in September.
Another meeting for neighborhood input will be scheduled for July and posted on the Grow Greater: Englewood website, growgreater.org