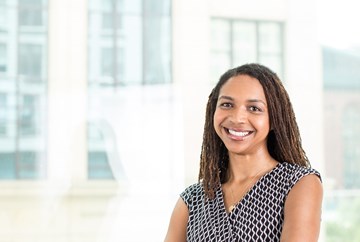 By: Suzanne Hanney
April 2, 2018
A keynote speaker at the Expanding Your Horizons Conference, Enid Montague, PhD is a human factors and ergonomics engineer: associate professor in the college of computing at DePaul University and an adjunct professor in Northwestern University's Feinberg School of Medicine. Human Factors Engineering focuses on the interaction between humans and technologies with the goal of enhanced performance, increased safety, and increased user satisfaction. One example of her research is the optimum amount of eye contact to ensure good communication between doctors and their patients.
Dr. Montague's work explores the role of trust in technology in systems. She looks at why humans trust or distrust technology, the effects of trusting attitudes on system performance, and designing for appropriate trust. Dr. Montague has conducted research at Old Dominion University, the Virginia Modeling and Simulation Center, Eastern Virginia Medical School, Virginia Tech, Northwestern University and the University of Wisconsin-Madison. She received her master's and doctorate from Virginia Tech's department of Industrial and Systems Engineering Human Factors Engineering and Ergonomics program with certificates in Human Computer Interaction from the Center for Human-Computer Interaction.
What do you want to say to parents and young people in your keynote address?
When I speak to young people and their families I emphasize that STEM is about solving big and important problems that may be personally meaningful.
I also emphasize how much we as a society need them in STEM. In general, we just don't have enough people in the United States and around the world with the skills, expertise and vision to solve big STEM problems. We also definitely need diverse perspectives to ensure we are solving the right problems, the right way.
I frame the challenges this way, because I've found that often young people and their parents think that working in STEM is just an intellectual exercise in basic math and science, when it's not. It's really solving our most important problems to improve human health, innovate transportation, and rethink how people communicate.
What adversity did you face in your formative years and how did you overcome it?
I lived in a low-income community and attended an under-resourced elementary school, but I was surrounded by teachers, neighbors and friends that loved me and were committed to letting me be myself and to ensuring we all achieved a good education.
I was happy, but it was hard work to do many of things that I wanted to do. Simple things like attending an afterschool program or a camp about a STEM topic required a lot of thought and resilience. My parents worked a lot, public transportation was not accessible, the costs of programs were high, so I had to really work with my parents to develop a plan to do these types of things.
My entire family worked out a plan to send me to a marine biology camp in another state one summer. I sold lemonade, babysat, and had odd jobs to help pay for it. When I got there, it was really hard to fit in with the other kids, but I was determined not to let that ruin the experience for me- so I made friends with the counselors, developed a real passion for marine biology and made sure I learned a lot.
What inspired you to enter your field?
My dad was into engineering and building computers was something we did together. I was probably always interested in engineering in one way or another; some of the earliest pictures of me are of me taking things apart to see how they work. I knew I wanted to be a computer scientist as soon as I knew that was a career option.
However, I struggled to find a way to combine my equal love of psychology and humanism with computer science. It is important for young people to know about that struggle, because the job you want may not exist yet. You have to find a way to follow the paths in front of you without giving up your passions.
My academic advisors encouraged me to double major and this helped me eventually find the field of human factors engineering.
When I was in graduate school, it was important to me to do something meaningful that would help people. I started learning more about health care and the problems with medical errors, access to care and patient empowerment. I wondered why there weren't more engineers working to solve these problems. Then there was a call from the national academy of engineering and the national academy of medicine to investigate the use of engineering and computer science methods to improve health care. This was a timely combination of my interests and a national need.
You worked with the University of Wisconsin's PEOPLE pre-college pipeline for students of color or low-income. What were its strengths?
Programs like PEOPLE are so important to creating a diverse engineering workforce. Underrepresented students of color, low-income students and first-time college students face a lot of unique obstacles that can prevent them from achieving their goals or lower their self-esteem.
When I work with students who might be the first in their families to attend college, I notice that they have to figure out how university systems work, how to be successful in rigorous classes, how to navigate engineering culture, then to communicate this to their families.
Take a question like: should you accept a campus job in your first year or should you take out a loan? People who have parents or mentors who studied engineering might remember the first year is particularly rigorous and many students drop out, [so] they would advise against any distractions then.
Parents might not be aware of the long-term earning potential of an engineering degree versus a less rigorous degree. So the idea of taking out a loan may seem like a poor choice, but not if you factor in the notions of paid summer internships and generally high salary post-graduation.
-Mattie Alexander contributing