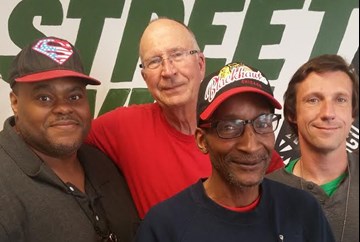 By: Staff
July 5, 2016
John: What is your opinion on ESPN SportsCenter? Why it is not what it used to be?
Russell: Well one reason I think a lot has changed is because there are many people who do not have cable, and because of the availability of sports online. When I turn to a sports channel to try and find the scores, it takes multiple minutes because you have to view the scores and stats from all the other sports and games of the day. On the internet, I can look up "Cubs Score" and it instantly gives me the score. There is also a lot of competition among networks; we have ABC, NBC, CBS, or Comcast SportsNet, plus premium channels like Showtime and HBO are creating sports broadcasting shows.
John: Another thing that I think ESPN is missing is "larger than life" personalities. Outside of Mike and Mike, they really do not have any distinct personalities that stand out. Back in the '90s, we had Keith Olbermann and Dan Patrick and they were the big show! Every weeknight and after pretty much every game, you had those two analysts and Chris Berman, who had a lot to say and a lot of excitement. Colin Cowherd went to Fox, which is beginning to have better shows and personalities than ESPN. The Fox pregame shows have been great; it's hard to stop laughing during them! Unfortunately, the ESPN analysts are starting to look a bit more robotic, and it's hard to get any kind of excitement out of them. The world of sports broadcasting has many personalities from many stations that are really taking over with a lot of energy. This is all just one of the few downfalls of having an influx of entertaining analysts who are dispersing their talent across many networks.

Russell: I agree! Shout-out to the TNT guys, I have grown to like them a lot more than the ESPN current analysts. They cover a lot of basketball games and do a really great job of keeping things interesting, especially Charles Barkley. Like John said, ESPN is not the same as it used to be! The topics are not as interesting, the guys are not as interesting, and things have definitely changed. When John Madden would cover football games, it was great, very entertaining.
John: Speaking of Charles Barkley, he definitely has that great segment that I love - "Gone Fishing!" Just recently he covered Oklahoma City and Toronto, and we're going to find out who will be "going fishing" between Cleveland and Golden State coming up here. Hopefully LeBron will go fish his talent somewhere, as long as it's not South Beach.