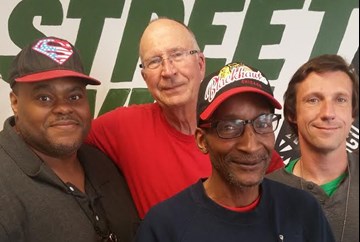 By: Staff
September 24, 2018
Donald: The Cubs got a new man and they're doing pretty good. They still can't overcome the scourge from Milwaukee. The Milwaukee Brewers keep them in trouble. They fail. These are a few things that are failing. There's a one-game lead for the Cubs and Milwaukee is inching their way back into the picture. It occurred to me, after looking at the whole thing, looking at the Cubs schedule, after looking at the last couple games, they'll build a lead if Milwaukee fails with other teams, because Milwaukee has problems with other teams like the Cubs have problems with Milwaukee. They had a couple of series against Milwaukee and they beat them.
Russell: I'm going to talk about the WNBA playoffs. This year is different than the past years. The teams that have the winning records are going to the playoffs. The losing teams aren't going anywhere. It's not top 4 in the East or West. It's overall record now. If you are in the West and you are the number one seed or the number two seed you may wind up playing each other in the championship. Last year it was West versus West. This year it is the Washington Mystics and Seattle Storm. Two different teams. No Minnesota, no LA Sparks. It's a best of five series. I think Seattle is up two games to nothing at this point. While I'm on the subject, I want to talk about female athletes. Why don't they get the same recognition as the men? Why? I think they deserve to get paid like a man gets paid. Give them their props. Pay them something respectable. Some of these women in the WNBA are getting paid way less money. I don't know how they're making it. I say give them more money. They deserve equal pay.
John: First off, college football. Last weekend Michigan State and Arizona State. I want to say congratulations to Herm Edwards. He picks up his second win of the year. Michigan State was ranked #15 in the country. Now we'll see if Arizona State is ranked. I think they should be ranked because they beat a top 25-ranked opponent. UCLA is off to a 0-2 start. I guess the Chip Kelly era has not worked out so far for UCLA. In the NFL, we are just starting. The Chicago Bears, in the first half against Green Bay, looked like the 1985 Chicago Bears. By the time we got to the fourth quarter of that game, they were playing more like the Chicago Bears of the past few years. In Major League Baseball, coming up, we've got very exciting National League races. We already know who is going to be in from the American League. It's just a matter of seeding. Yankees, Red Sox, Indians, Oakland A's, and Houston are all going to be in. In the National League, there is more drama for baseball. The month of October is going to be the busiest month of the year. The NBA starts earlier than usual. NHL starts in early October. NFL is getting started. Major League Baseball is entering the playoffs.
Donald: My final thoughts are considering the WNBA speaking back on what Russell was saying. Yeah, there should be more parity in payments. Owners have got to look at the quality of what they're doing for their team. Pay them according to their value. You can give or take with NFL, NHL, NBA or the Bears messing up in the fourth quarter. We haven't seen the Blackhawks yet but it looks like they'll be coming in with some fresh faces also.
Russell: This time of year is a nice time of year for me because you got baseball, college football, NFL and next month you got the basketball season coming up. It's going to be pretty interesting for sports. So if you love sports this is your chance to enjoy it. I'm enjoying it. I'm trying to watch every game I can. Rooting as hard as I can and pulling for my Cubs.
John: It's going to be interesting to see where the Cubs and Milwaukee finish.