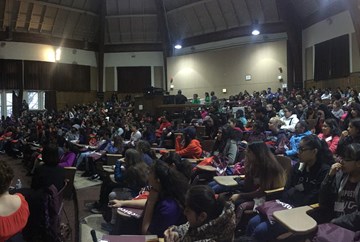 By: Mattie Alexander
April 2, 2018
Six years after the local Expanding Your Horizons conference was founded, the program continues to offer middle school girls the opportunity to explore careers in science, technology, engineering and math (STEM). Through locally-organized EYH Network programs, the EYH program provides STEM role models and hands-on activities for middle and high school girls. The ultimate goal is to motivate girls to become innovative and creative thinkers ready to meet 21st-century challenges.
This year's EYH conference was March 24 at the University of Chicago. The girls heard from keynote speakers Dr. Enid Montague and Corlis D. Murray, both successful women of color in their chosen STEM careers. Participants also got to choose three out of the 24 workshops, from extracting DNA from a banana peel, to measuring the speed of light using a bar of chocolate, to dancing as means to understand math and coding a robot to complete a maze.
"It was absolutely so much fun," exclaimed workshop co-chair, Allanna Condren. "EYH is such a cool organization because there isn't a lot of STEM exposure to middle-aged girls who are at such an impactful age. It's generally the age where they start getting mixed messages from media or sometimes family about whether girls should be in STEM."
Condren is a 3rd-year graduate student at the University of Illinois at Chicago College of Pharmacy. Her research focuses on understanding the chemical communication of pathogenic bacteria and the mechanisms they use to become antibiotic drug-resistant. She spends much of her free time mentoring undergraduate students and organizing outreach activities with the goal of improving science communication. 
"My boss, Laura Sanchez, was actually the one who encouraged me in my first year of graduate school to apply to run a workshop," Condren explained. "She was a keynote speaker in 2016. It was a blast! We did a workshop on natural sponges. We soaked the sponges in natural compounds that aren't necessarily related to a sponge. The girls were able to learn how we separate things we can't see with our eyes using thin layer chromatography (TLC)."
For Condren, mentoring young girls through the conference is a way of giving back what she received in grade school. Introduced to chemistry in the 8th grade, Condren's love for the science flourished when she was taught by a female chemist.
"She really showed me that I could do this because look at Miss Windum! She's doing it. And chemistry is really interesting," Condren remembered.
Condren, as well as other conference leaders, work to provide the guidance for girls looking for STEM careers. Girls like McKenzie, who attended the conference last year and dreams of becoming a neurosurgeon.
"The entire event was really fun," McKenzie said. "I left feeling empowerment. The vibes from the other girls made me feel like I could do anything."
McKenzie was inspired to become a neurosurgeon at a summer camp. She read about Dr. Ben Carson there.
"It was relatable," McKenzie explained, "because he wasn't the best student, but he tried hard and he persisted and he ended up being a very intelligent neurosurgeon."
McKenzie's mother, Opal, also sees her daughter benefiting from the mentorship EYH provides.
"As a hair stylist, I have zero knowledge of how to get into this kind of thing," Opal laughed. "I love that women facilitate. It gives the kids the experience of seeing someone who looks like them doing what they aspire to do once they have reached that level in their lives. I also love that it's at the University of Chicago, as it is a large medical facility here. It's important for the girls to see that and walk the campus. Every bit of it spoke opportunity."
Not only are the girls introduced to STEM, they also are introduced to new people and a new approach to learning.
"They take agency over their experience, which is new for a lot of my kids," said Laura Gluckman, a Chicago Public Schools teacher who has taken students to the conference for several years. "That contributes to their change in spirit after the program. You see kids who are shyer be more outgoing. I have girls now that are geared toward STEM who I don't think would be normally."
For girls like McKenzie, the freedom to do her own thing was a welcome experience. Though she came to the conference with two of her friends, she branched out to different workshops and connected with girls from around Chicago.
"It was even more fun because I wasn't stuck with one person the whole time, so I got to meet and interact with a lot of people who wanted to be successful," McKenzie said.
For more information about Expanding Your Horizons, visit eyhchicago.com.