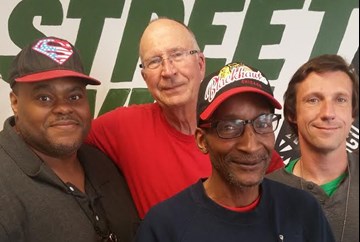 By: Staff
November 14, 2016
John: This year, the Bulls have great new athletes, but I feel that they are low on rebound and this is the result of The Bulls trading Joakim Noah. He was their main rebounder. Taj Gibson has a 6.9 average at rebounding; he's the best they have right now. In regards to assists, [Denzel] Valentine and [Rajon] Rondo are assist machines, they keep control of the ball and that's something I'm very interested in watching this year.
Bill: I didn't realize what great players Rondo and [Dwayne] Wade are. I've known that they both had leadership qualities, but the way they work together on the court is phenomenal. Rondo does a great job with spacing the floor. Wade and Butler subordinate themselves to Rondo's instruction, which is phenomenal teamwork. Another guy who has been surprising me this season is [Isaiah] Canaan. He scored 13 points in the second quarter, and he is an amazing ball handler on the court. Two of the other new guys that have caught my attention are [Paul] Zipser and [Robin] Lopez. Both are forces to be reckoned with. When they get going they turn into monsters on the court, handling and delivering the ball. However, I feel [Jimmy] Butler is going to be able to play less while also scoring a higher percentage. Wade seems like he is able to shoot the three. With these two guys handling these spots I am very confident in what the Bulls have in store.
Russell: I must say that I've been surprised with this team, I have been watching the games and I like what I see. Rondo has been impressive, handling and passing the ball and playing like a true team member. He's not hogging the ball. In comparison to last year, Rose and Butler would go back and forth about who would handle the ball rather than coming together as a team. They have a high scoring offense and I'm proud of this team. I feel that they are going to be better than last year. They just need to work on building the defense. I love how they share and pass the ball. It shows sportsmanship and great team building.
Vince: The Bulls needs a new assistant coach; someone to help them get onto the same page. I think this team is fine, I wish they had more strength with rebounding. They only have Taj and Lopez guarding but many of the players that can help them out are either hurt or on the bench. I feel Paul Zipser is a project, they saw the potential in him and I feel he has a lot to offer the team. I definitely see the potential that they saw in Valentine, I feel he will bring a lot of promise to the team in the future. 
John: Well they certainly have a different team right now, and the new players and strategies appear to be working out beautifully for their defensive plan.
Bill: One of the things I've noticed is the great sportsmanship between Wade and Butler and how they aren't taking all of the shots for the team. They don't hog the ball, which is something  Wade struggled with in his earlier years as a player. I feel that being on a team with LeBron taught him the importance of passing the ball and believing in your teammates. Another thing that I appreciate is how Butler can rest this season. He doesn't have to do everything. They are rotating the guys more allowing everyone to play equal minutes. Last season he was playing entirely too many minutes because the defense was overly dependent on him. Now that they have Canaan and [Doug] McDermott playing hard defense, Butler can take a break. So even if they don't make it to the playoffs, they are a tough team playing hard this season and I feel it will still be entertaining.
Russell: I agree, I definitely feel that they are going to the playoffs this year. Last year was just "one of those seasons" but they have a better developed team and a lot more communication.
Vince: Well, a fun fact is that the Bulls' player Jerry Grant is the nephew of '90s Bulls player Horace Grant, who made quite a name for himself. So I'm interested in seeing how Jerry will uphold the family name. Regarding the Bulls this playoff season, they seem like a second round team. They have experienced players on the team who have been to the playoffs to help guide them to the championship, so I know this will be a very interesting season.