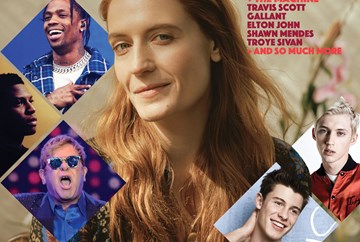 By: Jonathan Corvin-Blackburn
October 15, 2018
Another fall season is upon us with plenty to enjoy: pumpkin patches, apple ciders, and a very important election. Participate in all of these things, and attend a few shows while you're at it. This guide has every show you should see—from pop legends and R&B newbies to psychedelic rockers and folky crooners. Read on for all that and more as we cover the best concerts coming to Chicago this fall.
October 15
Years & Years
The Vic
7:30 pm
$28
This trio from London started as a five-piece indie pop band that quickly transitioned into electropop idols. They're touring to promote their latest album, Palo Santo, which frontman Olly must have written after a pretty rough breakup. There's no time for sadness though, as their upbeat electronic sound makes you want to dance with newfound independence.
October 17
Peach Pit
Schubas
8 pm
$13 ($15 at door)
If you want to pretend summer isn't over, join indie rock band Peach Pit at this intimate venue. Sporting turtlenecks and long wavy locks, these lads embrace their dad-vibes. Their sound is laid back with surf rock sounds and catchy melodies that will have you bouncing along.
October 19
Troye Sivan
Chicago Theatre
7:30 pm
$45.50+
First getting his start on YouTube, this pop prince is now a major influence in the genre. His new album, Bloom, is moody electropop with a few hidden gems including "Dance To This," which features Ariana Grande. It's a pretty romantic album. He says it was inspired by his relationship with his boyfriend, yet with songs anyone can enjoy.
October 19
Florence + the Machine
United Center
7 pm
$44.50+
Florence Welch got her big break in a way no one would expect, convincing her manager to give her a chance after drunkenly singing to her in a nightclub bathroom. She has a unique indie rock sound with choral elements, and influences of folk and blues. In the opening song of her latest album, High As Hope, she sings an emotional ballad about the last time she was in Chicago—the morning of the Pulse Massacre. Now that she's back, join her as she sings songs of love, loss, and celebration.
October 21
Jain
Metro Chicago
7:30 pm
$21 ($24 at door)
After listening to her music, it comes as no surprise that Jain spent her teens in the Middle East and Africa. The world music influence is clear throughout her indie pop tunes. Join this French singer as she tours to promote her latest album, Souldier.
October 21
KYLE
Riviera Theatre
7 pm
$36+
Though his name is hard to Google, this hasn't stopped big names like Miguel, Ty Dolla Sign, Kehlani, and Chance the Rapper from finding this hip hop artist to collaborate. He used to say the one name missing from that list was Wiz Khalifa but that all changed with the release of his latest single, "Moment."  This upbeat hip-hop with catchy hooks and a laid back vibe is something anyone can enjoy.
October 24
Roo Panes
Lincoln Hall
7:30 pm
$18 ($20 at door)
As the cold weather sets in, the season for quiet folk music begins. Under the stage name for Andrew Panes, he's traveled across the pond to tour his recently released Quiet Man. With his deep, raspy voice, his folk tunes don't always stay quiet, he's got a unique upbeat folky sound.
October 26
Kweku Collins
Lincoln Hall
8 pm
$15 ($17 at door)
This Chicago-local might not be a household name yet, but he's gearing up to leave his mark with his unique brand of alternative hip-hop. He's been featured on countless "artists to watch" lists and continues to impress as he releases new music. He's not new to the stage, having performed with his dad at only 4 years old. His latest singles seem to be headed into outer space with "ET" and "Sisko and Kasidy," named after the well-known Star Trek couple.
October 26 & 27
Elton John
United Center
8 pm
$68+
Elton John needs no introduction. He's one of the most successful musicians of our time, with more than 30 albums and with more than 50 Top 40 hits. Having released a remastered greatest hits album last year, he's sure to play old favorites like "Tiny Dancer" and "Rocket Man." If you have ever wanted to see him live, this could be your last chance as he sets out on his farewell tour. Can't make it this fall? He'll be circling back to Allstate Arena in mid-February.
October 26-28
Phish
Allstate Arena
7:30 pm
$55+
Not so much a concert as a cultural event, Phish shows are notorious for the dedicated community they bring. After 35 years since they originally formed, somehow this band still consistently brings something new with every show they play. Psychedelic rock with elements of jazz and funk, this is a weekend phishheads don't want to miss.
October 27
The Ballroom Thieves
Schubas Tavern
9 pm
$15 ($18 at door)
This folk trio from Boston will steal your heart as they swing by Chicago later this month. Their recently released EP, Paper Crown, expands their repertoire of emotional folk music with billowing harmonies and story laden lyrics.
October 27
Youngr
1st Ward/Chop Shop
10 pm
$15
The stage name for Dario Darnell, who is bringing his own brand of super catchy pop music. Merging elements of house and disco, his sound has syncopated beats and vocals that sound cool without really trying. He released a mixtape, This Is Not An Album, earlier this year, and hopefully has something that is an album on the way.
October 28
Billie Eilish
Metro
7 pm
$26
In the running for the coolest 16-year-old in America, Billie Eilish is taking the music industry by storm. Hailing from L.A., this artist has a unique style of electropop music that grows and builds throughout each song with clever beats and haunting harmonies. With a debut album rumored to be released this year, she's sure to have some new music to play.
October 30
Maggie Rogers
Riviera Theatre
7:30 pm
$25
It's one thing to get your music in front of a big name producer like Pharrell Williams, but Maggie Rogers did one better with a viral video that showed his impressed reaction to her song "Alaska." This singer-songwriter produces music that's emotional and vulnerable, with playful melodies and harmonies. Join her as she swings by Chicago for a concert likely to include her recently released singles, "Fallingwater" and "Give A Little" from her upcoming debut album.
November 2
Victory
S.P.A.C.E.
7 pm
$15
From singing in Central Park to being signed to JAY-Z's label, Victory has been on quite a journey. She writes songs that tell stories that will have you daydreaming to her soulful, folky, R&B sound and raspy vocals. Touring to promote her recently released her debut album The Broken Instrument.
November 3
Gallant
Concord Music Hall
7:30 pm
$24.50
It doesn't matter if you've already got plans on November 3, cancel them and go see Gallant instead. High off the release of his debut album in 2016, he's continued to pump out single after single since then, including "Doesn't Matter," which is impossible to not play on repeat. He has a Lo-fi R&B sound driven mainly by his infatuating vocals. Get there on time to see Chicago-based soul singer Jamila Woods as the opener.
November 4
Kllo
Schubas
7 pm
$12 ($14 at door)
If you missed them last time, join this Australian duo as they return to Schubas this November. Now that their debut album has had time to simmer, they're back with a new single "Potential," something this duo has plenty of. Their electropop sound with 90's R&B vibes pairs perfectly with singer Chloe's smoky and emotional vocals which emanate throughout a room.
November 7
Jake Shears
Metro Chicago
9 pm
$25 ($28 at door)
Best known as the frontman of Scissor Sisters, Jake Shears is busting out on his own. His unique voice stands out in this solo endeavor with a glam rock feel. With clear influences from the likes of George Michael and Elton John, his music is theatrical and fun.
November 10
Kevin George
Subterranean
6:30 pm
$15
He has two first names, and could soon be a household name. Kevin George is self-taught and often works alone, which seems to work because his emotional and vulnerable brand of alternative R&B is polished and something everyone should hear. With two EPs to his name, look forward to plenty of new music from this young artist.
November 13
Jessie Reyez
Lincoln Hall
7 pm
$25
Emotional yet tough, this Latinx artist blends pop and hip-hop as she sings about relationships in a refreshingly real way. She's collaborated with big names like Calvin Harris, cowriting his two latest singles, which are fantastic. Her second EP, Being Human In Public, will be released this October.
November 14
Kero Kero Bonito
Thalia Hall
8:30 pm
$17+
This trio hailing from London garnered their fanbase with cute electronic songs about jumping on trampolines and taking selfies. Things have changed a bit with their latest album, Time 'n' Place, as they've bought an electric guitar and have incorporated an edgier rock sound into their quirky vibe. Even with the guitar riffs, they continue to sound bubbly and playful.
November 23
Louis The Child
Aragon Ballroom
9 pm
$33.50
Hailing from our fair city, this duo knows how to craft a bop. Their sound is full of mesmerizing synths and catchy melodies, including their latest single "Better Not," which features Wafia, who will be also be performing. Catch them at the Aragon as the bouncy ballroom floor assists in your jumping to the beat.
December 4
H.E.R.
Riviera Theatre
7 pm
$35+
Her name stands for 'Having Everything Revealed' and H.E.R.'s finally done that after keeping her identity hidden for the first few years of her career. Now that her music has had a chance to speak for itself, she's come into the forefront as she recently released a prelude EP to her upcoming debut album. Her R&B sound is Lo-fi and quiet, with beats that have you focused on every note and lyric she sings, something you don't want to miss live.
December 6
Travis Scott
United Center
7:30 pm
$45+
One of the newer names in hip-hop, in just a few years he has grown to headlining festivals and filling stadiums. It hasn't been easy for Travis Scott, he spent the early years of his career couch surfing and perfecting his craft. He is currently touring to promote his third studio album, Astroworld.
December 7
Chloe Moriondo
Subterranean
6:30 pm
$15
After garnering a following on YouTube, posting both original and cover songs in front of a camera in her bedroom, Chloe Moriondo is setting off on her first live tour dates. Just an artist and her ukulele, her sound is quiet with lyrics that are sweet but have a bite.
December 8
Shawn Mendes
Allstate Arena
7:30 pm
$49.50+
If you've turned on a radio in the past few years, you've definitely heard Shawn Mendes. Originally making a name for himself by posting six-second covers on Vine, he's now singing full-length original songs to sold out stadiums. After recently releasing his self-titled third album, join him as he performs huge hits like "Stitches" and "Treat You Better."
December 15
Larkin Poe
S.P.A.C.E.
10 pm
$20
Comprised of Sisters Rebecca and Megan Lovell, this duo has a bluesy, badass rock sound that is uniquely their own. Originally backing other musicians on tour, these artist are now the headliners. Join them as they tour to promote their upcoming fourth album, Venom & Faith, due for release November 9.