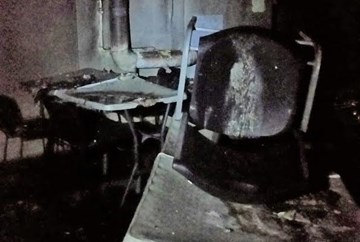 By: Suzanne Hanney
March 20, 2017
A month after a fire of undetermined origin shut down the only youth shelter on Chicago's South Side, Unity Parenting officials are working to raise more than $20,000 for repairs so that its Ujima Village can reopen before the young people are lost.
"The fire couldn't have come at a worse time of year for these kids," said Flora Koppel, executive director of Unity Parenting. "There are so few overnight options during the coldest time of the year. We are not able to provide them a safe bed, or laundry, or showers or any of the things our youth so desperately need. Our staff has been standing outside the burned building in the early evenings to at least provide them a sandwich for dinner. We are assessing the situation and anxious to reopen as soon as it is possible."
Unity Parenting operated three programs at 7320 S. Yale Ave. Its shelter had 12 regular youth guests and another 12 transients of all genders. As part of the Chicago Youth Storage Initiative, its entrance hall was the site for 65 metal lockers where kids as young as 10 without a permanent home could keep important papers and possessions. And Orchids in da Hood (OH!) dealt with art, activism and life skills, but was on hiatus because of state budget cuts. All three programs are now indefinitely closed.
Late in the morning of January 16, the fire started in a basement TV area with three couches as well as a laundry room, kitchen, and bathroom; it was reported by a senior citizen at a center in another wing of the building who smelled smoke. The fire melted electrical wiring, some of the plumbing, all the furniture and appliances, office equipment, two computers and bed linens. However, there were no injuries because the shelter closes during the daytime.
The cause of the fire is officially undetermined by the Chicago Fire Department although the fire marshal found no indication of arson, said Anne Holcomb, Unity Parenting supportive services supervisor. Still, the undetermined cause means that the programs are "trapped in insurance limbo" while Unity Parenting's insurer and that of the landlord argue about responsibility before making payment.
Meanwhile, Holcomb describes swirling particulate and a few inches of standing water in the basement left over from fire department efforts. Metal scavengers tried to take advantage of firefighters' necessary efforts to damage the doors to enter the building, so the landlord has since boarded up the facility.
The Chicago Department of Family and Support Services (DFSS) has also been actively searching for a temporary space for Ujima but has so far been unsuccessful. The process is complicated, involving zoning and community meetings.
Short-term, Holcomb said that Ujima is fundraising to either reopen in a temporary space or to professionally abate the smoke damage and restore the electricity and plumbing in the less damaged first floor of their current building. The program is one of 13 beneficiaries from the second annual Out in the Open Sleep-In, which was February 24 at the Second Presbyterian Church.
Ujima has a Go Fund Me page at https://www.gofundme.com/fire-at-shelter-for-homeless-youth, and it is hosting a Bulls game fundraiser Wednesday, March 22 against the Detroit Pistons. Tickets are $46 and can be reserved only through Holcomb at 773.699.4711 or aholcomb@unityparenting.org
Time is of the essence, because the young people are surviving the way they did before there was a Ujima shelter, Holcomb said: sleeping on CTA trains, in abandoned buildings, or on the bus; trading a LINK card, CTA pass, food, or sex, for a place to stay.
Already, Ujima has lost touch with three of its 12 regular youth, whose phones have become disconnected and who do not have regular access to email because of the shelter's closing. Yet news of its reopening would move equally fast on the youth grapevine, Holcomb said.