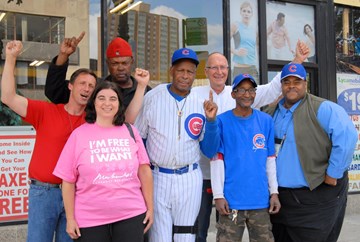 By: Staff
October 31, 2016
John: My favorite Cubs moment is from this year. The Cubs were playing Seattle and were down 0-6 in the bottom of the 9th, Seattle pitched a fastball and the Cubs' hitter sent it out of the park.  My favorite player of all time from the Cubs is Bruce Sutter because he always got the game-winning hits.
Russell: I have a lot of great moments that come to mind, but my favorite is the no-hitter by pitcher Milt Pappas in '72. He had a perfect game going in the bottom of the 9th with 3 balls with 2 strikes after retiring 26 batters. The last ball he missed on the ump's call and a lot of the Cub fans were upset because the perfect game was gone, but he was still able to get the no-hitter. As of right now, this year is my favorite. I am very proud and happy for the Cubs. Win or lose, I will always stick by the Cubs. They play hard, have an amazing team and billions of fans and they are worth cheering for. They keep me motivated.
Bill: I am a defensively-oriented person and I love no-hitters as well because there are a few good catches and good plays where these no hitters would happen. My thing with the Cubs is how amazing of a team that they are.  I have watched great teams such as the Yankees, and the Cubs is one of the best teams I've ever seen. They have six starting pitchers, a great closer, they have fielders in every position, and they have speed, along with a great manager and owners who have a plan; Epstein has come in and has delivered a solid five-year plan. The Sox only try to buy newer players each year; this is the same tactic that the Cubs did three years ago and it doesn't work. The Cubs overall has excellent management: 103 victories in one year, it's amazing and very rare. This is very rare if you're not familiar within the world of baseball for the cubs to be able. I also expect the hitters to come to the plate more often.
Janet:  I am not originally from Illinois; I moved here in 1989 and I had a great time because I had become a Cub fan for the first time and remember Mark Grace, Ryne Sandberg and Andre Dawson. The next year I went to the Cubs' convention and met my dear friend, Ronnie Woo Woo Wickers. I met him there and we have been friends ever sense. So that was a fantastic time for me and has helped me create a lot of great memories with Ronnie. This year is very exciting, because of the teams that I have seen since 1989, this team seems to have the most confidence out of the other teams in the games that I have witnessed. I know that they are going to go all the way and they are certainly in it to win it.
Ronnie Woo Woo: The first ball game I saw was in 1951 and I saw Jackie Robinson play. And that was amazing, because he was pioneer to baseball but at the time baseball was segregated. Anytime Brooklyn came to town with the Dodgers you couldn't sit in the center seats, we had to sit in the right field.  But because of that it helped me develop more of a love for this game because that's what we had to deal with to see players play, but there was more that Jackie had to go through just to simply play so those were good times in baseball for me.  The late Buck O'Neil [a first baseman, player-manager with the Negro league and the Cubs scout who signed Hall of Fame players Ernie Banks and Lou Brock] is a pioneer of baseball, and he did a lot for the game even though he never received the recognition that he deserved. He loved the game, he stated that no matter who you root for, if you like baseball you support the game. O'Neil was my idol out of all of the people that I have met from this game.  Baseball brings people together, that's what I love about it. You can go to the ballpark and meet people of different backgrounds and nationalities and get along perfectly. That's why I tell people that it's the fun of the game that I enjoy most. I tell people that the sky is the limit, and to come out to Wrigley Field if you are having a bad day. You can always come out to a ballgame and have fun, regardless of what is going on in your life; the environment will bring it out of you.
Vadii: My favorite moment this year happened at the start of spring training. [Center fielder] Dexter Fowler had been traded  to the bottom and once he stepped on the field, he surprised everybody  by being the leadoff man and he has lived  up to it ever since.
Vince: Ronnie just mentioned the Ivy at Wrigley, and during late October the ivy turns red. Cub fans aren't able to see this because by the time the World Series comes around, Cub fans are home watching other teams play. Red Ivy October is amongst us and I am excited.
Bill: I would say another great moment for me was when the [White Sox's] Minnie Minoso broke the color line in Chicago. He was also the first Caribbean player in MLB and he never got his due. He was really just an all-around great guy and he loved the game.
Ronnie Woo Woo: What I remember about Minnie is that when Ernie Banks passed away, Minnie was one of the pallbearers for his funeral. It was truly amazing to see such camaraderie amongst the MLB players.
Vince: I am just glad everyone rooted for the Cubs as they dominated this season.
Russell: It feels good to see the Cubs back on top, it always seems like the Red Birds try to take the series but I know my Cubs will pull through.