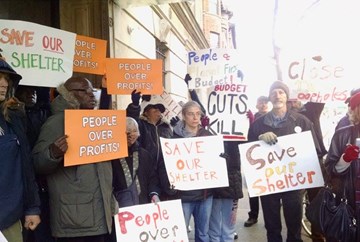 By: Suzanne Hanney
January 5, 2017
North Side Housing Protest
Tent City residents, shelter guests, clergy and social service providers protested the lack of a state budget at the People's Church, 941 W. Lawrence Ave., where North Side Housing and Supportive Services will be forced to close its 72-bed men's interim housing December 23.
The state's stopgap spending plan expires December 31. Meanwhile, North Side Housing's interim program relies on state funding for 2 out of 3 dollars in its $550,000 budget, which passes through the City of Chicago.
"I've been at the shelter since July," said Stanley Weatherspoon, a current resident. "My mom and I lost our apartment when they kicked us out to fix up the building and raise the rent. Our state is sending men onto the streets because Governor Rauner and the legislators will not agree on a budget and are unwilling to raise taxes on the big corporations and the wealthy."
ONE Northside, which organized the protest, says that the state's $5 billion structural deficit is at the root of the budget impasse. The grassroots organization says that a solution would be amending the state constitution to allow for a progressive income tax, in addition to closing corporate tax loopholes and implementing a financial transactions tax.
Dereco Sharif, a former resident of the shelter, said that a shelter closing at the start of cold weather creates a life-or-death situation for the residents. "The governor's insistence on his turnaround agenda and the Democrats' refusal to put revenue bills on the governor's desk leaves real, human lives hanging in the balance."
Until the stopgap budget was prepared, the Chicago Department of Family and Support Services had been unwilling to issue a contract for funding North Side Housing's interim housing program, Executive Director Richard Ducatenzeiler said in a telephone interview. In addition, the interim housing program has run a $100,000 deficit for the last several years. North Side Housing has made up this difference but it can no longer continue to do so, Ducatenzeiler said.
State funding unpredictability and the City's inability to raise funds to compensate for it forced the interim housing program's closure, he said.
"The City is pretty strapped itself. We know these programs are very much needed but we can't put our agency at risk and the other 500 participants we serve each year. We're small. Anything that puts a big dent in our cash flow is not something we're able to risk." The agency also maintains 190 units of permanent supportive housing, a daytime drop-in center, integrated health service, home-based nursing service and a transitional employment program.
North Side Housing stopped taking men into the program on October 1. Since it is not an emergency shelter but a temporary housing program, it has been placing residents into its own permanent supportive housing and into similar interim housing on the West and Northwest sides, he said.
There are no other similar programs on the North Side except for Cornerstone Community Outreach. That program is also at capacity -- and waitlisted, said Jeremy Nicholls, CCO outreach worker.
Two-thirds of Illinois companies do not pay state income taxes, but loopholes are not the reason, according to the Illinois Chamber of Commerce and the Taxpayers' Federation of Illinois. Instead, 95 percent of them had zero or negative taxable income at the federal level.
Chicago Gets Housing Vouchers for 150 More Vets
The U.S. Department of Housing and Urban Development (HUD) gave nearly $1.4 million to the Chicago Housing Authority in vouchers last month for roughly 150 veterans who are homeless. The HUD-Veterans Affairs Supportive Housing (HUD-VASH) program combines rental assistance with case management and clinical services.
Housing veterans has been a top priority of the Obama administration, said HUD Secretary Julian Castro. "We take seriously our responsibility to ensure that those who have served their country in uniform have a home and these vouchers will expand our success in ending veteran homelessness as we know it."
In the HUD-VASH program, VA Medical Centers assess veterans experiencing homelessness before referring them to local housing agencies for vouchers. Decisions are based on numerous factors, especially the duration of homelessness and the need for longer-term support. Chicago vets experiencing homelessness can call the Jesse Brown VA Medical Center Veteran Community Resource and Referral Center (CRRC). The CRRC can help with shelter, housing and other basic needs. Call 312.569.5750 or visit 1141 S. California.
LSC Members take Special ED Funding Protest to Rahm
Local School Council members from Chicago Public Schools across the city delivered a letter to Mayor Emanuel December 6 regarding CPS funding of special education. The LSC members protested a 4% across-the-board cut to special education programs and the commingling of funds with general education funds. Principals and LSCs were told to work out the funding in what the LSC members say is a non-transparent process.
Special education students have "the most complex and demanding needs of all children in Chicago Public Schools," the letter noted. Meeting their needs as specified in individual plans for each of them is federally-mandated and puts administrators at risk of lawsuits. In addition, if the commingling continues, special education funding will be untrackable and nontransparent in the future.
"This is a school funding shell game, where CPS underfunds our schools and then cynically pits the programming for students with special needs against the programming for students in the general education population," said Mary Hughes, a parent representative on both the Cassell and Chicago High School for the Agricultural Sciences LSCs. "It is a deliberate muddying of the waters in order to cut costs."
City Won't Kill Dogs, For Lack of Space
Chicago dogs and cats in city-run shelters will be euthanized only if they are terminally ill, not for lack of space, thanks to a resolution supported by 30 aldermen.
Alds. Raymond Lopez (15th) and Ed Burke (14th) introduced the resolution as part of a proposed ordinance that would also transfer the licensing of dogs and other pets from the Office of the City Clerk to the Department of Animal Care and Control (CACC). The CACC executive director would be required to write an animal euthanasia policy and would be empowered to enter agreements to improve licensing and oversight of animal care facilities. Operators would have to obtain an animal care license; they would also have to disclose euthanasia and pet surrender statistics as a condition for issuance/renewal.
"What we want and need is an authority that actually has authority, and is able to require all shelters in the city to be fully licensed and to provide reporting on their activities," said Lopez. "Our goal is to reduce the killing of animals and to improve their care and well being, and to reduce the costs to the taxpayers."
On November 30, Lopez and animal rights activists protested at the CACC's facility at 2741 S. Western Ave. regarding Executive Director Susan Russell's plans to close two pavilions there. Lopez said he was concerned that the closing would lead to euthanasia of 200 animals, which should instead be provided alternate housing. The Chicago Sun-Times quoted animal rights advocates who said that the CACC shelter had killed more than 10,000 animals over the past two years at a cost of $1.1 million.
Advocates Block Luxury Construction
Community groups briefly blocked construction of the MODE luxury development at 2501 W. Armitage by chaining themselves to construction equipment and blocking the main entrance to the property for several hours. The advocates say new luxury developments raise property values, and therefore taxes on surrounding buildings, which in turn increase rents and lead to mass evictions.
Referring to the 10 percent affordable housing set aside in the Affordable Requirements Ordinance, Antonio Gutierrez of the Autonomous Tenants Union said, "The question we should be asking ourselves is, 'is 10 percent affordable housing really enough?' One can imagine in 50 years or 100 years, if only 10 percent of the city's housing is affordable, is that really the kind of diversity we want?
"Even in the Affordable Requirement Ordinance, it's 10 percent affordable at 60 percent of the Area Median Income (AMI). The AMI is about $42,000 for a family of four, but most of the families that are out here right now don't even make $25,000. So is it really affordable?"
Grand Opening of BOP Business Suites
Project 5000 Chicago has celebrated the grand opening of its BOP (Building Our Prosperity) Business Center Chatham Suites. The site at 642-44 E. 79th St. is for business owners who want to work in a professional environment and to gain access to business resources, job training and workshops.
The late Dr. Webb Evans, founder of the United American Progress Association, was remembered at the grand opening as "Mr. Buy Black." Project 5000 supports Evans' principles to "Buy Black, Love Black and Give Black" in order to build sustainable communities and thus generational wealth.
Project 5000's mission is to create jobs and opportunities for underserved urban communities. More information is available at www.bopproject5000.org