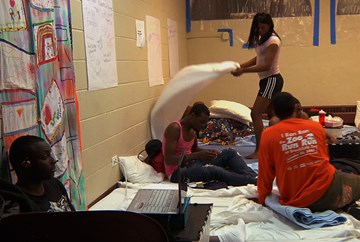 By: Suzanne Hanney
November 7, 2016
The U.S. Department of Housing and Urban Development (HUD) is offering $33 million early next year to 10 pilot projects focused on ending youth homelessness by 2020 and Chicago is applying to be one of them.
Jeri Linas said Chicago is ready because it already has a coordinated policy and advocacy agenda that deals with safe and stable housing; with education and employment; with physical, mental and behavioral health; and with permanent connections. What the city needs to end youth homelessness is more of the same, said Linas, co-chair of Chicago's Homeless Youth Task Force and executive director of Teen Living Programs, at a breakfast meeting of prospective funders and working group members October 25 at Chase Tower.
Chicago delivers services to people who are homeless tailored to needs across the city, Linas said. There are street and community outreach programs, drop-in centers, overnight shelters, interim and transitional housing as well as permanent housing on the North, South and West Sides. There are services for LGBTQ youth and for those who have been trafficked as well as expanded mental health care services. She credited input from the homeless youth task force, which was established in 2011 after former Mayor Richard M. Daley accepted a North Side youth group's invitation to their art show.
Last year, Windy City Times facilitated a homeless youth summit and this summer, Chicago undertook a two-day count of homeless and runaway youth age 18 to 25. Bryan Samuels, executive director of Chapin Hall at the University of Chicago, told the group that the August count yielded 600 surveys that will inform national strategies to end youth homelessness.
But there are still gaps in service, Linas said. These include more programs to prevent homelessness and more to improve family resiliency, family reunification, transitions from foster care, engagement with the juvenile justice system. More youth-focused connections to rapid re-housing and coordinated access to housing are also needed.
Lack of resources such as overnight shelter beds is one of the challenges, said Chicago Department of Family and Support Services Lisa Morrison Butler on a panel moderated by Sun-Times columnist Laura Washington. "Government by itself cannot solve this problem," Butler said.
However, the city has learned lessons from programs to house homeless veterans and people under Uptown's Lake Shore Drive viaducts. It could benefit from an interagency homeless "czar." Polk Bros. Senior Program Officer Debbie Reznick said they could be interested in funding such an innovative position.
Hanke Gratteau, director of the Cook County Sheriff's Justice Institute, said that the jail already spends $143 a day to lock someone up: what is termed "hardship housing." Before that point, the sheriff deals with kids and families prior to evictions, it works with homeless liaisons at Chicago Public Schools and with  Department of Children and Family Services runaways before they turn to drug dealers and traffickers. "There are resources that can be diverted from the criminal justice system. The money's there; we have to decide what to spend it on," Gratteau said. 
Avik Das, an attorney and acting director of Cook County Juvenile Probation and Court Services, said that too often, families say 18-year-olds are old enough to be on their own. The juvenile probation system has 3,000 people on active supervision who have intersected with all the family challenges Linas mentioned, he said.
A youth at the breakfast said he hadn't been to college yet and didn't understand all the speakers' big words, but Das said the youth advisory board brings experience that the speakers lack, so that they are indeed key players. "Nothing about us, without us," he said, quoting a familiar saying among disability activists.
Julie Dworkin, policy director at the Chicago Coalition for the Homeless, said afterward that the forum differed from those in the past because of the fully engaged youth and the presence of juvenile justice officials. "If you increase participation, you will have a huge impact."