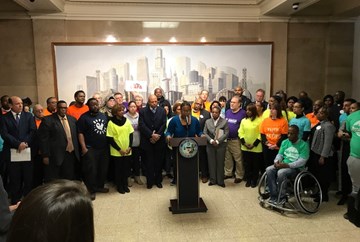 By: Suzanne Hanney
April 23, 2018
Community advocates are calling for night-time public hearings on two rival ordinances for civilian police oversight presented to the Chicago City Council March 28: theirs and one from Mayor Rahm Emanuel's hand-picked City Council Public Safety Committee chairman.
"We don't want it to be buried in committee," said Mecole Jordan, coordinator of the Grassroots Alliance for Police Accountability (GAPA), said of its ordinance for oversight of the Chicago Police Department, Civilian Office of Police Accountability (COPA) and the Police Board. "And we don't want hearings at City Hall when people who have an interest in this issue are at work."
The ordinance proposed by Alds. Rod Sawyer (6th ward) and Harry Osterman (48th ward) has 18 supporters on the 50-member City Council. It generally follows guidelines set by GAPA and includes the power to hire and fire the police superintendent, which the other proposal does not.
GAPA formed in summer 2016 and spent nearly two years hosting community meetings across the city. Its leaders met with Seattle Police Commission members and Los Angeles Inspector General Alex Bustamante and researched best practices in Milwaukee and San Francisco, Jordan said.
The ordinance would provide oversight of the Chicago Police Department, the Civilian Office of Police Accountability (COPA) and the Police Board, via a seven-member civilian commission comprised of people with expertise in law, public policy, social work, psychology, mental health, law enforcement, community organizing, civil rights and advocacy on behalf of immigrants and LBGTQ people. CPD, COPA and Police Board staff would be eligible after three years detachment.
Nominations would come from community groups and interested individuals themselves; appointment would come from district councils in each of 22 police districts.
Candidates for these three-member district councils would have to be at least 18.
They would be elected every two years, simultaneous with Local School Councils; eligible voters would be at least 16. The district councils would "serve as the eyes and ears of the Commission in each district," according to a GAPA report issued last month. The ordinance also says that all 66 members from across the city would meet quarterly to identify trends and would gather yearly to propose priorities for the commission.
Under the Sawyer-Osterman/GAPA ordinance, the seven-member civilian commission would recommend three candidates for superintendent (a function now performed by the Police Board) to the mayor. The City Council would confirm the nominee. Either the commission or the mayor could terminate the superintendent, after a 30-day notice. The commission would also conduct an annual performance review.
Also on March 28, however, City Council Public Safety Committee Chairman Ald. Ariel Reboyras (30th ward) introduced an alternate ordinance, according to the Chicago Tribune. In Reboyras's ordinance, district positions would not be elected, but appointed: by the mayor, city council, other commissioners or some combination. Also, the civilian commissioners would not have the power to fire the police superintendent.
Emanuel did not say which ordinance he backed.
But Lori Lightfoot, president of the Police Board and also of the Task Force on Police Accountability, said in the Chicago Sun-Times that in allowing two proposals to be introduced to the City Council, Emanuel had "completely undercut the groundswell of community support for the GAPA proposal."
Then on April 5, Ald. Carlos Ramirez-Rosa (35th ward), hosted a press conference for his ordinances, which a staff member told StreetWise would be called for a vote at the April 11 City Council meeting. Ramirez-Rosa's two proposals, according to the Tribune, would call for appointed, rather than elected, district positions. Neither of his proposals gives the power to fire the superintendent.
GAPA formed in response to the call for civilian oversight in 2016 from the Task Force on Police Accountability, which was created by Mayor Emanuel after public outrage over the police shooting of 17-year-old Laquan McDonald. The Justice Department made a similar recommendation in 2017.
"Disrespect, abuse and humiliation" were a common thread in 19 GAPA community conversations with 1,650 residents across the city in November and December 2016, according to a report issued immediately afterward. "Person after person described daily degradation where police officers treat law-abiding people like they are criminals, especially in predominantly black and Latino communities."
Last month's 30-page GAPA report went a step farther. "[W]ithout trust, people are less likely to cooperate with the police. This situation makes it much harder for police to fight crime and keep the peace." As an example, the report cited Chicago's low murder clearance rate: 17.5 percent in 2017. That's 50 percent below solved homicides here in the early 1990s -- and far below national averages.
Prior to the brutal police beating of motorist Rodney King in 1992 – and six days of violence that left 63 people dead -- the Los Angeles PD faced similar concerns about excessive force. Los Angeles overhauled its civilian commission, "which made the Los Angeles model especially relevant to GAPA participants."
GAPA officials credit changes to police oversight with LA's solved homicide rate: 73.4 percent in 2017 compared to Chicago's 17.5 percent.
GAPA participants wanted a method for punishing police misconduct like the McDonald shooting, but more than that, they sought to prevent it. They wanted to address the hiring and training of police officers and new recruits as well as their supervision at the district level.
There are 13 community organizations in GAPA, including Jewish Council on Urban Affairs, ONE Northside, Asian Americans Advancing Justice, Community Renewal Society, Inner City Muslim Action Network, Lugenia Burns Hope Center, Southwest Organizing Project, TARGET Area Development Corporation and West Side Health Authority. Support has also come from The Chicago Community Trust, John D. and Catherine MacArthur Foundation, the Joyce Foundation, Polk Bros. Foundation, Robert R. McCormick Foundation, Woods Fund Chicago and more.
However, Fraternal Order of Police President Kevin Graham said in the Chicago Sun-Times that the existing COPA, as well as the FBI, Illinois State Police, state's attorney's office, and an "exceedingly biased media," have officers "under virtual siege."