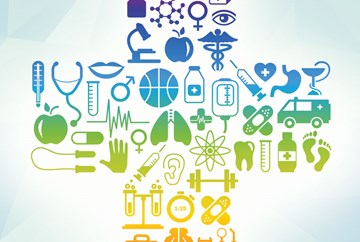 By: Jenni Spinner
July 6, 2017
Chicago's LGBTQ population is a unique community. It's a group with its own culture and needs — including specialized concerns around health and wellness. However, with recent shifts in political leadership and policy, many officials, leaders and community members feel the community is at risk, particularly regarding healthcare.
Thanks in large part to the passage of the Affordable Care Act (widely called "Obamacare), the percentage of uninsured Americans fell below 9 percent, or about 27.3 million people, in early 2016. Compare that to 2010, the year that ACA became law, when more than 16 percent of the population had no insurance.
Now, with the keys to the White House in Donald Trump's hands, the mood around healthcare has changed. If the Trump administration and GOP-led Congress get their way, the ACA will be repealed. Depending on which version of its replacement is passed, premiums and prescription costs could soar, coverage for pre-existing conditions could disappear, and millions of people could lose access to insurance.
Learning what's at stake
According to elected officials, there is cause for alarm not just in the LGBTQ community, but everywhere.
"Access is at risk for everyone," said State Rep. Kelly Cassidy, (D-Chicago). "Between the impact of the budget standoff on at risk communities and the social service system and the uncertainty of the federal system, everyone is at risk."
State Rep. Greg Harris, (D-Chicago), said the state's LGBTQ community is especially vulnerable to looming shifts in healthcare policy.
"Access to healthcare for LGBTQ people is very much at risk in Illinois, as it also is for African-American, Latino, Asian, immigrants/refugees and people with disabilities," said Harris. "The ability to access and afford healthcare and insurance coverage is at huge risk because of the enormous cuts to Medicaid being proposed by President Trump, and by the Republican attempt to repeal Obamacare, which would not only devastate the Medicaid program further, but would severely limit access to care and affordable coverage to hundreds of thousands of Illinoisans who get healthcare in the individual or employer based markets."
Harris added that coordination of healthcare cases for vulnerable and at-risk Illinoisans could be jeopardized, especially where "cultural competency" is an issue, such as cases involving familiarity with LGBTQ issues, helping people from other countries, for whom English is a second language, and others, as well as seniors and people with pre-existing conditions.
According to the Center for American Progress, a larger percentage of LGBTQ people rely on programs like Medicaid for their health needs than the general population, and the GOP's proposed changes would leave these people particularly vulnerable. What's more, people in the LGBTQ community are more likely to have incomes at or near the poverty level so rising premiums and prescription costs would put life-saving treatment like HIV drugs out of reach.
The city backs LGBTQ health
The City of Chicago appointed a special LGBTQ Community Liaison in December 2016. Antonio King, a 13-year veteran of the Chicago Department of Public Health, boasts more than 20 years of experience tackling HIV/AIDS education and prevention, starting as a volunteer in the early days of the epidemic. During his six months in the position, King has kept busy discussing LGBTQ issues with aldermen all over the city, working with groups like the Chicago Black Gay Men's Caucus, co-chairing the CDPH meningitis task force, and convening a roundtable with Mayor Rahm Emanuel and people of color in the LGBTQ community.
King said his appointment is a positive sign for LGBTQ Chicago residents.
"It shows that CDPH is committed to improving health disparities at every layer of our LGBTQ community and supports Mayor Emanuel's commitment that every resident of Chicago has the opportunity to live a healthy life," he said. "It also shows that the health and quality of life elements that impact the LGBTQ community are among the priorities that will be addressed."
Additionally, King said, the CDPH's Healthy Chicago 2.0 is a positive move for LGBTQ Chicagoans and the rest of the city. The initiative aims to build strong communities and foster collaboration, giving residents at every level "equitable access to resources and opportunities and environments that maximize their health and well-being."
Expanding LGBTQ services
The city also is home to a broad number of organizations dedicated to promoting the health of people in the LGBTQ community. The AIDS Foundation of Chicago (AFC), Howard Brown Health Center (HBHC), Center on Halsted and other groups provide direct aid and services to promote the health of people in Chicago's LGBTQ community.
For example, HBHC has greatly expanded its services to the LGBTQ community since it first began as a volunteer-run STI clinic for gay men and women more than four decades ago. The organization now serves more than 27,000 adult and youth clients each year, offering everything from primary medical care, behavioral health care, and HIV/STI prevention to specialized services for young and elderly people. In August 2015, it received Federally Qualified Health Center (FQHC) status, enabling it to pursue new funding streams, and to serve more people all over the city.
"When we started applying for FQHC designation, we started recognizing how we serve people across ZIP codes and state lines," said Kristin Keglovitz-Baker, HBHC's chief operating officer. "We noticed that people need us all over geographically, and that they want services closer to their home, so they don't have to travel as far."
While HBHC's services typically have been centered on the city's North Side, Keglovitz-Baker said, the organization has expanded to include locations as far north as Rogers Park—the city's northernmost neighborhood—and as far south as Englewood.
"We're proud of and excited about that accomplishment," she said. "People now are able to get care in their neighborhood—we're able to bring our services to them."
HBHC recently launched its in.power* program, a first-of-its-kind holistic program engineered to address the growing (and largely ignored) problem of sexual violence against LGBTQ people. The program features staff specifically trained to honor people of all gender identities and presentations and to deliver the help they need, from STI testing and treatment, to short-term case management, to referrals, to support groups for young people and adults. In.power* also offers legal advocacy, bystander and community stakeholder training.
Health education and awareness
In April Chicago hosted the 5th annual National LGBTQ Health Conference, an event that tackled a wide range of health-centric issues impacting the community. Presenters included Northwestern University's Institute for Sexual and Gender Minority Health and Wellbeing (ISGMH)—the first university-wide institute in the country focused exclusively on research to improve the health of the sexual and gender minority (SGM) community—and the Center on Halsted.
"The needs of the SGM community are often overlooked in healthcare," said Brian Mustanski, Ph.D., director of ISGMH and tenured professor of Medical Social Sciences, Psychiatry and Behavioral Sciences, and Psychology at Northwestern University. "By bringing LGBTQ concerns to the forefront in research, we hope to raise awareness and ultimately improve health outcomes."
The conference brought together researchers, educators, providers, LGBTQ leaders and other committed people to Chicago for two days to tackle issues vital to the community, including HIV/AIDS, adolescent health, intersectionality of race and LGBTQ health and additional important topics impacting LGBTQ people. During the first keynote, the Centers for Disease Control's Dr. Laura Kann—a widely respected professional with three decades of research under her belt—presented groundbreaking national data on health risk behaviors among sexual-minority high school students.
New York City psychotherapist SJ Langer attended the conference with colleagues Zachary DuBois and Jae Puckett, both of whom have done postdoctoral work at Northwestern. The group attended to learn about trans issues, and to gauge feedback in development of a body and behavior scale for transgender men designed to help researchers and gender exploration. Langer said he found the conference interesting and positive, particularly presentations by the CDC and National Institutes of Health, around transgender issues.
"It was clear they were open to being more inclusive of trans research but how slowly change happens," said Langer. "This work is important for health care providers because it is our ethical duty to treat any patient who comes to us in a competent manner. For trans communities, the most pressing issue is educating professionals on understanding the complexity of gender and particular health needs in order to combat pathologizing of this community."
Mustanski said bringing together LGBTQ researchers and providers provides the opportunity to make vital connections.
"When researchers and practitioners collaborate, everyone can benefit," said Mustanski. "Researchers learn from those in the field about the issues having the greatest impact on LGBTQ health. At the same time, practitioners learn about the latest research findings they can use to provide the best possible care to their patients."
Standing up for LGBTQ health and wellness
"People should contact their legislator's office, and keep it to only two or three minutes, so that the staff can get to more calls," said Harris. "Explain why legislators should vote for more revenue to pay for vital services, briefly explain how it will affect you or your family, tell them your name and address (so that you are identified as one of their constituents."
Resistbot is another tool enabling people to contact their officials about issues that concern them, including healthcare access. Texting the word "RESIST" to 50409 starts the process. The user then composes a short message, which is then sent to their representatives via fax.
However people choose to champion LGBTQ healthcare, said Mustanski, it's important that they fight.
"It's essential that we join together and advocate for our rights," said Mustanski. "We must continue championing research and collaborations that raise awareness of the needs of the LGBTQ community and spur action to improve health."