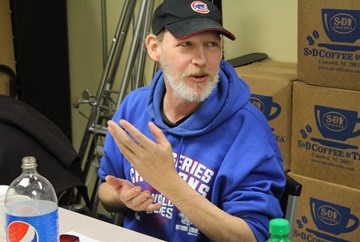 By: Robert Laine
December 18, 2017
All of the "non-technical" people out there have a geek/nerd they turn to for help in their technological lives. Now is that time of year you can show your appreciation and get them a little something. Don't know what to get them? Shame on you. They've probably have dropped dozens of hints without you noticing. Anyway, that's why I'm here to help you.
Let's start with a Raspberry Pi Zero "W" which has Bluetooth and wireless built in. Along with a 16gb microSD card, the whole gift can be had for about $25 at Micro Center on the northwest side of Chicago. Also at Micro Center, there are other items if you have a young tech geek-in-the-making.
Arduino is $10 (currently on sale for $8) or if you really want to be special, there are Arduino starter kits at $399.99 and up that include the Arduino, plus sensors, breadboards, batteries, etc. The higher-priced kits include a larger variety than this one. Individual parts, though, can be purchased for less than $10 normal price.
As mentioned before with the Raspberry, there are also kits to be purchased, starting at $59.99. This is only a basic kit that has the Raspberry Pi 3 (not the Zero "W") with a power supply, case and microSD card preloaded with the OS. It doesn't have any of the cables or the keyboard and mouse. For $89.99, you can get a kit that has everything, including all the cables, keyboard, etc.
If you have time to order, I suggest the very cool site of adafruit.com. Here you will find thousands of great gift ideas that any tech geek like myself would love. They have items for the Raspberry Pi, Arduino, and electronic learning kits for those starting out. The pricing is very reasonable, between $5 and $20 for a lot of items.
Another very cool thing is the Lego technics sets. With two decent size, different sets ($29.99/set usually for average size), the pieces between two of them can be used to build some very interesting things to go with a Raspberry Pi or Arduino. The sets can be found at any Target. The best place to go, though, is the official Lego store inside the Water Tower Plaza on Michigan Avenue just north of Chicago Avenue. If you are really striving for the cool factor with your budding techs, take them along to see the store and watch their eyes light up, if it is their first time.
Even though I would normally recommend the Star Wars technic sets, they tend to be pricey. My recommendation is any of the car, plane/helicopter, or truck sets which can be had for $20 or less/set at Target. These are the smaller sets, but offer a great beginning.
Lego also offers motors and other Lego blocks that are used for electronics, but these usually need to be special ordered through their site.
I hope these ideas help for the tech geek/nerd in your life. I'm now envious after looking at the sites because there is so much I'd like to get myself (sigh).
Robert M. Laine has been working in the IT industry for 30+ years. He has a B.S. in Computer Science. He has worked for the Chicago Tribune IT group and as the in-store technician for Staples. You can email him with questions or comments at BobLaine_sw@mail.com and visit LaineTech.blogspot.com