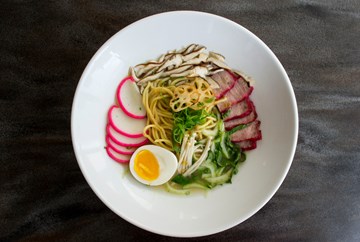 By: GiftAMeal Staff
March 28, 2017
In 2014, the GiftAMeal app was little more than a lunchtime conversation between two friends, Andrew Glantz and Aidan Folbe.  While on a lunch break at a local restaurant during a summer internship, they noticed that though the food was excellent, there were not many customers. Brainstorming marketing strategies based off this observation, the GiftAMeal app was born.
The original app provided a much-needed platform for friends to send pictures of meals and drinks along with a recommendation – essentially digitizing the word-of-mouth referrals that restaurants often seek. By sharing recommendations and photos of restaurant meals with friends on the app, local restaurants would receive new business and app users would receive personalized recommendations from friends. Over the following year, Andrew and Aidan signed up the first 10 restaurants in the St. Louis area and had the app developed.
In 2015, Jacob Mohrmann, then a junior at Washington University in St. Louis, joined the team as chief marketing officer. In discussions about the app's future, the team saw a natural tie-in with charitable efforts to help eliminate food insecurity in the St. Louis area. The team started with a 10% profit donation set aside for local food pantries. As the app grew, the team decided to take the idea further, integrating the community-driven mission of fighting hunger as core part of the business. In this new model, the app would fund the distribution of a meal to someone in need through a local food bank each time an app user took a picture at a participating restaurant, shared a photo of their meal or drink, or got a friend to join. This one-for-one model helped connect the process of eating out with helping someone in need - the best kind of incentive!
The team partnered with local St. Louis food bank, Operation Food Search, and transformed the app into what it is today. The partnership with Operation Food Search was seen as an added bonus by restaurant partners, who were proud of the community and charitable connection. Users could now use the app to help provide a meal, recommend the restaurant to friends, and take and share photos of the restaurant's food on social media.  In this way, users could advocate for socially-conscious restaurants they loved, while supporting Operation Food Search in giving meals to individuals and families throughout the St. Louis region.
GiftAMeal has been able to fund these donations by charging restaurants a monthly fee for its marketing package: brand enhancement, recommendations, social media sharing, increased customer loyalty, and PR work outside the app. GiftAMeal then uses a portion of these fees to provide a cash donation to partnered food banks for each photo taken, each photo shared, and each friend who joins the app – all at no cost to the app user.
After quickly establishing themselves in St. Louis and signing over 60 restaurants, the team added Chicago-native Michael Kaushansky to the team as head of business development. Within months of joining the company, Michael formed a vision for expansion. After careful preparation, he successfully led an expansion effort into Chicago. He signed 20 Chicago-area restaurants and formed a partnership with Lakeview Pantry to provide meal donations locally.  Now, each time someone in Chicago uses GiftA-Meal, meals are provided to someone in the Chicago area through Lakeview. In less than a year, the app has been downloaded over 3,000 times in Chicago, and these users have been quick to rack up 10,000 meal donations on the app. The user base in Chicago is rapidly expanding in part due to promotions led by high school and college students, such as those at Columbia College and Northwestern University.
"It's through innovative partnerships like this one that allow Lakeview Pantry to distribute over 1.3 million meals to our neighbors in need every year. Most people don't know that 1 in 9 people on the North Side of Chicago suffer from hunger and struggle with poverty. The people we serve are constantly faced with the choice between buying food and paying for other basic necessities like rent or medication. We are very grateful to GiftAMeal for aiding in the fight to end hunger and helping to feed Chicago's hungry," said Kellie O'Connell, executive director, Lakeview Pantry
According to Kaushansky, "The Lakeview partnership was a natural fit," chosen after the team spoke with several potential partners. Lakeview's mission statement is that it aims "to eliminate hunger and poverty in [the Chicago] community by providing food to fill the basic need of hungry people; increasing the independence of [its] clients through self-help initiatives and other innovative programs; and raising awareness of hunger and poverty and working towards solutions to eliminate them." Lakeview works with a wide variety of clients, such as Mary, a woman in her 30s with two teenage daughters, who works part-time but struggles to support two children on her salary. She's been coming to the pantry for three years to help support her children, and even picks up food for her elderly neighbor who is homebound.
Lakeview strives to support all types of clients, with services in addition to food. This past spring, Laura, a first time client, walked into their Oakdale location. When she sat down at the intake desk to check-in and receive food, she reluctantly asked, "Do you know of any homeless shelters in the area?" When offered some options, she asked if there were any that were closer. She explained that her husband had a stroke two weeks earlier, that he was being transferred to a care facility, and she needed to stay nearby. The couple had been making ends meet on his Social Security, but could not afford the medical bills. Laura made the difficult decision to give up their apartment so that her husband could receive the treatment he needed. Lakeview's intake coordinator sat with Laura and comforted her as she described how swiftly and terribly life changed for her family. Lakeview Pantry's Social Services department worked with Laura to apply for emergency financial assistance to pay her rent, and get connected to City of Chicago resources to help her stabilize while she looked for work. Laura was eventually hired as an in-home caregiver, and will now earn enough money to stay in her apartment.
This focus on both the short- and long-term solutions to hunger and poverty is incredibly important and is shared by GiftAMeal's partner in St. Louis, Operation Food Search. These partnerships have proved fruitful for both GiftAMeal and the food banks. Craig Goldford, operations chief at Operation Food Search said, "We are constantly striving to find new ways to raise funds and build awareness. GiftAMeal does both."
App users have expressed similar enthusiasm for GiftAMeal, both in supporting Lakeview Pantry's mission and by participating in the ever-popular food photography social media trend. One Chicago resident, Alec, said, "I used GiftAMeal last weekend… using GiftAMeal is a no-brainer. So many of my friends always take pictures of their meals when they eat out, and it's great how the app leverages this trend to help fight hunger in Chicago and provide restaurants much-deserved attention." He also mentioned that he is even able to use the app when he visits his girlfriend, Judy, in St. Louis - taking advantage of two GiftAMeal cities.
The app plans to continue this upward trend by growing further into each GiftAMeal city.  GiftAMeal currently has 20 restaurants and bars in Chicago and the Greater Chicago area, including favorites such as The Bad Apple, EJ's Place, MBurger, Salsa 17 and Nick's Pizza, which have all been incredibly supportive of GiftAMeal.  Kevin O'Malley, owner of The Stained Glass and The Cellar, said, "I enjoy using GiftAMeal, as a small business owner, because it really encourages a sense of community. Not only am I reaching new customers in the local community, but I am also showing that I care about the area that allows my business to flourish. GiftAMeal helps bridge the gap between social media and social responsibility." After a strong initial start, the GiftAMeal team wants to expand on their initial restaurant offering, and grow from 20 Chicago restaurants to 40. Not only does GiftAMeal hope to expand in Chicago, but they also plan to take GiftAMeal nationwide. In fact, in the last two weeks, they signed up their first five restaurants in Detroit, which marks the third city to offer GiftAMeal. Aidan is especially excited to expand to Detroit, as it is his hometown.
With all three cities combined, GiftAMeal has already helped its partners provide over 50,000 meals, but in the words of the team "that is not nearly enough." Back in November, in an interview with WGN TV, Andrew, the company's CEO, shared his vision for the company, stating, "In terms of how big we want this to become, we want it to be, not in the thousands, but in the millions of meals donated."
The team is eager to expand but knows they can't do it all at once. They are laying out a meticulous plan to expand while continuing to provide top quality service to restaurants, users, and the communities around them. Aidan, the company's chief operating officer, says, "We want to make sure we provide a consistently positive service, and want to grow in a smart way that does not spread us too thin." As a whole, the company hopes to provide further evidence that socially-conscious businesses can achieve great success. The company aims to stay true to its mantra of "profits with a purpose" as it continues to grow and succeed, and knows this success is not possible without support from users and stakeholders. Mohrmann, chief marketing officer, appreciates the help the team has received along the way, stating, "We absolutely could not be successful without the incredible support we have received from people throughout the Chicago, St. Louis, and Detroit communities. Without people willing to download GiftAMeal, use it at restaurants, and spread the word to their friends and family, we would be just another company with an app."
To join the GiftAMeal movement, download the app via iTunes or the Google Play store or visit the team's website at giftameal.com.
-From GiftAMeal Staff