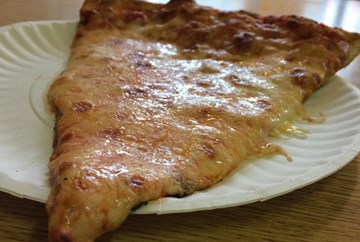 By: Alexandria Spillman
September 19, 2016
For decades Chicagoans have held a large stake in the food and beverage industry—pun intended. Chicago is home to the "Chicago dog" loaded with toppings sans the ketchup, the Goose Island brewing company with local beers on tap across the city, and the famous Chicago-style deep dish pizza with cheese on bottom and sauce on top. But what's a Chicagoan to do when they've exhausted all their 606 options?
Donald Morris, a seasoned StreetWise vendor, recommends Gigio's Pizza in the 4600 block of Broadway. The red font in mismatched sizes may be overlooked by some Uptowners, but Donald described Gigio's like "finding the needle in the haystack."
Those who make the mistake to keep walking miss out on the soft, fresh-baked crust layered with cheese and topped with sauce that Donald swears by. Donald is a regular customer, and his recent visit marked the fifth time in the last month that he indulged in a slice of cheese pizza from Gigio's.
Though Gigio's is technically still Chicago-style pizza with its order and thickness of ingredients as well as its use of butter rather than olive oil, Donald is reminded of New York-style every time he bites into the thin crust. "The crust is thin, but not brittle like you're biting into a brick," he said. "It's real soft, easy to deal with, and I personally like to take off piece by piece with my hands."
The softness of the typical Chicago stuffed crust paired with the New York thin density makes Gigio's pizza perfect for pulling apart and much more filling per bite than a slice that requires folding over. The Chicago-New York style hybrid is perfect for when Chicagoans like Donald need a break from the classic deep dish and stuffed Chicago style found all over the city, but they don't want to stray too far from what they know.
After ordering his usual single slice of cheese pizza at the counter, Donald talked with some of the Gigio's staff. He described them as "energetic," "always busy," and "attentive to every single order." On this particular occasion, there were several delivery orders waiting to be filled, so Donald's conversation with the staff was shorter than usual.
Aside from the just-right portions and the attentive staff, Donald also notes convenience as another factor that makes Gigio's one of his favorite spots. "If I wanted to pick one up this morning at 10 a.m., I could," he said. "Cheese pizza isn't known for being a good breakfast, but that's probably what I'll end up doing this morning before I head off to work." Gigio's is less than a minute away from StreetWise, where Donald purchases his magazines before he sells them at his Lincoln Park and Uptown locations.
Donald says the Broadway pizza joint has something for customers with a variety of pizza preferences. The menu also features appetizers and sides like onion rings, pizza bread, and cheese fries, all of which Donald suspects are tasty. On his next inevitable trip, however, he plans on switching things up a bit and ordering either lasagna or a single slice of pineapple pizza.
"You will enjoy it if you check it out," Donald says. "I'm not saying it's the only pizza with a little New York-style in Chicago, but it's the only one on this side of town that I've noticed. Their motto is that they have 'the best pizza this side of Italy,' and it's the best on the market."