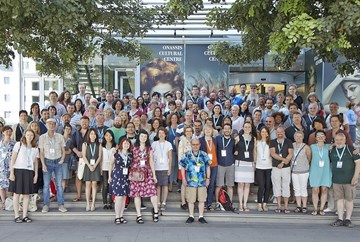 By: Suzanne Hanney
February 7, 2017
The souvenir seller at the Acropolis was incredulous when I said I was in Athens on business.
"Who goes to Greece for business?" he asked.
The International Network of Street Papers (INSP) had its largest-ever global summit in Athens in June, when more than 120 people from 30 nations spent three days learning "what vendors need," "what readers want" and "the role of nongovernmental organizations in building society." There are 110 newspapers and magazines in 35 nations that belong to the Glasgow, Scotland-based INSP, with 10,300 vendors at any one time. The magazines have annual combined circulation of 23 million; cumulatively, vendors earned 29.4 million euros in 2015.
As Managing Director of The Big Issue South Africa Derek Carelse told me, the annual summit is like a boot camp for street paper personnel.
The Athens street magazine Shedia hosted the conference, which became an expression of solidarity with Greece, whose unemployment rate is 25 percent. The reason is a debt crisis that began during the global recession in 2009 after Greece announced that it had understated its deficits for years, which fueled global investor disdain, according to the New York Times, (although Bloomberg dates the crisis to the high cost of infrastructure for the Athens Olympics of 2004). Greece received two bailouts of more than 240 million euros, with the stipulation that it would make deep budget cuts and tax increases, streamline the government and end tax evasion.
Re-examining the INSP conference six months later, its workshops seem like a blueprint for patriots seeking to help their nations move forward amid economic crisis.
Social enterprise is not the answer to Greece's problems, but it is one of the answers, said Alex Theodoridis, co-founder of Boroume, during a panel on social enterprise with Shedia and Wise Greece.
Boroume (the name means "we can" but was not inspired by President Obama, Theodoridis said) was founded in 2012 in response to the economic crisis. The idea was to decrease food waste from supermarkets, farmers markets and private events and donate the surplus to local welfare agencies. In 2015 Boroume saved 3.7 million portions of food and assisted 500 charities.
The fledgling organization didn't have any money, so it had to find a different way of operating than bringing food to a warehouse, Theodoridis said. "We took the classical food bank model and said 90 percent is logistics."
Boroume's workers (primarily volunteers) communicate directly with food donors to match them with a recipient organization: orphanages, homeless shelters, care homes. When Boroume receives a call about a food donation, volunteers on standby call around to find a nearby charity willing to pick it up. The donor cedes responsibility for the food to the recipient charity, which signs an agreement.
The organization has built 350 permanent "bridges" between food donors and recipient nonprofits as well as 150 temporary bridges. The latter include a farmer with three tons of melons that were too small for the wholesale market, an orange grower who said prices had plunged so low he couldn't pay people to pick them – and even one of the INSP banquets.
Wise Greece has two-fold benefits; it buys food from 70 small producers and uses its profits to buy food for needy children and homeless people. Its 450 products include oregano and other herbs and spices, chocolate, honey, olive products, marmalades, Greek salad in a jar, sauces and cookies. Its products are retailed in Greece and in eight other countries including Norway and Poland. Advertising emphasizes the healthy Mediterranean diet.
Meanwhile, Shedia Editor Chris Alefantis said the monthly publication took off from day one of its February 2013 inception in Athens. Vendors buy the magazine (whose name means "life raft") for 1.5 euros and sell it for 3 euros. Circulation is now 30,000 copies for each edition.
"One reason is, it's a Greek publication and people can identify with the vendors," Alefantis said. "We've had incidents of people going up to vendors, kissing them and saying, 'don't give up.' "
Lampros Moustakis, 54, and Maria, 47, were two Shedia vendors who also work as guides on Shedia's "Invisible City Tour," which costs 6 euros.
Moustakis wanted to be a human rights lawyer but after his father's death, he was raised by his single mother and he went to work for an uncle following technical school in Argentina. He also worked for a meat business that folded. At the suggestion of cousins, he went to Greece in 1997 and worked in tourism, but that sector tightened after 2008. Five hotels where he had worked closed in 2010. Moustakis was on the streets for 30 days and in a shelter for four years until he got an apartment in November 2015 through a European Union program. He had been at Shedia for a year.
Maria was born and raised in Athens and worked at a family export business from 1990 to 2000, when it closed down. Her parents were dead and she tried to find permanent work with no success, so she did leafeting but ultimately lost her house to a bank auction. She had been at Shedia since December 2013, in a city-run shelter and an apartment since the previous October, also through an EU program.
Shedia has cooperated with Efimerida Ton Syntakton (The Journalist's Newspaper) to produce weekend inserts on homelessness and other relevant content. "There are many things that united us and few that divide us," Efimerida Director and summit keynoter Nicholas Voulelis said of his work with Shedia.
Efimerida distinguishes itself by its independence from any major financial backer, publisher or political party. It employs 150 journalists, many of whom lost their jobs when the respected left-wing newspaper Elefherotypia and others went bankrupt in 2012, the fourth year of the recession. The journalists provided the capital and cooperatively own the paper. Their salary is 800 euros a month, compared to the 10,000 to 15,000 euros they earned 11 years ago. Newsstand sales and ad revenue pay the paper's expenses.
Voulelis said Efimerida's independence is a key to its popularity. Greek newspaper owners had been intertwined with the power elite, so the paper's detachment allows political discourse during a critical time. Its independence, ethics, and pluralism are not just catch phrases, but a platform for other expression, he said.
A panel on "What Funders Want" featured representatives of the Stavros Niarchos Foundation, the John S. Latsis Public Benefit Foundation and the TIMA Charitable Foundation. The Niarchos Foundation (and INSP) helped launch Shedia while the TIMA Foundation assisted with Shedia's expansion into Thessaloniki, the second largest city in Greece.
Shedia had no real numbers in its initial grant application but "they had the vision and the idea, the really wanted to do it and they knew how," said Myrto Xanthopoulou, Niarchos Foundation program coordinator, social welfare. The Niarchos Foundation did not have publishing expertise in-house, but did Shedia's homework with them.
"The distance between grantor and grantee has decreased," added TIMA Advisor Valia Fragkou. "The crisis has helped. All of us would like to receive a phone call from anyone with drive."
Before Greece's economic crisis, nonprofits frequently depended on the state, with few collaborative efforts to build economies of scale, Xanthopoulou said. "Society has been largely unprepared for the magnitude and pace of change, even six years on."
Still, there has been a rise in solidarity, although sometimes in a disorganized fashion, she added. "The refugee crisis is separate but complementary. It's been handled by civil society but the need for a clear strategy is essential."
"In general we complement the state, we do not replace it," Xanthopoulou said. [But] "there has been an increasing effort to do more, to act faster." Circumstances are so dire in Greece that in writing grant applications, "the more realism the better."
"We are in the modern version of the 1930s, which created the 'Grapes of Wrath' in the U.S. and the moralizing nations of Europe turning fascist. It's pretty dire," said former Greek Finance Minister Yanis Varoufakis, another day's keynoter. "This is a systemic crisis, you either do a New Deal or nothing happens."
Varoufakis had just written a New York Times op ed in which he said that between 2010 and 2014 in Greece, government wages and pensions had been cut 12 times. Greece's austerity measures were nine times more than those imposed on Italy and three times those on Portugal. That's why in roughly the same timeframe, Italy's economy grew 2 percent, Portugal's contracted 1 percent – and Greece's national income dropped 26.6 percent -- "about the same for America as in the depths of the Great Depression."
Varoufakis argued that the austerity imposed on Greece amounts to the same kind of unproductive liquidation of land, capital and labor that occurred under Republican President Herbert Hoover and Treasury Secretary Andrew Mellon (pre-Franklin Roosevelt) during the Great Depression in the U.S. Forcing small family businesses to liquidate in order to satisfy bad debt "will not lead to a U.S. model of business capitalization, but a desert."
On a larger scale, I asked about an email from the Chicago-based Hellenic American Leadership Council that said Russian President Vladimir Putin had recently visited to discuss buying a Greek railroad on the nation's privatization list. 
"That's a very bad idea," Varoufakis said. It was the equivalent of a "gross fire sale;" the assets would be liquidated cheaply and the money thrown into a bottomless pit, he said.
INSP felt the economic crisis in a big way: 10 days before the summit, its hotel venue shut down, with employees unpaid since March. INSP found another hotel but given the first hotel's amount of debt, it has little hope of recovery.
Delegates on the Invisible City Tour saw many empty storefronts outside the central business district, but no more than in many Chicago neighborhoods. We later visited a refugee camp where families of six to 10 people lived in each trailer and the army provided food. Inhabitants included people who had been drivers or translators for the Americans and British in Afghanistan.
Simultaneously, delegates found much to enjoy during and after the conference. There was an evening gathering at a tented outdoor cantina, swimming at a public beach followed by hors d'oeuvres at a boat club, a dinner at the rooftop garden of the Onassis Cultural Center with the spotlit Acropolis and Parthenon, the center of ancient Athens, in the distance.
I was flattered when a German delegate invited me to walk to the Acropolis one early morning before sessions began. German, Japanese, Russian, Slovenian and Polish, our group meandered past the American Embassy, the National Gardens and the stadium from the first modern Olympics in 1896. We arrived at the Acropolis before its 8 a.m. opening and had it largely to ourselves. It is now one of my fondest travel memories.