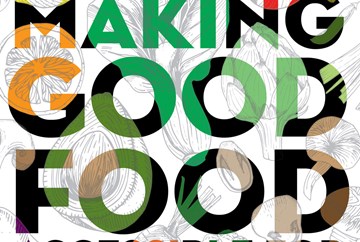 By: Suzanne Hanney
November 13, 2017
Chicago municipal government departments and agencies will purchase more "Good Food" – locally grown, healthy, humanely raised, environmentally sustainable and workforce-fair – thanks to a resolution passed by the Chicago City Council October 11.
The Good Food Purchasing Policy (GFPP) is intended to leverage the $300 million spent annually by city units of government to strengthen regional food production, using the five core values.
"City agencies and departments, such as the Chicago Public Schools (CPS) and the Department of Family and Support Services (DFSS) will take a closer look at the way food is purchased and distributed to some of our most vulnerable citizens," said Chicago Food Policy Action Council (CFPAC) Coordinator Rodger Cooley. "This legislation will create more good food across Chicago and opportunities for people who grow, sell and distribute food."
CFPAC worked with the Chicago Good Food Task Force organized by the Mayor's Office and comprised of sister agencies and departments since June 2016.
"This is a giant step in the right direction for our city and the hundreds of food-based businesses in the city and region. I thank Mayor Emanuel and the City Council for having the vision to see this through," Cooley said.
Jose Oliva, co-director of the Chicago Food Chain Workers Alliance and a CFPAC board member, praised the resolution for its all-encompassing embrace of the food system, "rather than just tweaking one issue at a time.
"It's creating a market, especially for people of color and pathways for new farmers. It's intended to create demand for food we need," Oliva told StreetWise. "And there's a labor component toward better jobs and an impact on the food chain."
Developed with support from the Center for Good Food Purchasing, a national initiative, the resolution specifically recognizes the potential to reform the food system and help low-income entrepreneurs thrive. The resolution's values-driven components include:
• support for local and regional, small- and mid-sized agricultural and food processing operations;
• support for producers who employ sustainable production systems that reduce or eliminate synthetic pesticides and fertilizers; that avoid the use of hormones, antibiotics and genetic engineering; that conserve soil and water; that protect and enhance wildlife habitat and biodiversity and that reduce on-farm energy consumption and greenhouse gas emissions;
• safe and healthy working conditions and fair compensation for all food chain workers, from production to consumption;
• healthy and humane care for farm animals;
• promotion of health through generous portions of vegetables, fruits and whole grains, but reduced salt, sugars, fats and oils and artificial additives.
Oliva said that the mission of the resolution is to "transform the food system from one that is exploitative and extractive to one that is beneficial to the communities consuming the food." Work toward the GFPP in Chicago began at the January 2015 Chicago Food Policy summit and quickly garnered support not only from Emanuel but from 30 local, state and national organizations. The latter were groups that might not ordinarily be expected to sit down at the table together, from Purple Asparagus to the Logan Square Farmers Market, the United Electrical Workers, Little Village Environmental Justice Organization (LVEJO), the Green Chicago Restaurant Coalition.
"It's a really diverse mix, I've never seen a coalition in the city of Chicago that brings together all these sectors," Oliva said.
What's uniting them is "they all believe that the food system is a potential lever in the push forward for better jobs, better environmental conditions, and generally just a better Chicago," Oliva said.
"Food is the largest purchase item in Chicago and that's not unique to Chicago," he added. "There are folks who are interested in what food can do in their sector, such as health or preventing obesity; or what it does to the environment. Others are concerned about what food does to workers, their working conditions. Finally, a lot of folks are concerned about what food does for the local economy." He defined "local" as within a 350-mile radius.
Meanwhile, the average food worker earns $9 an hour, which Oliva noted is not a living wage. "Chicago has an opportunity to set national precedent," he said in prepared material. "This is about economic justice and the people who cultivate, process and distribute food in Chicago."
"Food workers comprise not only the largest sector of our economy, but also the lowest paid," said Erika Allen, national program director for Growing Power, Inc. and president of the CFPAC board of directors. "By enacting the Good Food Purchasing Program in Chicago, we begin to ensure that these workers and their families have dignified lives. In Los Angeles the Good Food Purchasing Program resulted in over 150 new living wage jobs and improvements in the standards of living for thousands of people."
The CFPAC, a 501 (c)(3) non-profit, will support the GFPP implementation process, which will encompass summer feeding programs for youth to Meals on Wheels and congregate meals for seniors. "We will be looking at their current purchasing to figure out how it matches the standards, depending on when their contracts come up. Based on their current purchasing we're setting the baseline," Cooley said. The hope is that the Good Food purchasing will increase 1% to 2% points annually in each of the five GFPP value categories.
On June 28, the Chicago Public School board adopted the Good Food Purchasing Policy around the same five values: environmental sustainability, benefits for local economies and their workforces, nutrition, and animal welfare. CPS serves free meals to all its 380,000 students – 27 million breakfasts and 43 million lunches last year – for an $80 million annual Good Food impact.
CPS became the fourth school district in the nation to embrace a Good Food policy, after Los Angeles, San Francisco and Oakland. Nationwide, the Center for Good Food Purchasing is leading campaigns in Austin, Cincinnati, New York City, Minneapolis/St. Paul, particularly with city agencies and public hospitals. National partners include the ASPCA, Far, Forward, Food Chain Workers Alliance, Friends of the Earth, International Brotherhood of Teamsters, Slow Food USA and the United Food and Commercial Workers International Union.
Cooley is a former executive director of the International Network for Urban Agriculture and a landscape architecture adjunct professor at Illinois Institute of Technology. He said urban agriculture differs from large scale commodity crops that can be processed, fed to animals or exported. Instead, because of high land values, urban agriculture is more about intensively-grown, higher-value crops that can be raised for human consumption and that can justify a higher wage: fruit and vegetables rather than corn and soybeans, for example. "The objective is to employ people and create entrepreneurship opportunities for individual businesses," he said.
By stimulating the market for locally grown "values-based" food, the Good Food purchasing resolution could thus create new jobs in underserved areas of the city. Cooley said that community groups have talked about land banks that could assist beginner farmers, whether they have a cultural tradition of farming or they just want to supplement their income. Some of this land is in the Millennium Reserve, which is along the lakefront from the Dan Ryan to Englewood and west and south to the suburbs. Some is held by other public agencies, such as Metropolitan Water Reclamation District and Cook County Forest Preserve, but it could all be leased to small farmers.
Little Village residents, for example, have an extensive amount of knowledge of agriculture; many of its Mexican or Central American immigrant residents either grew up on farms or worked on them, said Little Village Environmental Justice Organization (LVEJO) community organizer Viviana Moreno.
But many vacant plots of land in the neighborhood are brownfields that need environmental remediation. Still other prospective businesses include distributors that would bring diesel trucks that would threaten air quality.
"I would say we are hungry for the healing of contaminated land on our terms," Moreno said. "Development for development sake displaces our community."
LVEJO sees urban agriculture as an avenue to heal the community from its industrial legacy.
The Torco fuel products company had a 4.5-acre site at 3301 S. Kedzie that is now abandoned, overgrown with vegetation and owned by the Metropolitan Water Reclamation District. LVEJO believes the site might need remediation, Moreno said, but the organization envisions a worker-owned co-op centered on composting there and has been in conversation with MWRD.
"Community members would own and create their own employment to avoid exploitation," she said. "So it's one way we would not only tackle the economy but the environment. We could keep money in the neighborhood, get food scraps from businesses and the compost would go back to community neighborhood and school gardens – healing the land and creating opportunity."
The Good Food purchasing resolution also opens up the potential for entrepreneurs to develop processed items – perhaps made from family recipes, Cooley said. Whole Foods has been supportive of such efforts at its Englewood store.
Work toward the Good Food Purchasing Policy began during the 2015 mayoral runoff, when advocates approached both Mayor Emanuel and challenger Jesus "Chuy" Garcia, Cooley said. Both men were receptive; the Cook County Social Innovation Commission is exploring a similar GFPP resolution.