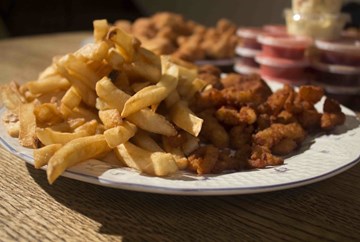 By: Alexandria Spillman
October 10, 2016
StreetWise vendor Don Smith grew up in Cabrini-Green before gentrification. Decades passed and Don moved out on his own, but he still carries around those memories and experiences from when he was what he calls "a shorty." He recently revisited Goose Island Shrimp House, 1011 W. Division St., one of his old childhood haunts, and he was pleased to find it exactly as he left it despite all the other changes in the neighborhood.
Don, who is 56 now, remembers back in the day when the shrimp house first opened. "They've been there since I was 12 or 13 years old," he said. "I used to break curfew back when there was one just to sneak down there."
Older and wiser, Don no longer patronizes the shrimp house out of rebellion. Instead, he stops by religiously each time he goes to visit his mother, who still lives in the neighborhood.
"My mom will ask me if I'm going down there, and I jump on my bike, call in to have her jumbo shrimp order ready, ride over the bridge, pick it up and bring it right back," Don said. "I always get my mom whatever she wants. She took care of me, and now she's 85, so whatever she's got a taste for, I got her."
In addition to Mom's usual half-pound jumbo shrimp, Don ordered a half-pound of shrimp, a half-pound of fish and chips, and an order of fries to share with his wife.
For Don, what sets Goose Island apart from other shrimp houses, besides the fact that he grew up with it, is "the way they bread their shrimp, and when you get it, it's never cold. It's always smoky. It might even be too hot for you to eat right now."
And Goose Island Shrimp House knows "hot."
"They got the super hot sauce for the shrimp that everybody loves," Don said. "It's so hot, it's pink. And they've got the mild sauce. I take my sauce about half and half. First, I dip it in the hot sauce, then I dip it in the mild sauce to cool it down a little bit. It's so good."
The waitstaff and the cooks just add to Don's experience. He described the staff as friendly and attentive, and he commented on just how fast he got his food despite the packed house. But the Goose Island hospitality goes deeper. It even makes its way into the recipes.
"They don't put any salt on the fries," Don explained. "You've got to order your own salt because they don't know if they're feeding people who are diabetic or what. They're very considerate and careful about how they feed their customers because they want people to enjoy their food and come back."
Don encourages all his customers and StreetWise readers to give Goose Island a try. The food is great; the staff is kind and friendly; the prices are very affordable; there's no reason not to go.
Don only advises that prospective Goose Island Shrimp House guests remember the restaurant is designed for carryout rather than dining in-house.  "It's so good," he said, "I've seen people dipping their shrimp and eating on their way out of the door."
"They've got big windows with a counter where people can stand and eat sometimes," he added, "but most of the time, people just take their food to their cars and eat out there."
Regardless of where you choose to chow down, remember to bring cash; while the prices are a steal, Goose Island Shrimp House is a cash-only carryout joint.
Don offered one more piece of advice for seafood lovers: Go on an empty stomach. "When you eat at Goose Island, you get full," he said, "and I guarantee you'll go back for seconds."