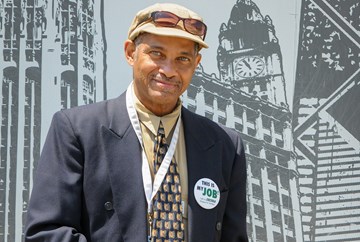 By: Alexandria Spilllman
October 16, 2017
We live in a city full of choices. Whether you're motivated by flavor, time, price, or proximity, you always have options.
But what if you're fighting a craving for brunch, and the clock reads that it's barely time for breakfast? Or what if even the early birds haven't risen yet? Then what? Well, have no fear. StreetWise vendor and field supervisor, A. Allen, did some research and reports that Griddle 24 at 344 W. Chicago Ave. (Chicago and Orleans) has all your cravings covered.
"Griddle 24 is open 24 hours a day, 7 days a week," Allen said, "and they serve breakfast all day." If you want pancakes for dinner or as a late-night snack, you won't catch any flack for it here.
Allen arrived at 10 a.m. with a group of friends and brunch on his mind. "I ordered the chicken and waffle, and it looked very good on the plate. It made me think, 'Yeah, this is what I want.'"
The chicken and waffle features choices of butter, syrup, and barbeque sauce each on the side to boost the dish's sweet and savory flavors. "It was excellent!" Allen raved. "I didn't think the BBQ sauce would be coming with it since it was a breakfast food, but I tried it. It was good with the syrup and with the BBQ sauce. I highly recommend the chicken and waffle meal."
For those nonconforming foodies who eat what they want, when they want, Allen didn't forget about you. He advised that you open up a menu and have a look. You'll see fresh salads, hot sandwiches, Reubens, burgers, wraps, full entrees, pasta, and two full pages of breakfast options.
Inside those two pages of breakfast smorgasbord, foodies will see that Griddle 24 even has an entire breakfast section entitled "Mexican Morning." It's in this section that you can get your eggs served up with tortillas, refried beans, rice, hot sauce, and more. But if you're in the mood for something less spicy, they have griddlecakes, waffles, French toast, scrambled eggs, and omelets. Once you see this menu, you will probably feel exactly like Allen did: "Man! They have everything!"
With so many options, it's easy to feel overwhelmed. Allen says, "Don't. The servers will take care of you." When he and his friends placed their orders, they were given additional time to make their selections, and they each received exactly what they had their hearts (and stomachs) set on.
"All of our meals were served nicely and were very good-looking on the plate," he continued. "It didn't take 'em long to make it either. Our server was right back at our table in no time with our correct orders."
If you were looking for a reason not to stop in to Griddle 24, it would appear that you're out of luck. According to Allen, they've got everything from convenience to comfort covered, and they're just waiting for you.
"For my customers at Chicago and Franklin," Allen said, "you can see the Griddle 24 from where I stand. I will recommend the Griddle 24 to all of you looking for a bite to eat because it is an excellent restaurant with good food and good service. And, for me, the $10.99 price of the chicken and waffle fit my budget."