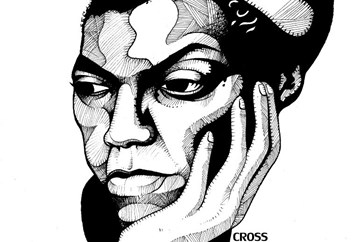 By: Suzanne Hanney
April 5, 2017
Nora Brooks Blakely hosted an early 100th birthday party for her mother, the late Pulitzer Prize-winning poet Gwendolyn Brooks, with the launch of "Seasons," a book of Brooks's work, on March 1 in the penthouse of the University of Chicago's Reva and David Logan Center.
"She loooooved food," Blakely wrote in the program for the event, so the open buffet featured fried chicken nuggets, red beans and rice similar to what Brooks and her husband served at their noted parties in the 1960s. There also were moist blueberry scones, the kind she enjoyed with clotted cream and jam while curled up in bed watching "Masterpiece Theatre."
But you'll have plenty more chances to experience Brooks's essence through June 2018. In addition to Our Miss Brooks: A Centennial Celebration (OMB100) http://gwendolynbrooks100.org there are events hosted by the Poetry Foundation April 1 and the University of Chicago on April 6-8 (See page 12).
The March 1 event, which was also hosted by the Logan Center and Third World Press Foundation, was almost a family affair, with testimonials from Third World Press founder and president Haki R. Madhubuti and from poet Quraysh Ali Lansana, whose wife Brooks knew years before he did. Because "she loooooved music" too ("Mood Indigo, Satin Doll, Polonaise #6 by Chopin and even Sheena Easton's "Morning Train"), The Aurora Performance Group spoke her poems and even led audience members in renditions of one of her favorite dances, "Bus Stop."
Quraysh regaled the audience with an internal document from the committee members who had made Brooks the first African-American to win the Pulitzer Prize in 1950 for her second book, "Annie Allen."
The judges had wanted to give the prize to Robert Frost, whom they considered "the greatest living American poet," but their conundrum was that Frost had received the prize for separate books the four previous years. His fifth book in 1949 had few new poems so that, "it would not only be repetitious but so superfluous as to seem silly," according to the letter.
The committee also considered the doctor-poet William Carlos Williams. Williams had just begun a multi-volume poem, "Paterson," about his area of New Jersey and the Pulitzer document suggested that subsequent volumes might yield a more complete picture. The sixth volume of "Paterson" was in the planning stages when Williams died in 1963. He received the Pulitzer posthumously that year for the anthology, "Pictures from Brueghel."
And then there was Brooks, whose 1945 debut book, "A Street in Bronzeville," was a "small Spoon River Anthology of the Negro," Quraysh quoted to gasps and laughter from the audience. "It made a great impression upon all readers and had what was unusual for poetry, a wide sale."
Brooks was born in Topeka, KS on June 7, 1917 but came with her parents to Chicago soon afterward during the Great Migration; she also had a younger brother, Raymond. She attended Hyde Park, Wendell Phillips and Englewood High Schools before graduating from Woodrow Wilson Junior College in 1936. She married Henry L. Blakely three years later and they had two children: Henry Jr. and Nora, who is president of Brooks Permissions, which published "Seasons" along with Third World Press.
Brooks herself had written that living as she did in the "buckle of the Black Belt," she only had to look out the corner windows of her kitchenette apartment to find source material. (One of her 33 tips in the Young Poet's Primer contained in "Seasons" is in fact, to "Hear talk on the street.") 
"It is skillful and strong poetry come out of the heart but rich with racial experience," Quraysh quoted from the Pulitzer committee letter.
The committee was particularly impressed that in "Annie Allen" (1949), her coming-of-age book, Brooks had introduced an epic poem called the "Anniad," about a woman who wanted to get married to move away from home and who chose a man who went to war. It was a play on Virgil's "The Aeneid," but with the woman as the heroic survivor.
The Pulitzer committee called Brooks's epic re-do "profound in its tragicomic implications," Quraysh said. "Her work is truly objective, never propagandistic, and above all, original….We have seldom been more satisfied than with our choice of 'Annie Allen.'"
Madhubuti said that while Brooks was a perfectionist about her work, "her religion was kindness. She opened up her world to me when I most needed it, in the 60s and 70s."
Through Oscar Brown, Brooks conducted poetry sessions with members of the Blackstone Rangers in a Woodlawn church, although she ultimately moved the sessions to her home at 74th and Evans. Madhubuti said for a long time, they discussed whether she should become Poet Laureate of Illinois. He encouraged her, "because it gives you greater assets for the young people in Illinois."
It became her mission for nearly 30 years to conduct poetry contests for young people in K-8 and high school, he said. The prizes she gave often came from her own pocket. "She gave more than she received and I am the beneficiary of that."
The late Nichole L. Shields, who worked on "Seasons" with Blakely, with Cynthia A. Walls and with illustrator Jan Spivey Gilchrist, recalled in the book how she had wanted to become a writer as early as fourth grade. She encountered Brooks a few years later in a local theater company and "shyly mentioned my desire to write." Brooks pulled out a copy of her new "Children Coming Home," signed it and gave it to her.
Five years later, Shields entered the open mic competition of the Gwendolyn Brooks Conference at Chicago State University and was named one of three winners, "receiving a warm hug and a crisp $100 bill from the pocketbook of none other than Gwendolyn Brooks herself."
Brooks was simply giving back as had been given to her. She wrote her first poem at age 7 and by 16 was a regular contributor to the Chicago Defender's "Lights and Shadows" column. Her mother encouraged her to send her poems to Langston Hughes, who wrote back, "You have talent. Keep writing! You'll have a book published one day."
Richard Wright brought "A Street in Bronzeville" to the publisher Harper & Row because "he admired her ability to capture 'the pathos of petty destinies, the whimper of the wounded, the tiny incidents that plague the lives of the desperately poor and the problems of common prejudice," according to her obituary in The New York Times Dec. 4, 2000, the day after her death.
The New York Times Book Review critic Rolfe Humphries wrote also of her technical mastery of the poetry genre. "There is a range of form: quatrains, free verse, ballads, sonnets – all appropriately controlled."
"Seasons" is a survey of Brooks' work. The theme was chosen, said Nora Brooks Blakely, "because there is a time for everything." Spring is for beginnings and youth, her mother's first poems and children; summer is for heat and powerful emotions; fall for mellowing and aging; winter for cold hearts and death but also for quiet preparations to begin again.
The Spring section brings us a mischievous side of Brooks in "a song in the front yard" from "A Street in Bronzeville."
"I want to go in the back yard now
"And maybe down the alley,
"To where the charity children play.
"I want a good time today….
"I'd like to be a bad woman, too.
"And wear the brave stockings of night-black lace
"And strut down the streets with paint on my face."
Next, there are excerpts from her prose book, "Maud Martha," printed by Harper & Brothers in 1953 and by Third World Press in 1992. Told in vignettes from childhood through adolescence and marriage to a man overwhelmed by white society, "Maud Martha" navigates near-foreclosure on her home and creates little victories for herself, as when she frees a mouse to return to its family.
By the mid-50s, Brooks was sensitive to the murder of Emmett Till in 1955 and desegregation efforts in Little Rock in 1957. In the "Bean Eaters," (1960) she showed an example of what The New York Times called "a sharper colloquial style" in "We Real Cool."
"We real cool. We
"Left school. We
"Lurk late. We
"Strike straight. We
"Sing sin. We
"Thin gin. We
"Jazz June. We
"Die soon."
Blakely notes in "Seasons" that the poem was about boys who should have been in school but who hung out at a pool hall Brooks passed near their home, on 75th Street east of Cottage Grove. "In her first autobiography, 'Report from Part One,' she said, "the boys have no accented sense of themselves, yet they are aware of a semi-defined personal importance" which is why the word "we" should be said softly. The break after each "we" was there to represent the gasp of an impending existential or actual death."
The phrase "Jazz June" was intended to juxtapose a calm summer day with the improvisations of jazz. The poem was banned in several places because some assumed the phrase had sexual overtures. Brooks frequently made her audiences laugh by saying "that was not my intention though I have no objection if it helps anybody!"
After she attended the Second Black Writers' Conference at Fisk University in 1967, "I felt that something new was happening," her NY Times obit quoted. "The poets among them felt that black poets should write as blacks, about blacks, and address themselves to blacks."
Later, she wrote, "If it hadn't been for these young people, these young writers who influenced me, I wouldn't know what I know about this society. By associating with them, I know who I am."
What followed were the poetry sessions in her home with the Blackstone Rangers, and with Sonia Sanchez, Nikki Giovanni and Don L. Lee, who later changed his name to Haki Madhubuti: Swahili for "justice" and "precise, accurate and dependable."
Brooks's last book for Harper & Row was "In the Mecca" in 1968, (the same year she was appointed Poet Laureate of Illinois) which included a 30-page epic poem about a mother who frantically and futilely searched for her daughter in the once-grand Mecca apartment building at 34th and State Streets. Brooks knew about the inhabitants' desperate lives from working there as a typist to a "spiritual adviser" long before the Mecca was torn down for the IIT campus in the early 1950s.
After that, she came back to Broadside Press, a small Detroit company, and to Third World Press, founded by Madhubuti. "She walked right back into the community but she had never left," Madhubuti said. Before her June 7 birthday, Third World Press will dedicate a space on its first floor as a "Gwendolyn Brooks Writers' House" as a venue for author signings and other events.
In the early 70s, Brooks moved further to free verse and common speech to make her work more accessible, according to notablebiographies.com. My favorite poem in "Seasons" is from this period: "The Life of Lincoln West" from her "Family Pictures" book of 1971. Despite his naturally loving nature, Lincoln was the "ugliest little boy that anyone ever saw," disdained by his parents, his playmates and his teacher. Finally, a man in a movie theater points him out as "Not like those diluted Negroes you see so much of on the streets these days but the real thing."
His mother finally reacts in anger. But later, when Lincoln was hurting and alone, he …
"thought about that. He told himself
"After all, I'm
" 'the real thing.' "
"It comforted him."
Brooks's tone in the poem was objective, not angry, yet the power of her words and imagery raised my own anger, as well as my relief that the little boy finally finds affirmation. The theme was not new to her, however. Back in "Maud Martha," she had written about "Clement Lewy," a second grader who worked hard in school and told little stories to cheer up his single mother although she "had grown listless after the desertion." He ran to her each night when she came home from housemaid's work at 7. In both cases, Gilchrist's line drawings for the book separately convey Lincoln's newfound self-esteem and Clement's loving determination.
But Brooks made me think. What about today's children in similar circumstances?
Her characters are memorable, says the Oxford Companion to African-American Literature, because they are survivors. "On one level, of course, Brooks is a protest poet; yet her protest evolves through suggestion rather than through a bludgeon. She sets forth the facts without embellishment or interpretation, but the simplicity of the facts makes it impossible to come away unconvinced – despite whatever discomfort they may feel."
Brooks became the first black woman elected to the 250-member National Institute of Arts and Letters in 1976, and in 1985 was the first black woman named poetry consultant to the Library of Congress (now known as Poet Laureate). She received a lifetime achievement award from the National Endowment for the Arts in 1989 and from the National Book Foundation in 1994.
"Seasons" includes the previously unpublished poem, "Old," in which Brooks admits she is often the oldest person in the room. "It feels a little odd – if I'm made aware of it." But even if you are in a wheelchair or a sickbed, she wrote, you can be an effective old person, she wrote.
"A grin, a hand-clasp or, if you can manage it, a piece of wisdom from the breadth of your impressive experience can operate as an important act."
Guests ended the March 1 party by reading the ending of "Old."
"You're alive until you are dead.
"Ten minutes before you're dead you're alive.
"You COULD save the world in ten minutes. It's a Possibility. You are alive until
The END of the split second of your death. BRAVO!
Gwendolyn Brooks Artwork by Keef Crossley, courtesy of the Stuart A. Rose Manuscript, Archives and Rare Book Library at Emory University.