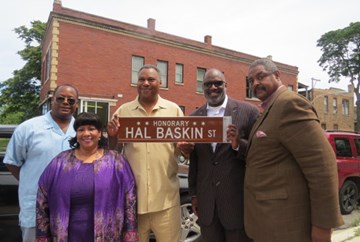 By: Suzanne Hanney
August 22, 2016
Ald. Toni L. Foulkes (16th ward) will resubmit an ordinance requesting re-installation of honorary street signs for Englewood anti-gang activist Hal Baskin at the September 14 Chicago City Council meeting, her executive assistant Artena U. Samuels said in an August 10 email.
Taken down shortly after they were put up in mid-July, the signs should be replaced because Baskin has devoted his adult life to the community, said Keith Harris of the 16th ward Political Task Force and Darryl Smith, president of the Englewood Political Task Force.
In 1991 Baskin founded the P.E.A.C.E. (People Educated Against Crime in Englewood) Center at 6455 S. Peoria, which offers afterschool programs, hot meals, a food pantry and access to utility payment assistance and other programs. Both men also credit Baskin for getting up to 850 minority youth hired on South Side construction projects over the last 15 years, "showing them a different way of life other than street life, giving them an honest, livable wage," Harris said.
Because Baskin was a gang member in his youth, "the lines of communication were still open for him to calm gang violence," Harris said. Even now, he walks three to five miles daily around Englewood, talking to people. "He's not just someone who pops up when the cameras show up."
Smith, who obtained more than 200 signatures from neighborhood residents for the signs, recalled how in 1991 Baskin sat gang leaders down at three high schools – Englewood, Robeson and the former Parker – and produced a gang treaty.
But both men say gang involvement is at least 40 years in the past for the 60-ish Baskin. "Hal has never been a felon, never been in the penitentiary, never been involved with drugs," Harris said.
"There is no one who's not an ex-something," Smith said. "No one's perfect. I am 47, I've been around him since my early teen years and I've never seen him gang bang a day in my life. I've only seen him being positive and productive."
The Chicago Department of Transportation had already placed the brown "Honorary Hal Baskin Street" signs on 65th Street between Green Street and Racine Avenue in mid-July when Ald. Anthony Beale (9th ward), ordered them taken down. Beale, who is City Council Transportation Committee chairman, said he was holding the ordinance in committee, according to the Chicago Sun-Times.
"[CDOT] needs to wait until it has passed City Council before they start erecting signs. The signs will come down until it is passed."