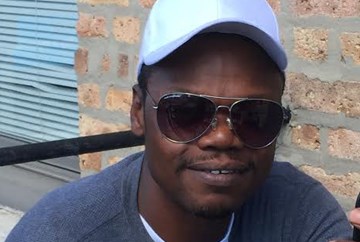 By: Alexandria Spillman
October 31, 2016
"It was a hot, steamy day, and I decided to treat myself to some barbecue," the charismatic and well-known StreetWise vendor/story-teller Eric Colbert reported. "I've heard about Hecky's for a very long time, so I thought I'd better go.
"When I made it there, I saw that it was nice. They had diverse customers in there, and they had nice, cool air. The employees were very comforting; they could tell that I was having a tough day, and they were nice about it.
"I ordered some wings, got my order, said "goodbye." I got in my car and went back to eat. I couldn't wait because it was smellin' so good, so I took out a piece of chicken. The aroma was awesome, but, get this, when I go to bite on it, there was no meat.
"I was like, 'what happened to the meat?!' I started sucking on the bone because it was so good. Then I looked down, and there was the meat. It was so tender that it fell off the bone. It was real good."
So maybe it didn't happen exactly like that, but embellished or not, listening to Eric's Hecky's experience can make almost any mouth water.
Hecky's BBQ has been a staple in the Evanston community for 30 years, and features tender chicken wings, baby back ribs, and pulled pork all marinated in the family's famous Creole Barbecue sauce. "The meat was tender and sautéed in that sauce," Eric said. "The sauce has something in it that I can't quite pick out, but it is good."
The meat may be tender enough to just about fall off the bone like Eric said, but even the Hecky's logo says the secret to all that flavor is in the sauce.
What keeps restaurants like Hecky's thriving in their original neighborhoods is when customers keep coming back for more.
"It's a carry-out place, so there's no seating," Eric explained. "But all the customers were very comfortable there, like they knew the place. And they probably did. I was probably the only stranger there."
Eric's customers outside the Jewel-Osco on Hamilton and Chicago Avenues talk about Hecky's all the time, he says, so of course he had to check it out. Eric was also drawn to Hecky's for another important reason, however.
"What really made me go to Hecky's is that I have a nephew who just recently got married [into Hecky's family] Eric said nonchalantly. "Now that I'm connected to the family, I thought I'd really better go check it out."
Eric's characteristic humor came through again when he commented on the barbecue hub's fitting name.
"I know why I call it Hecky's now," Eric joked. "When I tasted that chicken, all I could say was, 'What the heck?!' And then I put "heck" with "Hecky's" and I thought maybe that's the reason they call it Hecky's."
The real reason they call it "Hecky's," though, is after the restaurant's founder, Hecky Powell. The Hecky's website features an HGTV segment on Hecky's life. In it, Hecky explains that he came from a working class family in Evanston and was one of nine children. As a youth, he acted out and found himself locked up in the Cook County Jail. Upon release, he earned his high school diploma at 25 years old and went on to get his bachelor's degree in social work. A few years went by, and Hecky began to feel stagnant and burnt out, so he decided to pursue something new: he opened a restaurant that offers career opportunities to "troubled kids" like he once was.
Eric's visit to Hecky's was perfectly timed; after all, how could he join the Hecky family without being able to retell such an intriguing story?