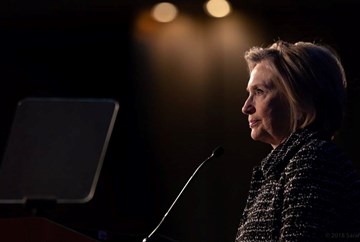 By: Suzanne Hanney
May 21, 2018
"It's not enough to thank black women, we need to support black women," said Hillary Rodham Clinton, who did just that as keynote speaker for the first Ida's Legacy luncheon, a fundraiser for electing the next generation of progressive African-American candidates.
Equal pay for women across races and correcting three times higher childbirth deaths for black mothers and their babies as compared to white women are not special interests, Clinton said, but "the core of who we are as Americans.
"America cannot reach its full potential until [black women] reach theirs," she said in a quote from Ida B. Wells-Barnett, the 19th century educator, civil rights and women's rights pioneer who is the namesake for Ida's Legacy.
"We are living in challenging times, with a war on truth, facts and reason as white supremacist views lift up in the White House," Clinton said. "We are in a struggle for what kind of country we are going to be. You are valuable," she told the April 12 audience at the Sheraton Grand hotel.
"Keep the faith, lift each other up as we move forward. I will be with you every step of the way, because this is a fight worth pursuing."
Black women are the new base of the Democratic Party, "doing more than their part to stand up for American values," Clinton said. As an example, she cited the 98 percent of Alabama black women who voted for Doug Jones, so that he became the first Democrat elected to the U.S. Senate from Alabama in 25 years. Jones defeated Roy Moore, a Donald Trump-backed candidate accused of sexual assault against teen girls.
Clinton herself won 94 percent of the African-American women's across the US, which is an acknowledgement of how dependent the Democratic Party is on black women, said Ida's Legacy founder Delmarie Cobb, a Chicago political consultant who formerly worked in radio and television.
"Ida's Legacy was my response to 2016; I wanted to use this unprecedented energy to challenge cities and counties," Cobb said. "As Shirley Chishom said, 'You don't make progress sitting on the sidelines and complaining.'"
Issues that must be addressed, Cobb said, include disparities in health and wealth. Half as many black women have health insurance as white women. Among single women age 36-49, white women have a median wealth of $42,600 while black women have $5. And for 1 in 4 black women, Social Security will be their only source of retirement income.
Karen Yarbrough was endorsed by Ida's Legacy in the March election for Cook County Clerk. Yarbrough is now the county's Recorder of Deeds, which is being merged into the clerk's office in a cost-saving measure. She is running unopposed in November.
Yarbrough served in the Illinois General Assembly for 12 years, where the women's caucus was the most successful one, she said.
"When the governor would look out, he would see white, black, Jewish, suburban women. We didn't focus on our differences, but on big issues that affect women and children."
Women raise children and manage households, so running for office is within their skillset, she said. As vice chair of the Illinois Democratic party and state central committeeman for the 7thIllinois congressional district, "I see my role as also encouraging women, to say 'you can do this too,' "Yarbrough said.
Val Montgomery, a co-founder of the Women's March action group in Naperville, said she decided to run as a Democratic candidate for state representative in the 41st district because of overcrowded classrooms. Her son has autism and his program is closing, yet the school district has money to send kids on a trip to Europe, she said. Montgomery said she would like to see property tax reform to enable more equitable school funding.
Dan Duster is Ida B. Wells' great-grandson, a management consultant and president of 3D Development Group.
Duster does motivational speaking and reflects often on his ancestor's lifework. His takeaways from the luncheon were the tough battles facing African-American women in the US today but also the Wells quote Clinton cited, that the success of the U.S. is linked to that of black women.
"Black women set the standards," Duster said. "If they are high enough, the men will meet them."
He told a story about a high school sophomore who said he didn't like to read. Then a classmate told him she thought men who read were "sexy."
"The young man was reading the next week," Duster said.