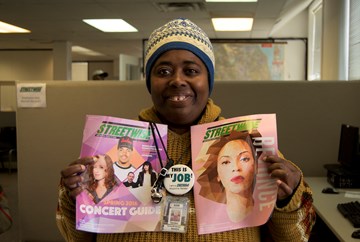 By: Dave Hamilton
January 5, 2017
Vendor's name: VW
Age: middle age
Location of vendor's pitch: Broadway/Foster & Broadway/Berwyn
What are your wishes for 2017?
I wish for this idea I have to come about, this wonderful idea I have that I'm hoping to get approved.
What do you hope to achieve, personally, in 2017?
To get established in my disability benefits. According to their requirements, it's looking as though I will get approved.
What do you think your government could do to tackle homelessness in the next year?
I believe that a lot of the rich people, the very wealthy people, if they could step in and join forces and use monies that they would be willing to donate, to give away to provide housing for those, to put an end to homelessness. I'm assuming the city doesn't have funding so it would be wonderful for people to donate funding for those who just cannot get housing and provide supportive housing for them.
What are your hopes for your street paper in the next year?
It goes along with my idea that I hope to get approved. I think you're going to love it, that the organization will love it, the board members. It's something great that I have, it's completed, I've been working on for six years.
What are your fears about 2017?
There are people who have mental illnesses who don't bathe and eat out of garbages, which is harm to self. And these people need to be taken care of.
Where would you like to be this time next year?
Still be a StreetWise vendor and stop procrastinating and get things done. Some things I want to help contribute ideas to humanity, I have influential words to say that would be effective, I think.
What would your message be to street paper readers for the new year?
The readers they are the meat, the root. When they come, they like their magazine and they know they are helping the vendor when they buy the issue from them. Everything they do for the vendors—providing something to eat, giving us a tip. They're there to help.