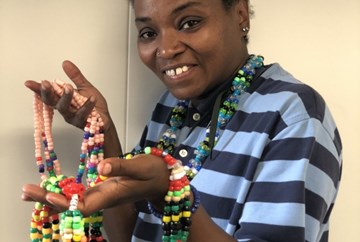 By: Alexandria Maloney
November 4, 2019
My name is Holly Smith, and the first time I started selling StreetWise I was in my early 30s and pregnant with my kid. I wrote poetry back then and StreetWise published it in the magazine. After that, I started meeting people and doing my spoken word downtown. That helped me establish a connection with people and really helped boost my sales in the process.
I took a little break from selling the magazine so that I could fight for my kid, but I came back to sell papers. I'm selling in Evanston right now near Davis at Church and Benson. My favorite part about selling StreetWise is that I get to meet new people and talk to them about what's going on in Chicago through the magazine. Chicago has a lot of entertainment to offer people, and I feel like it's my job to put that out there. I mean, who doesn't want to go to shows and see art in person? It makes me happy to see people out there doing their craft like I do my own.
I have my peddler's license too, so while I'm selling magazines, I can sell my handmade jewelry, too. I spend my spare time making colorful beaded necklaces. Art soothes my mind.
My goals are to work, get a place to stay, and get my kid back. If I don't have a place, then I can't raise my baby. I cry a lot because I don't get to see her; she is almost taller than me now. I've been a good mother. All the money I make in the street, I give it to her, but that's not the same as having her with me. Getting my family back together is my priority.
I was born and raised in Chicago, on the eastside near 71st and Jeffery. That neighborhood has changed a lot over the years. In fact, almost everything has changed. When I was around 13 yeas old in grammar school, they started using the old computers. Just look at computers now. When they started me on computers, I learned a little bit. I know enough to work my phone and get on the Internet, but I'm no whiz at computers. I used to know how to type real fast, but I'm out of practice and just pecking around the keyboard now. I wish I could go back to school, but at the same time, if I'm able to find an apartment, I have to use my money for rent.
It's nice to be recognized in the magazine every once in a while, but that's not what it's about for me. I just like to get out there and sell a good product. Thank you to all of my customers for helping me reach my goals and for allowing me to share my passions with you all.