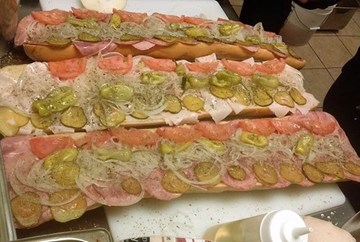 By: A. Allen
August 22, 2016
Home of the Hoagy has been established in the Morgan Park community for almost five decades. Since 1969, it's been a South Side favorite at 1316 E. 111th St. Home of the Hoagy was formerly known as Steak King, and known for its famous steak sandwiches, referred to as "a meal on a bun." The Steak King sandwich "made the cut" on the Steak King menu, with its zesty robust sauce that brings a delightful flavor to the taste buds.
The owner, Roosevelt McCarthy, is a man of character and integrity whose main purpose is to assure his customers the best quality of meats and the authentic taste of his well-known sandwiches.  Mr. McCarthy recently retired, but still comes around the family business to assure its authenticity and quality is maintained.
The Home of Hoagy recently had a fire causing it to move next door, but after what it's been through, it is still popular and thriving because of the food's quality and excellent taste. So if you are in the area, treat yourself to a very special taste that will keep you coming back! Even if you are not in the area, it's worth traveling to the Morgan Park / Beverly district to enjoy the cold cut submarine Hoagy or the meal-on-a-bun steak sandwich. 
Make sure you top it off with some French fries and steak sauce. I grew up in the Morgan Park area and have had everything on the menu and all sandwiches under $10, including the Polish sausage with fries. To all who follow up on this, enjoy and don't bother to thank me, just go online and thank Roosevelt McCarthy for his service and dedication to the food industry.