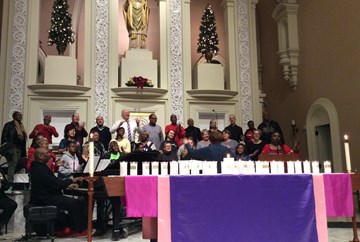 By: Suzanne Hanney
January 8, 2018
The Chicago Homeless Person's Memorial Service December 19 at Old St. Patrick's Church in the West Loop is the only remembrance for 33 people who died alone and in poverty this the past year.
Those memorialized include Marcus Faleti, who enjoyed reading the Sun-Times and the Wall Street Journal; Moriah Ishmael and Durrell Thomas, both of whom just wanted a place of their own; Will Kelly, "a good friend who helped many people;" Tony, who died Thanksgiving night; Rhonda, who died of MRSA; Wesley Sharp, "kind, respectful, who will be missed dearly by his friends;" and Benjamin Soto Ramirez, who was beaten to death in the 1100 block of North Ashland Avenue just a few days beforehand.
Myron Lewis attended the service as an Old St. Pat's parishioner who has known people who died homeless.
"It's sad, but for some it's a disease," Lewis said. "Some people are in their own pain and can't seem to get it together and continue to remain homeless. Some want help and others don't. They are glad to go among people like themselves where they feel secure. But we are all God's children."
The Ignatian Spirituality Project, Chicago Coalition for the Homeless (CCH), Old St. Patrick's, Franciscan Outreach, New Moms as well as the singing group Harmony, Hope & Healing hosted the nondenominational service, which is annually scheduled close to December 21, the longest night of the year. The event has been indoors since 2010 but was outside at the Civic Center for at least a decade before that, said Ed Shurna, retired executive director of CCH. Shurna, the Ignatian Spirituality Project and Old St. Pat's created the current model.
Wayne Richard, associate director of organizing at CCH, said that it's not enough to offer a kind word when we see someone who has been excluded from society. "All children need coloring books so they may have a fruitful adulthood," he said in regard to a baseline education for everyone. "Housing is a human right."
Richard said later that the public responded with understanding to CCH's recent Home Works campaign that spread awareness of "doubled up" families living together. He compared this awareness to the 1980s, when homelessness was considered an individual's failure.
"The scope of lives of people who've passed away is much more than we imagine and the stakeholders are as diverse as ever," he said of those memorialized.
There was also Claude Michaelis, who had resided at the Lawrence Avenue viaduct, been involved at Inspiration Corporation and been recently housed; Stanislaw Gal, whose survivors include a wife and children; Kevin Lawson, a loving husband; Ray W. and Nancy, who died in January; Yacob G., who died in May; Leonard S., who died in July; C. Glover, who died in August; John G., who died in September; Patrick S. in October and Tommy Irby, earlier this month.
Shelters across the city keep track of people who die throughout the year as well as some obit-like tidbit about them, Shurna said.
Others whose names were read aloud included Henry Hartage, William Carter, Terry King, Lewis Frost, Bethelynne Johnson, Rick Berry, Timothy Griffin, Andre Perry, Larry Singleton, Angela Williams, Michael Earl, Christina Kostoff, Barbara McHenry. During this litany, students carried candles to the Old St. Pat's altar and lit them from a larger candle.
Renard Parrish was also among the memorialized. Parrish was a plaintiff in a lawsuit brought several years ago by attorneys at the Chicago Coalition for the Homeless that sought to protect the property rights of Lower Wacker Drive residents during street cleanings.
"He was very likable and friendly and it seemed like all the people on Lower Wacker Drive knew him," said Diane O'Connell, staff attorney for the CCH Law Project.
Parrish had serious health problems such as infections in his legs, for which he was hospitalized several times over the years. Although CCH advocated for permanent housing on his behalf, the scarcity of housing resources and other barriers made housing difficult to obtain and he died at the age of 52 while experiencing homelessness.