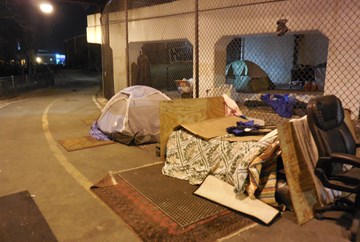 By: Suzanne Hanney
September 26, 2016
Chicago homelessness dropped 13 percent this year to its lowest in a decade, according to results of the annual Point in Time (PIT) count released September 12.
City officials said there were 5,889 homeless people: 4,646 people in shelters and 1,243 on the street, in vacant buildings, CTA or other places not intended for sleeping.
Julie Dworkin, director of policy at the Chicago Coalition for the Homeless, said that the reduction is based partly on actual numbers and partly on methodology.
The number of unsheltered homeless veterans, for example, dropped by 204, thanks to an Obama administration initiative to end veterans' homelessness by 2015. "Because there was mayoral support and strong political will combined with federal resources (housing vouchers) we saw real impact in the reduction of homeless veterans," Dworkin said.
But Chicago also adopted a new policy for counting people who sleep on CTA buses and trains. Instead of boarding CTA Red and Blue Line trains mid-route, PIT teams concentrated on terminals, where they could better see who re-boarded trains, so that they were able to avoid double-counting.
City officials acknowledged that homelessness has become more visible but say that's because unsheltered people have moved to high-traffic areas of the city. The neighborhoods with the highest numbers of homeless were the Loop (75), Uptown (73) Near North Side (65), Near West Side (60), Lower West Side (53), Logan Square (45) and Avondale (43).
The 42nd ward, which includes both the Loop and the Near West Side, had 120 homeless people. There were 69 in the 32nd ward, 53 in Uptown's 46th ward and 46 in the 35th ward.
StreetWise editor Suzanne Hanney and social work intern Benjamin Marton were among the 450 volunteers who administered the January 26 PIT of people on the street. Hanney's team started at the Ontario feeder ramp of the Kennedy Expressway and visited tent cities under its overpasses and along the Chicago River. The team counted 63 people, including a Bucktown encampment that hadn't been on their charts, and 17 at Belmont and Kedzie.
Workers from Catholic Charities who regularly cover the area said they knew two men had been homeless for three years because they remember 311 calls from citizens asking that someone check on them. The men always refuse to go to a shelter. Families with older teenage boys also refuse, because it would mean separation: the boys could not stay in a shelter for women.
A 43-year-old man said he became homeless after he was separated from his family; a picture of a little pumpkin hung above him on the steel expressway girder. A 66-year-old man said that 10 years ago, he lost his job, had health problems "and then it spiraled down." The 56-year old woman with him said simply that she lost her child.
A 45-year-old woman said she lost her housing because of a family tragedy and had been homeless for three years except for once last year when she went to a shelter. "It was so fricking horrible I would never go into one again." She had been in the foster care system, had been a domestic violence victim and she was receiving unspecified benefits.
This year, 28 percent of the unsheltered population received food stamps, compared to 41 percent last year. However, 17 percent were on Medicaid, whereas only 11 percent had this medical benefit last year.
The 13 percent receiving Supplemental Security Income, which is disability pay after minimal work history, was close to last year's 14 percent. But only 4% were on SSDI in 2016, compared to 8% last year.
Nonie Brennan, CEO of All Chicago, told WBEZ that many people need help to access these benefits but case managers in many social service agencies had been laid off because of the Illinois fiscal crisis.
The annual January PIT count is a census mandated by the U.S. Department of Housing and Urban Development (HUD). Chicago asked its volunteers to do in-depth surveys as a way to see whether city services are meeting needs. People who were asleep or unwilling to be interviewed were simply tallied; race was noted if it was observable.
StreetWise intern Marton admitted that he was initially taken aback "at the apparent coldness of this sort of study.
"What if these individuals don't want to be dumbed down to a tally? What gives PIT volunteers the right to enter these spaces, many of which are communities that are seen by the individuals living in them as their homes, and deliver a survey to assess services rendered when these services may not even be desired by these individuals?"
But Marton wrote that he soon realized that the PIT is necessary nationally to assess treatment of homeless people and to advocate for more resources.
He mentioned the letter from President and Mrs. Obama about national homelessness that was read during the one-hour training. And he described hours after 10 p.m. spent scouring main streets and side streets, "pulling over under viaducts and beside churches in order to seek out those we missed."
Two people were eager to give their information. They understood they were helping not only themselves but homeless Chicagoans in general.
"With that there was excitement in the air that only comes from being involved in something bigger than yourself. We weren't doing this to serve ourselves; we were doing it to serve those who need services, of whom, without this count, wouldn't get the resources needed to obtain those services," Marton wrote.