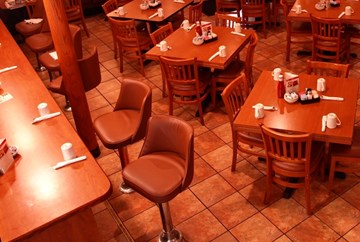 By: Alex White
August 15, 2016
Soon after he started selling magazines close to the Whole Foods near Halsted and Waveland in 2007, StreetWise magazine vendor Roosevelt Harris began visiting Horizon Café, located in the heart of Lake-view at 3805 N. Broadway. Serving breakfast all day, in addition to a variety of classic American and Greek-American lunch and dinner options, Horizon Café is the perfect place to bring the family for any meal.
Owner Nick Cocalis first opened Horizon Café in 2004, and the diner began to deliver breakfast and offer every menu item to the convenience of your front door. The diner quickly became a local favorite, with a steady flow of guests during prime lunch hours.
Roosevelt stopped in to Horizon Café for their Hot & Spicy Buffalo Wings, which were served with eight celery sticks and ranch dipping sauce. Roosevelt ordered his meal while walking to the restaurant, taking advantage of their quick, simple take-out services. The Buffalo Wings were delicious and loaded with chicken, fiery barbecue sauce, and outstanding flavor. Roosevelt also boasts about the delectable hamburger and fries he ordered from Horizon Café in the past, which was a huge portion with a large cup of fries.
What stuck out the most to Roosevelt was the family-oriented atmosphere; from the courteous staff, to the husband and wife running the restaurant, everyone was very welcoming and comforting. In an area that is gentrifying, Horizon Café has successfully sustained itself as a family-friendly diner serving breakfast, lunch, and dinner all day. Situated in Lakeview, it borders Uptown and Boystown, a historically popular enclave that serves as a safe area for members of the LGBT community. Gentrification of Boystown has led to rent prices increasing, making the community less accessible to all members of the LGBT community. The area has become more appealing to families as a means of diversifying the area, by opening up fitness centers, local boutiques catering to women, hi-rise apartments, parks and community centers. Despite the changing demographics, residents of the area have managed to remain  fun-loving, sociable, caring individuals—a vital asset of the community as a whole.
To accommodate the changing needs of the area, owner Nick Cocalis is planning to open a restaurant next door called Nicky Urban Street Grille. This innovative, edgy hang out will feature hand-crafted cocktails, craft beer, shareables, as well as smoked meats. Patrons can also enjoy the wraparound patio equipped with a fireplace through the colder months.
StreetWise vendor Roosevelt Harris highly recommends this place to individuals and families alike. He says he will certainly go back when he has more time to sit, relax, and fully enjoy the many accommodations Horizon Café has to offer. He is looking forward to trying out their breakfast menu next, and encourages anyone in the area looking for an enjoyable atmosphere with great eats and a comfortable dining area to check out Horizon Café!