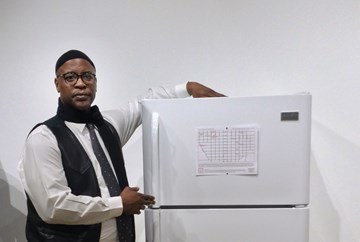 By: Suzanne Hanney
February 21, 2017
The art exhibit "House" uses the verb form of the word: "to provide a safe place," and is intended to spark dialogue and individual involvement on ending homelessness. It is at the Weinberg/Newton Gallery, 300 W. Superior St., Suite 203, through March 25.
With just a few spare pieces in the open space, the "art is elsewhere" in this exhibit. The cost of mounting it went toward paying for a two-bedroom apartment for two formerly homeless people, said Rhoda Rosen, curator/art historian. Rosen is co-founder with Billy McGuinness of Red Line Service, which conceived the exhibit. Rosen and McGuinness met at the School of the Art Institute of Chicago, where Rosen is an associate professor and McGuinness a lecturer.
The apartment is one Rosen and McGuinness say they could live in. That's important, McGuinness said, because "we believe societal ills result from a feeling of inequality."
There are also reference materials visitors can take home. Other events are:
• February 9, 4:30-7:30 p.m. screening of the Kartemquin documentary, "The Homestretch," about three Chicago teens experiencing homelessness.
• March 3, 5-8 p.m. a housewarming party for the two newly-housed people. Attendees are asked to bring an item or to donate to the Housewarming Fund at fracturedatlas.org
• March 8, 6:30-8:30 p.m. Alan Mills, executive director of the Uptown People's Law Center, will discuss the criminalization of Chicagoans who are homeless.