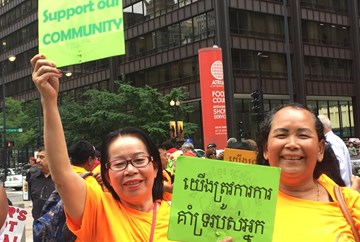 By: Suzanne Hanney
July 25, 2016
Even as the Illinois General Assembly and Gov. Bruce Rauner were finalizing a six-month, stopgap budget on June 30 – the last day of the state's fiscal year – advocates gathered at the James R. Thompson Center to showcase the depth of human service needs.
"Jane Addams Senior Caucus (JASC) is outraged that the governor is considering a stopgap budget; playing politics will affect over 43,000 seniors who can see their home care services reduced or lost altogether," said Reggie Griffin, a JASC board member. "We're joining our partners and allies to tell the governor they have the wrong priorities, this is not how government is supposed to work. Let him know we want to raise revenues and not cut critical services for seniors, our children and our communities. We know that raising revenue would ensure full funding of home care services, Meals on Wheels, schools, child care and transportation."
Will Wilson of the Illinois Alliance for Sound AIDS Policy, a project of the AIDS Foundation of Chicago, said that the budget impasse has resulted in counterproductive cutting of HIV/AIDS programs. "Some of the programs being slashed are those that do outreach, education, and testing. We know that when a person knows their HIV status is negative, they are more likely to maintain that status by taking whatever precautions are necessary, whether it's condoms, PREP or even abstinence. We also know that when a person tests positive, they are more likely to get into treatment and less likely to spread the virus."
Wayne Hayer of ONE Northside, Veronica Hansberry of Project Orange Tree (which was started by classmates of shooting victim Hadiya Pendleton) and Michelle Gunderson of the Chicago Teachers Union (CTU) all focused on the needs of minority youth.
Hayer said he lost his Illinois Student Assistance MAP (Monetary Award Program) grant during the impasse but worked longer hours, numerous odd jobs, and picked up extra shifts to complete his associate's degree at Truman College. He will head to Morehouse College, his dream school, in the fall.
"Ever since Governor Rauner has been in office, he has constantly made choices that affect my livelihood and the livelihood of many others: women and low-income people of color. A stopgap budget is not enough. We need a fully-funded budget that brings in revenue. Shame on the 1%, shame on our elected officials and shame on Springfield. We need to get loud, we need to march in the streets because every student in Illinois needs to go to college, not just the ones who can afford it."
Hansberry, who graduated from King High School and who will be a second-year student at Howard University, said that school budget cuts hit extracurriculars first, "the things that make [schools] really great: art, drama, band. I was a member of marching band all four years. Although I went to college on an academic scholarship, a lot of kids would not have been able to go except for the marching band scholarship. Aside from the money, [extra-curriculars] give us someplace to go so that we are not on the streets while our parents are at work. It gives us a chance to find out what we are passionate about."
Gunderson said the CTU "are the people who spend our days taking care of our children. We have been cut to the bone, we cannot have any more cuts.
"We want clean schools, do you say 'yes?' We want safe schools, you say 'yes?' We want schools with enough adults so our children can be treated well," she said to corresponding cheers.
During a rally that immediately followed a march down Clark Street to Chase Bank, Ariel J. Thomas, health policy/advocacy & research coordinator with the Metropolitan Chicago Breast Cancer Task Force said "women are dying without the IBCCP (Illinois Breast and Cervical Cancer Program)."
Gov. Rauner had proposed a line item of only $6 million but $11 million is needed to provide screenings for women who are uninsured or underinsured, Thomas said. Some women have insurance that provides diagnostic mammograms of suspicious results, but not routine screening mammograms. Others have been dropped from coverage when they cannot afford payments.
The Task Force, however, navigates women through state-funded programs, to donated mammograms from local hospitals, and even to Medicaid coverage for treatment if they are diagnosed with cancer, Thomas said.
The stopgap budget provided a reprieve for at least two homeless programs. Unity Parenting & Counseling provides meals and other outreach for 22 youth a week (150 in the course of a year), most of them street-based. North Side Housing runs a shelter for 72 men at People's Church of Chicago, 941 W. Lawrence Ave.
Both programs were among Chicago shelters carried by the City of Chicago Department of Family and Support Services (DFSS) in anticipation of state funding.
Unity Parenting & Counseling also runs Harmony Village, a two-year transitional living facility for 28 teen moms and up to 32 children. Most of its $200,000 rent was owed last year, according to Anne Holcomb, supportive services supervisor, and Flora Koppel, executive director. Holcomb said the program had been running month-to-month, so she spent her time on "rent parties" hosted by supportive churches, which brought in at most $1,500 at a time.
Meanwhile, North Side Housing was prepared to pay for July without the City money but was unable to go longer than one month, said Jean Darling, senior minister at People's Church. "Fortunately, it all came through and we had only one day up in the air."
The stopgap budget includes money for K-12 schools, higher education, roads, transit and $670 million for human services not already funded by consent decree or court order. Neither the General Assembly nor the governor wanted to be blamed for a July 1 shutdown, so the "grand compromise" toward a complete budget, with Rauner's "pro-business, union-weakening agenda" is off the table for the moment, according to NBC5.
Just the same, a $250 million tax levy to fund Chicago Public School pensions sought by Mayor Rahm Emanuel passed the General Assembly but was not sent to Rauner. The governor wants a separate bill to cut state employee retirement costs before he will sign it, according to the Chicago Tribune