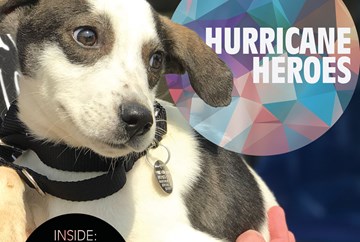 By: Suzanne Hanney
October 2, 2017
Ten PAWS Chicago volunteers realized they were part of something bigger in the wake of Hurricane Harvey when they traveled to Houston to rescue 43 dogs and cats from its municipal animal control center.
The 34 dogs and nine cats were the sickest, longer-term inhabitants of the BARC Animal Shelter, which takes in 2,500 animals a month. BARC  was already overwhelmed by the time Harvey hit August 25, said Mark Lukas, a long-time volunteer who was one of the five men and five women who made the September 1-3 trip.
The volunteers, who responded to an email blast the night before departure, were taking animals already at BARC so there would be room for animals displaced by the storm, Lukas said. "The last thing we wanted to do was take any animals with a possibility of being reconnected with their owners."
Four PAWS Chicago vans left September 1 for what was supposed to be a 17-hour drive. However, as they got closer to Texas, they started to hear about closed roads and fuel shortages. They put a call out on social media and "it was heartwarming, the response we got before we even entered the state," Lukas said. Texans checked nearby gas stations and then messaged them.
Once inside Texas, vehicles pulled alongside the four vans labeled with PAWS magnetic signs and honked their horns in approval. At gas stations, people would open their wallets and say, " 'You're here to save the animals. I don't have a lot, but here's $10.'
"These people had just weathered one of the greatest natural disasters in that state in 50 years and they were reaching out to help us," Lukas said. "There was such an amazing bond that formed as we went through the state of Texas. People wanted to get pictures with us, saying 'You're heroes.' 'No, we're just doing what we love,' " we said. We want to tell your story."
Essentially first responders, the Chicago team arrived in Houston after being on the roads nonstop for 20 hours. They found homes destroyed, open fields with livestock trapped in the mud and a vacant downtown. They stopped in a Tex-Mex restaurant, wearing their PAWS T-shirts.
Restaurant patrons started coming up to them, congratulating them for what they were doing. "When we got done eating, we asked for the bill. The owner came out and said, 'Give me a few minutes. A lot of people on the way out left money. I have to figure out what you owe and give some myself.' " 
They stayed one night in a hotel – the only six hours Lukas slept – and saw armed police checking in from out of state.
"It was the first clue we were involved in something beyond the scope of what I had thought. It was unsettling to see a military presence but I understood they had to be down there to secure not just the city but people's homes."
PAWS Chicago was founded 20 years ago as a no-kill shelter and this philosophy guided its Houston effort. Founder Paula Fasseas and trainer Joan Harris had arrived by air the day before to assess the situation. Fasseas, who volunteered in similar fashion for Hurricane Katrina, upgraded the project.
Since other animal rescue groups from around the U.S. had already begun to take extra animals from Houston, PAWS decided to make use of its three-story medical center in Little Village that has a capacity of 250 and that routinely pulls animals from Chicago's municipal shelter. They decided to pull the most vulnerable animals that most rescues couldn't accommodate because of cost, animals that would be euthanized elsewhere to save space.
The volunteers gathered animals with ringworm, (a skin fungus) and heartworm, a mosquito-borne parasite that clogs the veins and heart; some animals had mange and other skin disorders. There were six puppies (one set with its mother and another without) and five kittens. Each had its own crate, to reduce stress.
Lukas bonded immediately with a pit bull named Penelope who got up on her hind legs, put her paws on his shoulders and started licking his face.
Penelope rode in the van home with Lukas. A 20-year Uptown resident, he would like to adopt her but, "If I could talk my wife into a fifth dog; the most I have been able to get is, 'when she is available for adoption we will go visit her,'" he said.
There was also Claire, a 14-year-old Chihuahua who slept on a blanket on his lap most of the ride home. Her ears were bitten up from mites and she had two-inch toenails so that she could hardly stand. "It was like watching someone on stilettos."
The PAWS team brought toys, water and food to start giving the animals immediate comfort and security. Because their crates were 10 to a van, it was easier to check on them at each rest stop by letting them out to relieve themselves, giving them food and water, changing their bedding.
The animals had been "shell shocked" when they left BARC, Lukas said, and the Arkansas Welcome Center in Texarkana was their first stop. They started coming out of their shells when they were let out onto the lush grass.
A dog named Brian who had been really fearful started playing with a volunteer and wagging his tail. Others rolled around or did "play bows," with their front paws extended and their tails in the air, a sign that they wanted to have fun with the humans.
"Our stay was longer there because the animals were having such a great time, we wanted them to have longer to enjoy the grass and sunshine after being locked up such a long time," Lukas said.
The four vans, which left at noon September 2, were driving home through the tail end of the hurricane. There were no other lights on the highway and they were hit with high winds and heavy rain: nine inches in one hour in one town.
One of the vans blew a tire when it ran over metal hurricane debris. The team was on their phones messaging when a white pickup truck drove up.
"The guy pulls up and said, 'You got a problem. I've got this.' And he goes into his pickup truck and got heavy-duty pliers, pulled the rod out. He went back to the truck and pulled out a tire patch kit, put the glue on the membrane, shoved it into the hole, cut it flush with the tread and pulled out an air compressor. He was like an angel out of nowhere," Lukas said.
"The guy said, 'You guys got animals, you're awesome for doing this.' And we said, 'No, you're awesome.'" The team gathered money to reciprocate him with dinner or a drink but the man refused.
"You would think people in that situation would hoard all their money but there was such a free giving back and forth," Lukas said. "Tragedies like this bring out the hero from every individual. What are the odds we could get help when we were a vehicle packed with animals in the middle of nowhere? This guy drove up in his white pickup truck like the Lone Ranger saving the day. And then I hate to use the cliché, but he drove off into the sunset." 
The PAWS Chicago team arrived back at its Little Village medical center around 10 a.m. Sunday, September 3 after a 22-hour drive. Within a week, five animals had been adopted, including Claire, the senior Chihuahua and Brian, a 1-year-old shepherd.
Except for those with upper respiratory conditions, the remaining dogs and cats were handed off to another set of volunteers who would foster them until they are OK'd by the medical center for adoption. The upper respiratory condition, however, would require a stay of up to two months in a stainless steel cage with a clear door and piped-in oxygen.
Heartworm can also take a month or two to be cured; ringworm depends on the animal's response to antibiotics. Some PAWS volunteers dedicate their spare bathrooms to animals with these medical needs, because the tile floors and walls can easily be disinfected with bleach.
"I don't think most people realize on average we spend $1,000 per animal to get them healthy, and adoption fees can range as little as $25 for a cat and $300 for a dog depending on the age of the animal." Fees for older animals are lower to incentivize their adoption.
"It's definitely a business of love. There's no profit in animal welfare other than the good feeling you get from making a difference." That's one reason the organization welcomes its 90-percent volunteer workforce, he said.
Although PAWS has sent volunteers to other disasters, its regular work in Chicago encompasses free and low-cost neutering and spaying to 17,000+ animals yearly in lower-income ZIP codes. The idea is that with fewer animals having litters, there will be fewer homeless cats and dogs.  When PAWS began in 1997, there were more than 42,000 pets euthanized annually in Chicago; today there are fewer than 8,700.
PAWS Chicago has made a commitment to visit Houston several times over the next few months so that animals are not euthanized for lack of space. Although their first trip rescued mainly long-term shelter animals, the situation is fluid. As their homes were broken up by the hurricane, "fight or flight" kicked in for a lot of animals. They are now  wandering around, lost. The hope is that with extra time, BARC will find them, hold them, and reunite them with their owners.
PAWS will also be responding to Hurricane Irma. Volunteers will partner with a Gainesville, FL shelter and meet at a halfway point to pick up 40 kittens, 11 of which have ringworm, and bring them back to the medical center.
The PAWS team visited Houston's BARC on the first day it opened its doors for owners to relinquish their pets, Lukas said. "People were pulling up in vehicles crammed with what little possessions they had. They couldn't care for their animals, they barely had enough to care for themselves." PAWS accepted one terrier from a mother and daughter who had to relinquish it.
"A lot of volunteers learned not to judge," he said of the relinquishments. "We realized a lot of people were forced to give up their animals not because they didn't want them but they were going to be living out of their cars. They didn't know where they would be for the next weeks, next months. I have always been a very empathetic person but [now] I find myself more sensitive to the needs of people. I think all of us are different people as a result of that journey."