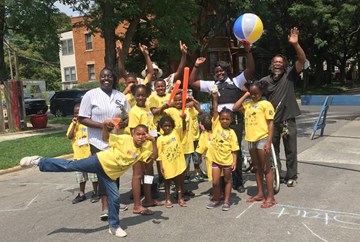 By: Suzanne Hanney
September 5, 2016
An Englewood nonprofit and its spinoff found creative ways to engage youth and other community members this summer.
I Grow Chicago served 24 children age 5 to 12 and another 10 young people age 14 to 21 in a six-week Summer of Hope program focused on academic enrichment, leadership development, mindfulness and exposure to arts and culture.
Diverse organizations throughout Chicago assisted the nonprofit. The Old Town School of Folk Music, Victory Gardens Theater, Shambhala Center, The Second City, the Art Institute of Chicago and local rapper K.W.O.E. offered free classes and services. Spikeball Inc. taught their game and offered work training and part-time employment to older youth.
Swimming lessons were offered twice a week and Catholic Charities donated many meals. Sat Nam Yoga also offered classes twice weekly, for the third consecutive year. The City of Chicago grants permission each summer for the nonprofit to close the street in front of the I Grow Chicago Peace House at 6402 S. Honore four days a week during summer camp hours to create a festival atmosphere. The nonprofit pitches tents on the street to house diverse entertaining and educational activities.
Neighborhood young people are able to have something productive to do while feeling safe among familiar faces, said Stephany Price, executive director. "We create a peaceful community within our camp, with no teasing or bullying allowed. It's important that everyone feels they belong."
"Englewood youth are often isolated from the rest of Chicago and its opportunities," said Robbin Carroll, I Grow Chicago's founder. "We're delighted that so many organizations are stepping up to meet the wonderful children and youth in our community, and to help expose Englewood youth to previously inaccessible art, culture and mindfulness practices."
I Grow Chicago serves Englewood residents in a holistic manner, combining yoga and mindfulness workshops to help heal from trauma with pragmatic solutions. The nonprofit teaches job training and life skills, offers mentorship opportunities, has a fully stocked pantry of personal hygiene products and holds community dinners and restorative justice peace circles with police and community members.
Englewood Peace Company, a spin-off of I Grow Chicago's 501(c)(3), hosted a Pop Up Party for Peace outside the Peace House this summer as an opportunity for police to socialize with residents and their children. 
"A police officer was caught on video playing hopscotch with children at the pop up event," said Quentin Mables, CEO of Englewood Peace Company. "My company focuses on positive images with social impact. The video inspired me to create a T-shirt that celebrated a real, positive child/police interaction, which is so lacking in our society."
The district-level Chicago Police Department requested 135 of these "StreetScene" shirts for a walk through the community that supported the local homeless population. To see the design and the story, please visit https://www.youtube.com/watch?v=YgYqfyLUUSo&edit=vd