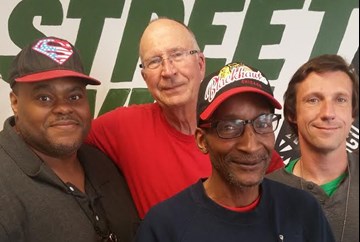 By: Staff
January 30, 2017
John: Two guys that come to mind as far as sports legends of all time are first, Roger Staubach, quarterback of the Dallas Cowboys. His exciting fourth quarter comebacks made me a fan and made them America's team.
In a 1975 playoff game against Minnesota, the Cowboys were hopelessly down 14-10 with 30 seconds left. He pumped once, then threw the football and Cowboys wide receiver Drew Pearson caught the 50-yard pass, so that the Cowboys won 17-14. Vikings cornerback Nate Wright was right alongside Pearson and believed Pearson interfered with him. But the refs ruled incidental contact. Right after Staubach had thrown it, he said later he had said a "Hail, Mary," which is why it became known as a "Hail, Mary" pass. In his final regular season game against the Washington Redskins in 1979, Dallas came from behind not once but twice to take the lead, the second time for good, 35-34.
Second, in basketball there's the "Doctor," Julius Erving. When he made a spectacular play, you got your money's worth.
Vince: Last night I was watching Netflix. I was noticing the documentary on Allen Iverson.  People judge Iverson because of his tattoos. He liked his hair in cornrows. He hung with the cats from the street. But when he stepped between the lines, he was one of the top guards in the league.
Dennis Rodman won five championships: two with the Detroit Pistons and three with the Chicago Bulls. When he came to the Bulls he became a legend, especially in his first year. He would get kicked out of the game and would strip off his jersey and hand it to a child. I remember if you drove in Chicago, there was an advertisement above the Kennedy Expressway and they would change his hair color. They had to take it down because it was causing traffic jams. He was the greatest rebounder. He would become part of the fast break with those long strides. You put him between Michael [Jordan] and Scottie [Pippen] – between that Doberman defense and Dennis Rodman's craziness -- you can see why the Bulls won 72 games in that first season, 69 games next season, little over 60 next season and three championship in the process. These guys weren't liked but because of their ability, you can't hold that against them.
Russell: Sweetness - Walter Payton. The Bears would play the Vikings and I was tired of seeing them getting beaten by Minnesota. But Sweetness got the ball and just ran for 275 yards in 1977 – a single-game rushing record at the time. And he always had to get that extra yard. When he was tackled he would extend his arms with the football ahead of him. Right now, teams are doing the same things that Walter Payton started.
My second one is the "greatest:" Muhammad Ali. "The thrilla in Manila" and Ali's combination of left-right, left-right for 14 rounds against Joe Frazier in 1975.
Third, in basketball Phil Jackson: the greatest coach ever. Eleven championships: six with the Bulls, [1991-93, 1996-98]; and five with the Los Angeles Lakers, [2000-02, 2009-10]. Definitely a legend. Maybe Greg Popovic, head coach of the San Antonio Spurs. He makes teams play better, brings out the best in players. San Antonio, they're old, but they still manage to win. Red Auerbach, head coach of the Boston Celtics because they won nine titles in 10 years, including eight in a row: 1957, 1959-66. Last but not least, hockey teams. The Pittsburgh Penguins' Mario Lemieux. I love that guy even though he beat my Blackhawks for the Stanley Cup in 1992. I was so mad. But I loved him because he could score.