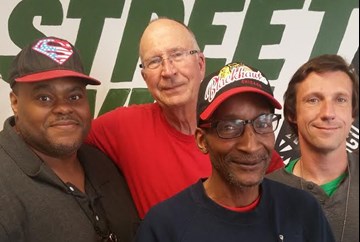 By: Staff
July 2, 2018
John: If anybody thinks that any golfer today has a chance to catch the great Jack Nicklaus with 18 majors, I would have told you 10 years ago, it might've been Tiger Woods, who has 14 majors, but with his back problems and the golf courses being limited to what he can do now, I say the answer is no. If there were anyone who may have had a shot, the name that comes to my mind is Jordan Spieth, who got off to that fiery start with the Masters Open about three years ago but has fallen off, and Rory McIlroy, but those two are long, long shots. Dustin Johnson since 2015 has been in the top 10, Jordan Spieth since 2014, but just because you're in the top 10 doesn't mean you will catch Nicklaus with majors. With today's golfing, with the way the courses are, I just don't see anyone catching Jack Nicklaus with 18.
Donald: Correct there, John. Arnold Palmer, four-time Masters champion, 1958, 1960, 1962, 1964, he's one of the five champions to win wire-to-wire (maintaining the lead throughout the tournament) with his victory in 1962. You got Tiger Woods, four-time Masters champion. There's Sam Snead, a three-times Masters champion, and his years were 1949, 1952, and my year of birth, 1954. Gary Player, three-time Masters champion, 1961, 1974, 1978. There was also Nick Faldo, three-time Masters champion. Phil Mickelson, three-time Masters champion. They're good to look at, but the truth of the matter is, 18 is a little high to try to catch up with. Right now, you got to be healthy, you got to be relaxed, and you got to win because it takes a calm head and cool hand to win the pars.
Russell: My answer is no. Nobody's gonna catch Jack Nicklaus, not even Tiger Woods; he's been stuck on 14 majors. The other guys, they're young guys, but I don't think they have the stamina like Tiger Woods had or Jack Nicklaus could've had. They really played hard golf and they set the standards. Mickelson has 42 wins, he only got five majors, I mean, c'mon. Tom Watson: 39 wins, eight majors. Arnold Palmer, he's got seven majors. Jack Nicklaus, he's tougher than them all. I got what Tiger Woods is about, but I don't think he's going to do it this time, it's just too much. If he had stayed healthier, he might've had a chance. But he's got the back problems, and who knows how long he's going to be back this year? I don't give him a chance. Maybe he will make it 15, but I don't think he can make it to 18.
John: Food for thought as far as the majors are concerned: Tiger Woods has not won one since 2009. As far as going over Palmer and that, those were a long time ago. If you had asked me three years ago, it might have been, but it would still have been a long shot, Jordan Spieth. But he's fallen off the wagon since. Dustin Johnson doesn't do it for me, and neither does Rory McIlroy, those are the ones that are active today. Arnold Palmer is dead. Tom Watson hasn't been very active lately, Gary Player has been not like what he was. The question was "who do we think of today's golfers would've had a chance?"
Donald: My final thoughts is these are the 2000s and these years are bringing about some pretty good players. There's going to be one with some stamina that'll come up with something, and I don't think he'll do 18, but there's going to be somebody coming along. It seems like every generation there's an awesome player, and Jack Nicklaus was the best.
Russell: A lot of these guys got all of these majors, but they're still nowhere close to Nicklaus. So if they had a hard time getting there, there it is. Seven majors, I'm talking about older guys, and they played their ass off, but they still ain't going to do it.