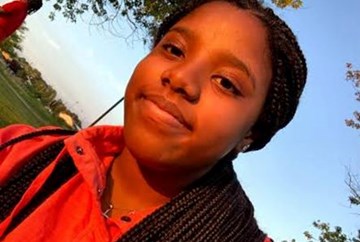 By: Suzanne Hanney
January 21, 2020
The 16-year-old author of "Unraveled: A Millennial Classic," has founded Junior Writers Block to provide teens a safe place where they can create original works. The writers' support group had its first meeting in December at the repurposed Florence B. Price School, 4351 S. Drexel Blvd.
"My idea was to help people like me because I know writing can grow into a career," Jae'la Leavy, a junior at De La Salle Institute, said in a telephone interview. "I wanted to offer a safe place from the violence all around Chicago. People with artistic minds should not be tarnished by it."
The first participants in Junior Writers Block were young women, 11-, 12- and 15-years old who were mostly interested in magical themes similar to Harry Potter. As facilitator, Leavy gave them a "no judgment" creativity exercise she learned at a Yale University creative writing camp in which a would-be author writes a first sentence and a second person adds another. The original author can then accept the new sentence or change it.
Leavy's "Unraveled" features a main character who is tough, sarcastic and standoffish until she goes through events that give her new insight into the meaning of friendship, self-happiness and love. The material was not taken from her life except for her feelings in her first year of high school, "just a phase of me going through puberty, learning to adapt to my body being different." She self-published the 331-page novel using Amazon and Barnes & Noble.
She is now working on a book about a girl just starting high school who has also just lost her grandmother. The material resembles her own family life except for the grandmother. Leavy, her mother, Michelle Murray, her older stepsister and younger brother live in the Park Manor neighborhood.
Leavy cites "The Catcher in the Rye" as a favorite classic book. "You can never tell until the end what kind of character Holden [Caulfield, the protagonist] is, when you know he's in a psych ward. He's way ahead of his time in the way he thinks."
Her more recent favorite is "The Way I Used to Be" by Amber Smith, about a girl who was raped by her brother's best friend at 14 and doesn't tell anyone until senior year. "It's relatable. You feel the emotion come right through the book on a deeper level. It feels like you're watching a movie."
Leavy, who writes about sports, theatre and club activities for the De La Salle student publication, said she wants to go to college in New York or California for writing or journalism. "I like the feeling of being able to put something out that is true to my word, not anyone else's."
Junior Writers Block meets every third Saturday, 10 to 11 a.m. at the Price School, hosted by the Timothy Community Corporation NFP (TCC). Pastor Michael Neal, founder and CEO of TCC, said he is happy to provide space because he believes Junior Writers Block supports TCC's mission to strengthen communities by providing collaborative resources and access to literacy programs. TCC also offers programs for health and wellness, leadership development and the arts.
TCC incubates programs in the shuttered Chicago Public School named for Price (1887-1953), who was the first black female composer to have a symphony performed by a major American orchestra. The Chicago Symphony Orchestra under music director Frederick Stock played Price's Symphony No. 1 in E minor on June 15, 1933. Price earned a bachelor's degree in music from the New England Conservatory. She created works for singers Marian Anderson and Leontyne Price and for WGN Radio.