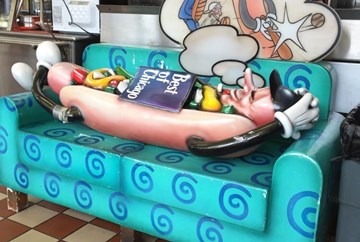 By: Rachel Cline
September 5, 2017
JoAnn Breivogel starts her typical morning by eating a nutritious and filling breakfast. She says that, "Breakfast is the most important, because it starts off the day. It starts off early in the morning when you get out of bed. It's great to have a chance to sit down and eat a meal."
JoAnn chose to visit Jake's Pup in the Ruf on Montrose and Sheridan, as she has been here several times prior and knows what to expect: a delicious breakfast and a warm environment! On this particular trip, she was not disappointed. She arrived to Jake's Pup in the Ruf at about 6:30 a.m. The restaurant opens at 6 a.m. and she likes to get there early to beat the morning rush. She ordered three eggs, three sausages, hot tea and some toast.
JoAnn comments that, "going to breakfast is the thing that everybody does in the morning. Jake's Pup in the Ruf is the place to go when everybody is up early in the morning." She especially loves her hot tea and describes the meal as "good and the price is right for the food."
At Jake's Pup in the Ruf, the environment is relaxed and the food is good. JoAnn describes the environment as "a cool atmosphere! It wasn't real cold, it was cool. It was like a warm environment but felt cool. It was very relaxing. They take care of everything! That's what gives you a relaxing feeling." 
When visiting Jake's Pup in the Ruf, customers will notice that there is a giant hotdog with a man inside of it on display. JoAnn comments on this, "People like stuff like that. A man in the hotdog! People like cool artifacts. They like that kind of stuff! I think it's there to make you smile and laugh in the morning. It's really funny, a man in a hot dog! It makes you think why would someone put a man in a hot dog?! That's just what I think!" The man in the hotdog did just that for her, provided her with a laugh and a smile, which is a great way to start the day!
JoAnn describes her overall dining experience as very pleasant. She comments on the people eating breakfast around her. She says "sometimes you see people who come in the morning all angry and something has happened to them. Breakfast is the best thing in the morning so you don't have to think about anything else that is going on."
JoAnn says that the staff at Jake's Pup in the Ruf is usually very friendly and polite. JoAnn says that "food is supposed to be nourishing to your body and that's what I'm doing, nourishing my body."
On this particular trip, JoAnn went alone; however, sometimes she will enjoy a nice breakfast meal with others. She says "If you go with people you know, you know you'll have a great meal!"
After JoAnn finished her meal at Jake's Pup in the Ruf, she headed over to StreetWise, which was not very far. She spends her mornings at StreetWise socializing with others involved in the organization. She likes to spend her days looking for apartments and going on the internet to find out information about her family and friends.
JoAnn ended her review of Jake's Pup in the Ruf by reiterating the fact that breakfast is the most important meal of the day. She says she will definitely be back in the future!