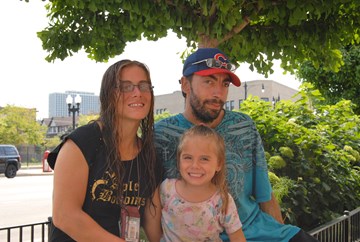 By: Staff
August 10, 2016
James: We've been married five years.
Heather: We met a long time ago, when I was 11 years old and he was 16. My one friend and I were hanging out and she knew him, and she introduced me to him.
James: We're still best friends. We were always best friends, since we were 13. We both started with StreetWise when we were told, "why don't you go try this." So we went the next morning to orientation.
Heather: That's what we did. It's been going great.
James: We've been selling StreetWise now for a month, month and a half. I'm located at Montrose and Broadway by the Salvation Army. I moved there from a different location, and since that move, I feel like I'm making connections with customers. Most of my customers are really nice, and I can really get along with them. And you know, they've been helping and it's been a blessing.
Heather: I'm at Broadway and Sheridan.
James: Juggling being both parents and StreetWise vendors can be rough. We juggle each other's times. When the kids go to school, then she goes to work or I go to work, while the other one picks up the kids. I work seven days a week. I stay out there until around 8 or 8:30—9:15 has been my latest.
Heather: I stay out there until around 6, and then I go home. I'll take care of the kids, and then he'll go out and do the rest of his work. So we'll alternate on and off. We have four kids, three boys and one girl.
Heather: Even with all the adversity I face, I do it for my children. If I make my selling goal, if I have a little left over, it goes towards my children, for what they need. If they wanted something at the store, I could get it for them.
James: Clothes for the kids, or bills. You know, it helps pay the bills, and it's a wonderful thing. It just keeps you motivated, going and going, day in and day out, seven days a week. No time off, you just have to keep going out there and doing what you have to do.
Heather: As for our future and goals, hopefully we'll have a good standard job and a different apartment instead of the one we're living in right now—a better environment for our children. It's always our goal too to stay healthy and happy and make sure our children are safe.
James: Exactly. Keep the kids in school, work, and better their lives and our lives.
Heather: That's pretty much how I see it.
Heather: It's important to stay positive through all that we do, to get our kids to realize that life is hard and you just have to pull though it and fight through. And if you get stuck, ask along the way for help. All you can do is be safe, keep your eyes open, and do the best you can.