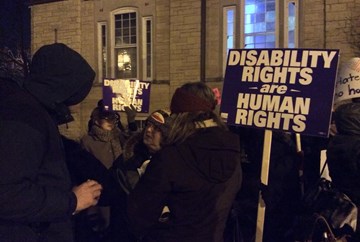 By: Suzanne Hanney
March 7, 2017
A green-rated development with 100 units of mixed-income housing has been proposed for 5150 N. Northwest Highway, just two blocks from the Jefferson Park transit center on the CTA Blue Line. Full Circle Communities plans a seven-story building with 80 percent of the units affordable and the remainder at market rate. Half the units would be reserved for veterans and people with disabilities.
Ald. John Arena (45th ward) said on his website that Full Circle became interested in the site because of its proximity to public transportation; the developer identified 30,000 jobs within two miles as well as car-free access to job centers downtown and at O'Hare. In addition, 41.5 percent of Jefferson Park residents are "rent-burdened:" they pay more than 30 percent of their take-home pay on housing.
"It will mean the world to countless families to see mixed-income housing created in such an opportunity-rich area on the Northwest Side," said Leah Levinger, executive director of the Chicago Housing Initiative. "This landmark development will transform lives and help make Chicago a better city."
But the site, which is now occupied by a former food processing plant on the Milwaukee Avenue/Northwest Highway commercial corridor, is also just one block from single-family homes. "While I understand how passions can run high when communities discuss zoning and density issues, I have been surprised by the vitriol that has been directed at this proposal," Arena said.
Neighborhood residents clashed verbally with housing advocates outside a February 9 information meeting at The Branch Community Church, 6125 W. Foster Ave.
Victoria Aviles, who lives two blocks from the proposed development, said that residents chose the neighborhood for its low density. She has signed petitions against other plans that would go higher than four stories on Milwaukee Avenue and against a 3½-story building at Long and Argyle.
"This is a neighborhood of city workers; we have to live in the city and we should have some say," said Anne, a city worker who did not want to give her last name. "No one is against people with disabilities but we don't want Section 8 and low-income housing in our neighborhood, at least without a discussion on what happens if they don't rent out all the apartments at $1900 a month. You have people whose homes are just coming back from the crash. They've borrowed against their homes to put their kids through college and they don't want to see it go backward."
The proposed building is not Section 8 housing, although Jefferson Park does have private landlords who accept it, according to Arena's website. It is not public housing, but would be privately owned by Full Circle.
The 100 units would include studios, one-, two-, and three-bedroom apartments at $300 to $1900 a month. Each would have a balcony and condo-quality finishes. There would be elevators, entertainment and fitness rooms, a library and business center, outdoor recreation space and a dog run.
Of the 100 units, 60 would be available to households earning up to 60 percent of the Area Median Income (AMI), or $46,140 for a family of four. Among these would be 20 units for veterans and families from the Chicago Housing Authority's "Moving to Work" program.
Another 20 units would be affordable to people earning 30 percent of AMI, such as disabled renters and veterans. The remaining 20 apartments would be at market rates.
Full Circle has reserved 20 units specifically for veterans but veterans would also go to the top of the waiting list, with input from A Safe Haven, Thresholds and the City of Chicago's Rent to a Veteran initiative. 
Mike Stank was among advocates for the development outside The Branch Community Church. Stank said he belonged to a Logan Square coop that had positive experiences with a nearby Full Circle building.
Debra Miller, who is 65 and disabled, said she would like to live there with her husband, a 58-year-old vet. Their apartment in Edgewater is not accessible and they formerly lived at Foster and Kedzie.