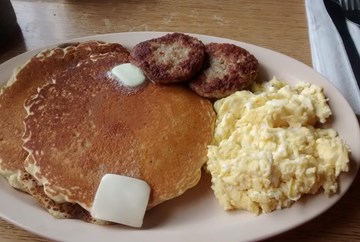 By: Dave Hamilton
July 25, 2016
The landscape of Lincoln Square has changed throughout the years. Plenty of new restaurants and shops have moved in and out, but the neighborhood itself has never lost its homey, welcoming feel. Part of the reason is the major constants grounding the neighborhood, like the Old Town School of Folk Music, the original Merz Apothecary, Laurie's Planet of Sound, Ricochet's bar, and The Grind Coffee shop that have all been treasures of the neighborhood for years. Among these constants are also long-time StreetWise vendor Gregg Cole and the 24-hour Jeri's Grill.
Gregg has been selling in the heart of Lincoln Square for seven years. "I knew that little girl when she was in her mom's stomach. Now she is 4 feet tall and rushing past me on her scooter yelling 'Hi, Gregggggg!'"
Gregg has been a customer at Jeri's Grill for just as long. The diner, located at Western and Montrose (4257 N. Western), is just steps away from Gregg's selling location. Gregg is a fan of the "greasy spoon" and Jeri's, with its sign screaming "ham in bone," does not disappoint. Jeri's was founded in 1963 ("the year I was born" Gregg remarks), and not much has changed since. The interior boasts its original countertops, booths and signage with daily specials covering all of the walls.
"The food is really good. That place is really good. They have all kinds of stuff. They have deals on the wall, you'll see deals all over the place. The cost is really good, really cheap." Gregg marveled at some of the classic diner specials "They have a jailhouse special: Fried bologna and two eggs! Then you have the Chicago special, Bacon or sausage, egg on muffin with cheese, hash browns and coffee for $5.95!"
"I went some time in the morning for breakfast, but they serve breakfast all day, so you can get breakfast anytime you want. When I went in I happened to see a guy I know, one of my customers! I have known him for years, and he said that he has known the waitress for 20-something years. The waitress was good. She could answer all of my questions. The food is really quick. The cook is prompt and knows how to make a lot of meals. Just one cook and one waitress," Gregg said.
He opted for the 2-2-2 deal, which combined 2 pancakes, 2 sausages, and 2 eggs. Gregg upped the ante by adding an additional 2 eggs and a coke, all for $5.55. The food was great and was made just the way he likes it. "This is what is good about these places. You can watch them cook the food," he said.
"I know they used to have a lot of [24-hour diners] on the North Side. There are only two that I know of now, this one, and Diner Grill on Irving Park. That is a little one, this is a bigger one. I feel very comfortable at Jeri's. It is a welcoming place no matter what. I guess there is a mixture of people going to Jeri's. One of my customers suggested it to me and I realized how diverse the customers of Jeri's Grill are. Some are like me, some have better finances, and some are coming from the bar down the street."
No matter who you are, stop by and pick up a StreetWise from Gregg, then head down the street to Jeri's Grill and get some good old-fashioned diner food that is sure to please.