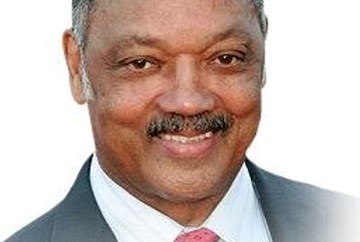 By: Adam Sennott / Courtesy of www.INSP.ngo
July 6, 2017
In March 1965, 24-year-old Jesse Jackson joined Rev. Martin Luther King and hundreds of others as they marched on Selma, Alabama in protest of the state's racist voting laws.
Many, including future U.S. Sen. John Lewis (D-GA), were beaten by police during the 18-day protest, but their actions led to the passage of the Voting Rights Act of 1965. While their victory was historic, Jackson now says they had no idea how fragile it was.
"We didn't understand the chains of voter suppression," Jackson said in a telephone interview with StreetWise.
More than five decades after securing the right to vote, Rev. Jackson and other civil rights leaders are fighting to defend it. In the 2013 Shelby v. Holder decision, the U.S. Supreme Court ruled 5-4 that key provisions of the landmark law requiring federal oversight of voting practices in states and municipalities with histories of discrimination in voting were unconstitutional because these provisions did not reflect the less restricted landscape since the Voting Rights Act was enacted.
Jackson said the decision allowed Republicans to manipulate the electoral map via gerrymandering. Since then, many states have also enacted voter ID laws, and closed hundreds of voting precincts. According to The Nation magazine, there were 868 fewer polling precincts across the country during the 2016 election.
"They fought to remove the protections for 40 years," Jackson said. "The Shelby decision undercut the Selma decision. They removed the protections and gerrymandering started all over again."
Despite President Trump's claims that millions voted illegally, costing him the popular vote, in-person voter fraud "very rarely happens," according to a report from the Brennan Center for Justice.
"Voter fraud is a fraud," Jackson said. "Voter suppression is real."
Since the Supreme Court's decision, 33 states have passed laws requiring some form of identification to vote, according to The Atlantic. This past November marked the first election in 50 years without the full protections of the Voting Rights Act. 
Jackson said that voter suppression in several states, though not all with voter ID laws, was responsible for Trump's election.
"Hillary [Clinton] lost not by the Russian hack, but because of voter suppression in North Carolina, and Philadelphia, and Detroit, and Milwaukee," Jackson said. "They suppress the black vote and elevate the white vote."
In Detroit, there were 75,000 ballots that "didn't have the top of the ticket marked," Jackson said. Voting precincts were also closed in North Carolina.
On May 11, Trump signed an executive order creating a commission on voter fraud and suppression.
"The Commission on Election Integrity will study vulnerabilities in voting systems used for federal elections that could lead to improper voter registrations, improper voting, fraudulent voter registrations, and fraudulent voting," the White House said in a statement. "The Commission will also study concerns about voter suppression, as well as other voting irregularities. The Commission will utilize all available data, including state and federal databases."
Shortly after the commission was announced, Jackson released a statement giving Trump credit for getting it at least half right by considering voter suppression, "which is an accomplishment of sorts, considering the administration's track record," Jackson said.
Jackson said that if referees handled the NBA finals the way we handle voting, it wouldn't be tolerated.
"No one wants an unfair ballgame," Jackson said. "They want good, honest referees.
"We put more integrity on a basketball game than we do on voting," Jackson said. "There should be integrity on both."
One way to restore the integrity to voting is to pass laws that would automatically register voters as soon as they turn 18, Jackson said recently in a column for the Chicago Sun-Times. Recently, the Illinois General Assembly unanimously passed a law that registration would be automatic upon interaction with state driver's license and other agencies. If signed by Gov. Bruce Rauner, Illinois would become the ninth state where an automatic registration law is enacted. A Rauner spokesperson told the Huffington Post that Rauner would sign the bill.
"With popular organizing and mobilization, it will hopefully be the first of many," Jackson said in the Sun-Times column.
Along with efforts to suppress voters, Jackson also said he took issue with Attorney General Jeff Sessions' plans to increase the use of private prisons.
"He wants to open up private jails and close public schools," Jackson said. "Less voting and more prison.
"He's a Confederate," Jackson said. "That's what he stands for."
Jackson said that if King were alive today, "he would understand the backlash, what I call the 'counter-cultural revolution.'"
"He would fight to resist it," Jackson said. "[But] he would certainly not be surprised by it.
And resist is exactly what Jackson said he intends to do.
"There are two big elections this year in New Jersey and in Virginia," Jackson said. "And next year the entire Congress is up for re-election."
The upcoming elections will give those who didn't vote, and those who did and are suffering from voters' remorse, "an opportunity to redeem themselves," Jackson said.